printer friendly version
Highly integrated single-component programmable sensors solve problems in industrial system design
9 August 2006
Analogue, Mixed Signal, LSI
Sensors have the potential for providing revolutionary improvements in performance, reliability, safety, and cost-of-ownership within industrial system designs. Examples involving inertial sensors include platform stabilisation, motion control for industrial machinery, security devices, antenna stabilisation, robotics, navigation, mechanical levelling, and many others. However, a gap has long existed between good sensor technology and its implementation within critical industrial systems.
Embedding sensor processing within industrial equipment typically requires that the designer has intimate knowledge of the sensor technology, to design and implement a signal chain that properly tunes and calibrates a given sensor for its application. For inertial sensors, this typically also requires the capability for motion testing. The system expense of this implementation has created a barrier to more rapid sensor deployment, particularly for customers and applications with moderate production volumes. The problem is worsened by the physical limitations posed by some applications (for instance, embedded vibration analysis) where extreme density, environmental conditions, and remoteness have pushed requirements beyond what is available in standard sensor and signal conditioning components.
Innovative technology
The Analog Devices' iSensor product family was created in recognition of this gap in industrial sensor applications. The ADIS16201 iSensor is the first implementation of a new single-package integration technology. It is the world's first direct output, linear-in-degrees inclinometer that is available as a single component. Incorporating a complete sensor and data processing signal path, the device is both a fully-functional programmable dual-axis accelerometer and a dual-axis inclinometer.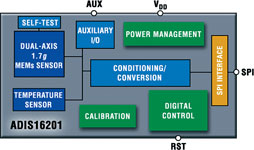 A complete dual-axis acceleration and inclination angle measurement system in a single compact package
The ADIS16201 part provides a gain and offset variability of less than 1%, reduces voltage and mechanical mounting sensitivities, and provides a simple single command interface, which allows in-system auto-zero calibration. It also includes several embedded features, including programmable sample rate, digital filtering, power management, configurable alarms, auxiliary analog and digital I/O, and self-test. This eliminates the need for external circuitry and enables a much simplified system interface, all controlled via an SPI port. Sensor outputs include two axes of 61,7 g acceleration, two axes of 690° inclination (with accuracy within 0,25°), and temperature. The ADIS16201 comes in a small 16-lead laminate-based land grid array (LGA) package.
Summary
iSensor integration eliminates a key barrier to the advancement of sensor applications in the industrial market by offering unique functionality, programmability, and simplicity to the system designer. The standard programming interface also allows the user to easily tailor the devices to the application, and very quickly move through prototyping, evaluation, and implementation. Now also in development at Analog Devices are additional iSensor products, which target embedded vibration analysis and programmable angular rate sensing.
Credit(s)
Further reading:
V2X: The future of vehicle communications
29 January 2020, Avnet South Africa , Editor's Choice, Telecoms, Datacoms, Wireless, IoT
A recent report by Juniper Research forecasts that more than 62 million vehicles will be capable of vehicle-to-vehicle communication by 2023; up from just over 1,1 million in 2019.
Read more...
---
STM32 system-on-chip for LoRa
29 January 2020, Avnet South Africa , Telecoms, Datacoms, Wireless, IoT
Powering the search for sustainability through smart infrastructure and logistics, smart industry and smart living, STMicroelectronics has revealed the world's first LoRa system-on-chip (SoC) for connecting 
...
Read more...
---
Arm Cortex-M33-based MCUs
29 January 2020, EBV Electrolink , Analogue, Mixed Signal, LSI
NXP Semiconductors announced the availability of its LPC552x/S2x microcontroller (MCU) family, further extending its efficient LPC5500 MCU series with the second of seven families planned for the series. 
...
Read more...
---
Unity gain operational amplifier
29 January 2020, Altron Arrow , Analogue, Mixed Signal, LSI
The ADHV4702-1 is a high-voltage (220 V), unity-gain, stable precision operational amplifier. The next generation of proprietary semiconductor processes and innovative architecture from Analog Devices 
...
Read more...
---
EERAM memory solutions retain data at power loss
29 January 2020, Avnet South Africa , DSP, Micros & Memory
Microchip Technology announced a new family of Serial Peripheral Interface (SPI) EERAM memory products that offers system designers up to 25% cost savings over the current serial non-volatile ram (NVRAM) 
...
Read more...
---
Low-profile pressure transmitters
29 January 2020, Electrocomp , Analogue, Mixed Signal, LSI
TDK has expanded its portfolio with new EPCOS pressure transmitters whose performance profiles are specially tailored to the requirements of Industry 4.0. These low-profile pressure sensors are characterised 
...
Read more...
---
Non-inverting converters for buck or boost operation
29 January 2020, Avnet South Africa , Power Electronics / Power Management
Texas Instruments introduced a family of four high-efficiency, low-quiescent-current (IQ) buck-boost converters that feature tiny packaging with minimal external components for a small solution size. 
...
Read more...
---
Contactless payment SOC
29 January 2020, EBV Electrolink , Analogue, Mixed Signal, LSI
STMicroelectronics has released the next generation of its STPay system-on-chip (SoC) payment solution, leveraging state-of-the-art technology to increase contactless performance and protection, reduce 
...
Read more...
---
Gate driver for silicon carbide transistors
29 January 2020, CST Electronics , Analogue, Mixed Signal, LSI
With the MAX22701E isolated gate driver from Maxim Integrated Products, designers of high-voltage/high-power systems can improve power supply efficiency, reducing power loss and the resulting carbon footprint. 
...
Read more...
---
Lithium-ion/polymer battery packs catalogue
29 January 2020, Avnet South Africa , Technical Literature
The latest edition of the Avnet Abacus standard lithium-ion/polymer battery packs catalogue covers the company's portfolio of primary and secondary cells from leading battery manufacturers, as well as 
...
Read more...
---