printer friendly version
New option adds powerful functionality to calibrator
23 August 2006
Test & Measurement
The 5520A-PQ option enables Fluke's 5520A multiproduct calibrator to calibrate power quality instrumentation to the standards of the IEC and other regulatory agencies. Three precision waveform modes provide traceability for power meters, disturbance analysers, power quality monitors, recorders and other power quality related equipment.
The 5520A portable calibrator can be used both in the field and on the bench. It also allows for matching of configurations to workload as well as the adding of options as workloads change and grow.
The three power quality waveform modes in the 5520A-PQ include: composite harmonic, flicker simulation, and sags and swells simulation. These waveforms are available in either the single output mode (voltage or current) or dual output modes (voltage + current and voltage + voltage). The modes provide traceability for harmonic analysis, flicker, and sags and swells functions of power quality measurement instruments.
Composite Harmonic mode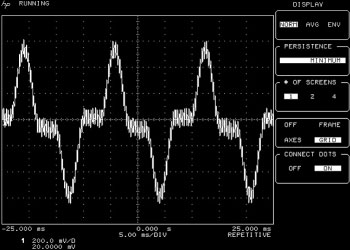 This mode outputs a user-defined waveform with up to 15 harmonics, from the second up to the sixty-third, which are combined with the fundamental. Both amplitude and phase of each harmonic, relative to the fundamental, can be specified. In the dual output modes (voltage + current and voltage + voltage), the wave shapes are independent of each other, but synchronised in time with 0,01 ­ phase resolution. Up to two user-defined waveforms can be stored in non-volatile memory for easy recall. Two IEC 10003-2 waveforms (Class A and Class D current harmonic limits) are pre-defined for CE compliance testing.
Flicker mode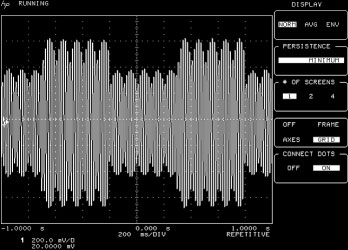 Flicker simulation performs either a rectangular or sinewave amplitude modulation of the voltage or current output. The repeat frequency or repetition rate of the flicker event is programmable from 0,1 Hz to 30,0 Hz. The duty cycle of the flicker event relative to the nominal amplitude is programmable, giving true modulation of the output signal. The amplitude of the flicker event is programmable from ±100,0 % of the base waveform in 0,01% increments. To check the EN 61000-415 flicker function of power quality analysers, six combinations of delta voltages and change frequencies are provided to quickly check for a Pst (Perceptibility short term) of 1.
Sags and swells mode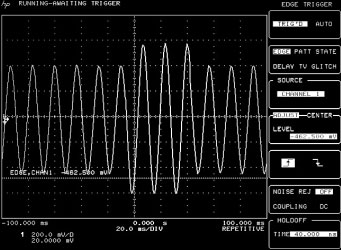 Sags and swells simulation performs a one-time amplitude modulation of the voltage or current output. The amplitude is programmable from ±100 % of the base waveform. The duration of the sag (also referred to as dip) or swell is adjustable from 0,005 to 60,000 seconds. The ramp period of the sag or swell may also be specified. The sag and swell event can be adjusted to occur from 0,0 to 99,999 seconds after the trigger event.
Powerful new functionality

Fundamental generation combined with up to 15 harmonics produces a 'multitone' output to verify the performance of harmonic analysers. Flicker simulation verifies performance as described in EN 61000-4-15. The improved phase uncertainty over the standard 5520A sinewave modes allows for calibrating higher precision wattmeters. Multiple 5520As can be phase-locked for polyphase power testing and also, performance verification of both three- and four-wire wattmeters is possible. Compensation for inductive loads available in all current output modes.
Credit(s)
Further reading:
UCT chooses Tektronix instruments for training lab
29 July 2020, Comtest , News
Comtest, local partner to Tektronix, recently assisted the University of Cape Town (UCT) physics department in refurbishing its electrical training laboratory. All of the existing analog oscilloscopes 
...
Read more...
---
Smart oscilloscope for faster debug
30 June 2020, Comtest , Test & Measurement
PicoTechnology announced the PicoScope 6000E Series FlexRes oscilloscopes, featuring 8 channels with 500 MHz bandwidth, 16 digital channels, and resolution of 8, 10 or 12 bits. The products work with 
...
Read more...
---
New range of Tektronix DSOs
30 June 2020, Comtest , Test & Measurement
Comtest has released Tektronix's new TBS2000B series of digital storage oscilloscopes (DSOs) that was developed to meet the performance, usability and affordability needs of both engineers and educators. 
...
Read more...
---
Contactless ESD testing and access control unit
30 June 2020, Actum Group , Test & Measurement
In the electronics manufacturing industry, an electrostatic discharge (ESD) can cause irreparable damage to electronic components. This micro-lightning bolt can burn holes through insulating layers and 
...
Read more...
---
How are IR cameras calibrated and how does ambient temperature affect readings?
30 June 2020, Instrotech , Test & Measurement
Infrared thermometers are calibrated with the help of reference radiation sources, so-called 'black bodies'. These radiant sources are able to produce different temperatures with a high stability.  
...
Read more...
---
Thermal monitor for fever screening
30 June 2020, Actum Group , Test & Measurement
The TCSF256 thermal monitor from Actum Group is a fully automated, plug-and-play fever screening unit. It adopts an infrared radiation measurement technique that can measure body temperature by non-contact 
...
Read more...
---
Uncover EMI issues early with simple pre-compliance tests
30 June 2020, Concilium Technologies , Test & Measurement
An effective pre-compliance testing methodology will reduce test cycle times, which ultimately impacts a company's bottom line.
Read more...
---
The promise of 5G wireless communications
30 June 2020, Lambda Test , Test & Measurement
The deployment of 5G services worldwide is driving a massive increase in fibre densification for the required fronthaul and backhaul links interconnecting radio base stations and web-scale core packet networks.
Read more...
---
Phase noise analyser for precision oscillator characterisation
29 April 2020, Altron Arrow , Test & Measurement
To help research and manufacturing engineers make precise and accurate measurement of frequency signals, including those generated by atomic clocks and other high-performance frequency reference modules 
...
Read more...
---
Comtest trading for 15 years
29 May 2020, Comtest , News
Comtest, one of South Africa's leading providers of test, measurement and communications equipment, is proud to mark its 15-year trading milestone in 2020. CEO Barend Niemand says, "Comtest has representation 
...
Read more...
---