printer friendly version
Option turns spectrum analyser into 50 GHz measuring receiver
23 August 2006
Test & Measurement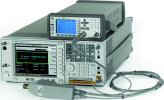 Concilium Technologies has announced the availability of a built-in measuring receiver for its PSA Series of high-performance spectrum analysers by Agilent Technologies.
According to Andrew Lees, sales engineer at Concilium Technologies: "The measurement accuracy and sensitivity, coupled with frequency coverage up to 50 GHz, makes this solution ideal for applications like signal generator and attenuator calibration services, which cover audio to millimetre wave frequencies."
The Agilent N5531S Measuring Receiver System comprises the PSA measuring receiver personality (Option 233) and other associated components. The core of the N5531S, PSA Option 233 provides frequency coverage up to 50 GHz without the need for an external local oscillator, down-converter or external PC.
"The PSA Option 233 easily turns the general-purpose, high-performance spectrum analyser into a measuring receiver. Because it can be used as a standalone solution for metrology/calibration applications or with other applications, it minimises user investment in test equipment," says Lees.
Its 'one-button' capability allows each of the measuring receiver functions to be initiated by pressing just one button on the PSA's front panel. Measurement-specific results, including frequency counter, RF power level and analog modulation analysis, are then shown on the PSA's display. An easy-to-use user interface helps reduce operator errors.
The N5531S Measuring Receiver System offers linearity accuracy of (0,009 dB + 0,005 dB/10 dB step) for tuned RF level (TRFL) measurements, as well as exceptionally-fast TRFL measurement speed, particularly at low signal levels. The system's sensitivity allows for TRFL measurements of signals as low as -140 dBm. The N5531S also includes an audio input and audio signal analysis capability (Option 107). These features make it well-suited for use in analog signal source and step attenuator calibration.
Agilent's Measuring Receiver System features four types of integrated sensor modules with a single input connection to 50 GHz. Fully calibrated and traceable, these modules help streamline the calibration procedure and ensure measurement integrity. Additionally, they minimise measurement uncertainty by eliminating the need to reconnect the device-under-test to the measuring receiver.
For more information contact Andrew Lees, Concilium Technologies, +27 (0)12 678 9200, andrew_lees@concilium.co.za
Credit(s)
Further reading:
Vector network analyser training kit
26 February 2020, Comtest , Test & Measurement
Pico Technology has added significant functionality and value to its low-cost, high-performance vector network analyser (VNA), by joining the NI/AWR Connected Partner community. The PicoVNA interface 
...
Read more...
---
Better phase noise measurement for Infiniium UXR scopes
26 February 2020, Concilium Technologies , Test & Measurement
Keysight Technologies and Silicon Labs announced a collaboration that streamlines the validation of timing solutions critical in the development of system-level designs for wireless communications, high-speed 
...
Read more...
---
Eliminate risk with proper calibration
26 February 2020, Concilium Technologies , Test & Measurement
Proper calibration lowers cost of test by reducing the number of incorrect decisions made, by improving instrument performance.
Read more...
---
Double pulse test software for Tektronix AFG
29 January 2020, Comtest , Test & Measurement
Comtest announced the availability of Tektronix' new software plugin for its AFG31000 arbitrary function generator (AFG), making it possible to perform crucial double pulse testing in less than a minute, 
...
Read more...
---
Battery charge/discharge test system
29 January 2020, Conical Technologies , Test & Measurement
The ITS5300 battery charge and discharge test system from ITECH is designed for a variety of power batteries including lead acid, nickel hydrogen, lithium batteries, supercapacitors, hydrogen fuel cells 
...
Read more...
---
DIN-rail programmable transmitter
23 October 2019, Instrotech , Test & Measurement
Calog Instrument's versatile DPM9000 series – a miniature DIN-rail mount programmable isolated transmitter range – boasts high reliability and a versatile, wide range of programmable inputs. With dimensions 
...
Read more...
---
Hands-on learning module
23 October 2019, Altron Arrow , Test & Measurement
The ADALM2000 (M2K) active learning module is an affordable, USB-powered, software-defined instrument that exceeds the capabilities of its predecessor ADALM1000 (M1K). With 12-bit ADCs (analog-to-digital 
...
Read more...
---
Digital multimeter with thermal imager
23 October 2019, RS Components (SA) , Test & Measurement
A digital multimeter (DMM) with a built-in thermal imager has been added to RS Components' RS PRO product range. The RS-9889 allows engineers to identify thermal overload issues in electrical equipment 
...
Read more...
---
Project-based learning for the modern engineer
23 October 2019 , Test & Measurement
Projects that inherently challenge students to use innovative design thinking often involve interacting with an unknown process or device. Students are encouraged to understand the unknown through theory, 
...
Read more...
---
EMI compliance testing vs. pre-compliance testing
25 September 2019, Concilium Technologies , Circuit & System Protection
Electromagnetic interference (EMI) is caused by unintentional emissions from electronic equipment. Compared to natural sources of EMI, such as lightning and solar storms, engineers are more concerned 
...
Read more...
---