printer friendly version
Option turns spectrum analyser into 50 GHz measuring receiver
23 August 2006
Test & Measurement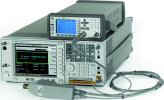 Concilium Technologies has announced the availability of a built-in measuring receiver for its PSA Series of high-performance spectrum analysers by Agilent Technologies.
According to Andrew Lees, sales engineer at Concilium Technologies: "The measurement accuracy and sensitivity, coupled with frequency coverage up to 50 GHz, makes this solution ideal for applications like signal generator and attenuator calibration services, which cover audio to millimetre wave frequencies."
The Agilent N5531S Measuring Receiver System comprises the PSA measuring receiver personality (Option 233) and other associated components. The core of the N5531S, PSA Option 233 provides frequency coverage up to 50 GHz without the need for an external local oscillator, down-converter or external PC.
"The PSA Option 233 easily turns the general-purpose, high-performance spectrum analyser into a measuring receiver. Because it can be used as a standalone solution for metrology/calibration applications or with other applications, it minimises user investment in test equipment," says Lees.
Its 'one-button' capability allows each of the measuring receiver functions to be initiated by pressing just one button on the PSA's front panel. Measurement-specific results, including frequency counter, RF power level and analog modulation analysis, are then shown on the PSA's display. An easy-to-use user interface helps reduce operator errors.
The N5531S Measuring Receiver System offers linearity accuracy of (0,009 dB + 0,005 dB/10 dB step) for tuned RF level (TRFL) measurements, as well as exceptionally-fast TRFL measurement speed, particularly at low signal levels. The system's sensitivity allows for TRFL measurements of signals as low as -140 dBm. The N5531S also includes an audio input and audio signal analysis capability (Option 107). These features make it well-suited for use in analog signal source and step attenuator calibration.
Agilent's Measuring Receiver System features four types of integrated sensor modules with a single input connection to 50 GHz. Fully calibrated and traceable, these modules help streamline the calibration procedure and ensure measurement integrity. Additionally, they minimise measurement uncertainty by eliminating the need to reconnect the device-under-test to the measuring receiver.
For more information contact Andrew Lees, Concilium Technologies, +27 (0)12 678 9200, andrew_lees@concilium.co.za
Credit(s)
Further reading:
Major feature update for PicoLog Cloud software
23 June 2021, Comtest , Test & Measurement
Pico Technology announced that the beta version of its brand new PicoLog Cloud software is now officially open and readily available to the public. Building on the proven PicoLog 6.1 applications track 
...
Read more...
---
Test probes for the toughest test conditions
23 June 2021, Electronic Industry Supplies , Test & Measurement
Ingun has developed a test probe series especially for challenging contacting of tough OSP coatings, lead-free soldering or contaminated printed circuit boards (PCBs). Despite harsh conditions, these 
...
Read more...
---
Choosing a software environment for data acquisition
23 June 2021, Osiris Technical Systems , Test & Measurement
Read more...
---
2-channel tablet oscilloscope
23 June 2021, Vepac Electronics , Test & Measurement
The PeakTech 1206 is a new, innovative oscilloscope which is based on the size and design of a standard tablet computer. With the tablet oscilloscope it is possible to record each normal measured variable 
...
Read more...
---
RF probes for low-profile designs
23 June 2021, Electronic Industry Supplies , Test & Measurement
Miniature plug connectors for the transmission of radio frequency (RF) signals are essential components of smartphones, tablets and wearables as they form the basis which makes these communication technologies 
...
Read more...
---
Cable and network tester supporting PoE
23 June 2021, RS Components (SA) , Test & Measurement
RS Components is now stocking LinkIQ Cable+Network, a brand-new advanced Fluke cable and network tester ideal for installers and maintenance technicians. A highly cost-effective and time-saving unit, 
...
Read more...
---
SatGen simulation software now supports NavIC
26 May 2021, RF Design , Test & Measurement
The latest update to LabSat SatGen GNSS simulation software for PC now incorporates NavIC RF simulation. Designed to create custom GNSS RF I/Q or IF data files based on user-generated trajectories, the 
...
Read more...
---
E-commerce platform for new and pre-owned T&M equipment
26 May 2021, Willcom , Test & Measurement
Electro Rent has added e-commerce capability to its global website, helping customers to find, research and compare more than 21 000 test and measurement (T&M) products. The new site offers a streamlined, 
...
Read more...
---
Electronic warfare: Vying for control of the electromagnetic spectrum
28 April 2021, Concilium Technologies , Telecoms, Datacoms, Wireless, IoT
Future systems will move from being adaptive to using new AI and machine learning capabilities to decipher constant changes in spectrum use.
Read more...
---
RF test probes for the 5G revolution
28 April 2021, Electronic Industry Supplies , Test & Measurement
5G, the fifth-generation mobile communications standard, will shape the third decade of the 21st century: a higher degree of networking is emerging, connecting different aspects of life and enabling new 
...
Read more...
---