printer friendly version
Option turns spectrum analyser into 50 GHz measuring receiver
23 August 2006
Test & Measurement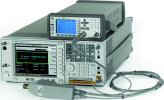 Concilium Technologies has announced the availability of a built-in measuring receiver for its PSA Series of high-performance spectrum analysers by Agilent Technologies.
According to Andrew Lees, sales engineer at Concilium Technologies: "The measurement accuracy and sensitivity, coupled with frequency coverage up to 50 GHz, makes this solution ideal for applications like signal generator and attenuator calibration services, which cover audio to millimetre wave frequencies."
The Agilent N5531S Measuring Receiver System comprises the PSA measuring receiver personality (Option 233) and other associated components. The core of the N5531S, PSA Option 233 provides frequency coverage up to 50 GHz without the need for an external local oscillator, down-converter or external PC.
"The PSA Option 233 easily turns the general-purpose, high-performance spectrum analyser into a measuring receiver. Because it can be used as a standalone solution for metrology/calibration applications or with other applications, it minimises user investment in test equipment," says Lees.
Its 'one-button' capability allows each of the measuring receiver functions to be initiated by pressing just one button on the PSA's front panel. Measurement-specific results, including frequency counter, RF power level and analog modulation analysis, are then shown on the PSA's display. An easy-to-use user interface helps reduce operator errors.
The N5531S Measuring Receiver System offers linearity accuracy of (0,009 dB + 0,005 dB/10 dB step) for tuned RF level (TRFL) measurements, as well as exceptionally-fast TRFL measurement speed, particularly at low signal levels. The system's sensitivity allows for TRFL measurements of signals as low as -140 dBm. The N5531S also includes an audio input and audio signal analysis capability (Option 107). These features make it well-suited for use in analog signal source and step attenuator calibration.
Agilent's Measuring Receiver System features four types of integrated sensor modules with a single input connection to 50 GHz. Fully calibrated and traceable, these modules help streamline the calibration procedure and ensure measurement integrity. Additionally, they minimise measurement uncertainty by eliminating the need to reconnect the device-under-test to the measuring receiver.
For more information contact Andrew Lees, Concilium Technologies, +27 (0)12 678 9200, andrew_lees@concilium.co.za
Credit(s)
Further reading:
New range of Tektronix DSOs
30 June 2020, Comtest , Test & Measurement
Comtest has released Tektronix's new TBS2000B series of digital storage oscilloscopes (DSOs) that was developed to meet the performance, usability and affordability needs of both engineers and educators. 
...
Read more...
---
Contactless ESD testing and access control unit
30 June 2020, Actum Group , Test & Measurement
In the electronics manufacturing industry, an electrostatic discharge (ESD) can cause irreparable damage to electronic components. This micro-lightning bolt can burn holes through insulating layers and 
...
Read more...
---
How are IR cameras calibrated and how does ambient temperature affect readings?
30 June 2020, Instrotech , Test & Measurement
Infrared thermometers are calibrated with the help of reference radiation sources, so-called 'black bodies'. These radiant sources are able to produce different temperatures with a high stability.  
...
Read more...
---
Thermal monitor for fever screening
30 June 2020, Actum Group , Test & Measurement
The TCSF256 thermal monitor from Actum Group is a fully automated, plug-and-play fever screening unit. It adopts an infrared radiation measurement technique that can measure body temperature by non-contact 
...
Read more...
---
Uncover EMI issues early with simple pre-compliance tests
30 June 2020, Concilium Technologies , Test & Measurement
An effective pre-compliance testing methodology will reduce test cycle times, which ultimately impacts a company's bottom line.
Read more...
---
The promise of 5G wireless communications
30 June 2020, Lambda Test , Test & Measurement
The deployment of 5G services worldwide is driving a massive increase in fibre densification for the required fronthaul and backhaul links interconnecting radio base stations and web-scale core packet networks.
Read more...
---
Phase noise analyser for precision oscillator characterisation
29 April 2020, Altron Arrow , Test & Measurement
To help research and manufacturing engineers make precise and accurate measurement of frequency signals, including those generated by atomic clocks and other high-performance frequency reference modules 
...
Read more...
---
Principles and testing of 5G over-the-air performance
29 May 2020, Concilium Technologies , Telecoms, Datacoms, Wireless, IoT
Deploying 5G on mmWave presents many challenges to RF engineers. It is essential to have a robust channel model for 5G mmWave frequencies.
Read more...
---
Ethernet tap for IO Ninja
25 March 2020, RF Design , Test & Measurement
Monitoring network communications of your PC can be accomplished without any specialised hardware – just use the Pcap Sniffer plugin of IO Ninja. The task of tapping into the Ethernet traffic of a non-PC 
...
Read more...
---
Bench-top vector signal generator
29 April 2020, RFiber Solutions , Test & Measurement
The T3267E series bench-top vector signal generator from Transcom Instruments has excellent radio frequency performance and rich signal generating function. It can provide arbitrary wave, continuous 
...
Read more...
---