RS Components' (RS) diverse spectrum of over 200 000 electronic, electrical and industrial products includes an extensive range of test and measurement equipment.
The range covers electrical testing; calibration; component testing; inspection and mechanical measurement; laboratory testing; environmental monitoring; signal generation and analysis.
When thinking of what is traditionally termed as 'test and measurement equipment', data loggers and transducers often feature with less prominence. However, they interestingly hold equal importance in many industries. Two such products that, based on their functionality as well as quality, enjoy much usage within industry are the Lascar Data Logger and the RS Transducer.
Based on the accuracy of recorded data, user friendliness and portability whilst also offering very good return on investment, the Lascar Data Logger is extremely popular with businesses that require a recorded history of the minimum and maximum temperatures in a production environment. Features include: the ability to record 16 000 readings; a USB interface for set-up and data download; dew point calculated in Windows control software; two user-programmable alarm thresholds per parameter; bright red, green and amber LED status indication; replaceable internal lithium battery and a translucent lid that provides an IP67-rated seal.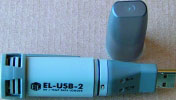 The Lascar Data Logger can record 16 000 readings and has a USB interface for set-up and data download
RS transducers have multipurpose and high performance functionality. Used in process and automation environments, the devices are successfully used to accurately convert pressure readings to a recorded analog signal. The transducers are made from a one piece stainless steel body that ensures temperature compensation and strain gauge technology. Its features include 0-5 V output; ±0,25% accuracy and a -40 to 100/125°C transmitter/transducer range; and the device interfaces directly with a PLC (programmable logic controller).

The multipurpose RS transducers have high performance functionality
RS Components is a leader in the high service level distribution of electronic, electrical and industrial products and serves all sectors of industry in the procurement of R&D, maintenance, repair and operations product requirements.
For more information contact RS Components, +27 (0)11 691 9300, or subsidised call centre, 0860 000 777.