printer friendly version
Data loggers and transducers
23 August 2006
Test & Measurement
RS Components' (RS) diverse spectrum of over 200 000 electronic, electrical and industrial products includes an extensive range of test and measurement equipment.
The range covers electrical testing; calibration; component testing; inspection and mechanical measurement; laboratory testing; environmental monitoring; signal generation and analysis.
When thinking of what is traditionally termed as 'test and measurement equipment', data loggers and transducers often feature with less prominence. However, they interestingly hold equal importance in many industries. Two such products that, based on their functionality as well as quality, enjoy much usage within industry are the Lascar Data Logger and the RS Transducer.
Based on the accuracy of recorded data, user friendliness and portability whilst also offering very good return on investment, the Lascar Data Logger is extremely popular with businesses that require a recorded history of the minimum and maximum temperatures in a production environment. Features include: the ability to record 16 000 readings; a USB interface for set-up and data download; dew point calculated in Windows control software; two user-programmable alarm thresholds per parameter; bright red, green and amber LED status indication; replaceable internal lithium battery and a translucent lid that provides an IP67-rated seal.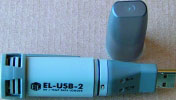 The Lascar Data Logger can record 16 000 readings and has a USB interface for set-up and data download
RS transducers have multipurpose and high performance functionality. Used in process and automation environments, the devices are successfully used to accurately convert pressure readings to a recorded analog signal. The transducers are made from a one piece stainless steel body that ensures temperature compensation and strain gauge technology. Its features include 0-5 V output; ±0,25% accuracy and a -40 to 100/125°C transmitter/transducer range; and the device interfaces directly with a PLC (programmable logic controller).

The multipurpose RS transducers have high performance functionality
RS Components is a leader in the high service level distribution of electronic, electrical and industrial products and serves all sectors of industry in the procurement of R&D, maintenance, repair and operations product requirements.
For more information contact RS Components, +27 (0)11 691 9300, or subsidised call centre, 0860 000 777.
Credit(s)
Further reading:
Smart oscilloscope for faster debug
30 June 2020, Comtest , Test & Measurement
PicoTechnology announced the PicoScope 6000E Series FlexRes oscilloscopes, featuring 8 channels with 500 MHz bandwidth, 16 digital channels, and resolution of 8, 10 or 12 bits. The products work with 
...
Read more...
---
New range of Tektronix DSOs
30 June 2020, Comtest , Test & Measurement
Comtest has released Tektronix's new TBS2000B series of digital storage oscilloscopes (DSOs) that was developed to meet the performance, usability and affordability needs of both engineers and educators. 
...
Read more...
---
Contactless ESD testing and access control unit
30 June 2020, Actum Group , Test & Measurement
In the electronics manufacturing industry, an electrostatic discharge (ESD) can cause irreparable damage to electronic components. This micro-lightning bolt can burn holes through insulating layers and 
...
Read more...
---
How are IR cameras calibrated and how does ambient temperature affect readings?
30 June 2020, Instrotech , Test & Measurement
Infrared thermometers are calibrated with the help of reference radiation sources, so-called 'black bodies'. These radiant sources are able to produce different temperatures with a high stability.  
...
Read more...
---
Thermal monitor for fever screening
30 June 2020, Actum Group , Test & Measurement
The TCSF256 thermal monitor from Actum Group is a fully automated, plug-and-play fever screening unit. It adopts an infrared radiation measurement technique that can measure body temperature by non-contact 
...
Read more...
---
MCUs for precision sensing and measurement
29 July 2020, RS Components (SA) , DSP, Micros & Memory
A new series of single-chip devices from Renesas, the RX23E-A microcontrollers (MCUs), combine an analog front end (AFE) and an MCU core for use in equipment that delivers high-precision measurements 
...
Read more...
---
Uncover EMI issues early with simple pre-compliance tests
30 June 2020, Concilium Technologies , Test & Measurement
An effective pre-compliance testing methodology will reduce test cycle times, which ultimately impacts a company's bottom line.
Read more...
---
The promise of 5G wireless communications
30 June 2020, Lambda Test , Test & Measurement
The deployment of 5G services worldwide is driving a massive increase in fibre densification for the required fronthaul and backhaul links interconnecting radio base stations and web-scale core packet networks.
Read more...
---
Phase noise analyser for precision oscillator characterisation
29 April 2020, Altron Arrow , Test & Measurement
To help research and manufacturing engineers make precise and accurate measurement of frequency signals, including those generated by atomic clocks and other high-performance frequency reference modules 
...
Read more...
---
Ethernet tap for IO Ninja
25 March 2020, RF Design , Test & Measurement
Monitoring network communications of your PC can be accomplished without any specialised hardware – just use the Pcap Sniffer plugin of IO Ninja. The task of tapping into the Ethernet traffic of a non-PC 
...
Read more...
---