printer friendly version
Measurement/control applications more easily established with help of new software
23 August 2006
Test & Measurement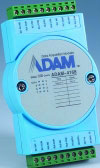 Advantech's popular ADAM range of products allows engineers to easily do field measurements, and ADAM support is also included in various SCADA packages. This is according to local distributor Centurion Micro Electronics, who adds that, if an engineer would like to use ADAM in a custom written package however, he/she would need to implement the ADAM ASCII protocol in software and purchase an OCX control. This is now simplified, with the release of the ADAM.NET library.
Advantech's recently-released ADAM.NET Class Library helps engineers easily program with the Microsoft Virtual Studio.NET development software. According to Centurion Micro Electronics, it offers a powerful tool for WIN CE.NET that allows users to easily implement the ADAM serial I/O into their applications under the WIN CE.NET platform. The ADAM.NET Class Library supports Win32, WinCE, and Pocket PC, and also provides VB.NET and C# class objects to help users configure and control ADAM I/O series products.
Because Microsoft Virtual Studio.NET development software no longer supports the MSCOM function, it is more difficult for engineers to program applications with ADAM I/O modules. To assist engineers, the ADAM.NET Class Library now also supports the commands of MODBUS/TCP and UDP Search to integrate with third party devices.
To shorten the programming development time, Centurion Micro Electronics also offers graphic indicators, lights, knobs, meters, numbered LEDs, switches, and trends in the utility. Engineers can simply drag and drop these graphics to develop applications with a few clicks. The company offers exhaustive examples for procedure commands and source codes in the package, and customers can consult the relevant examples to quickly develop procedures.
Credit(s)
Further reading:
Personality profile: Peet Smit
26 February 2020, Centurion Micro Electronics , News
I believe in integrity, honesty and hard work and finding a balance in life.
Read more...
---
Vector network analyser training kit
26 February 2020, Comtest , Test & Measurement
Pico Technology has added significant functionality and value to its low-cost, high-performance vector network analyser (VNA), by joining the NI/AWR Connected Partner community. The PicoVNA interface 
...
Read more...
---
Better phase noise measurement for Infiniium UXR scopes
26 February 2020, Concilium Technologies , Test & Measurement
Keysight Technologies and Silicon Labs announced a collaboration that streamlines the validation of timing solutions critical in the development of system-level designs for wireless communications, high-speed 
...
Read more...
---
Eliminate risk with proper calibration
26 February 2020, Concilium Technologies , Test & Measurement
Proper calibration lowers cost of test by reducing the number of incorrect decisions made, by improving instrument performance.
Read more...
---
Double pulse test software for Tektronix AFG
29 January 2020, Comtest , Test & Measurement
Comtest announced the availability of Tektronix' new software plugin for its AFG31000 arbitrary function generator (AFG), making it possible to perform crucial double pulse testing in less than a minute, 
...
Read more...
---
Battery charge/discharge test system
29 January 2020, Conical Technologies , Test & Measurement
The ITS5300 battery charge and discharge test system from ITECH is designed for a variety of power batteries including lead acid, nickel hydrogen, lithium batteries, supercapacitors, hydrogen fuel cells 
...
Read more...
---
DIN-rail programmable transmitter
23 October 2019, Instrotech , Test & Measurement
Calog Instrument's versatile DPM9000 series – a miniature DIN-rail mount programmable isolated transmitter range – boasts high reliability and a versatile, wide range of programmable inputs. With dimensions 
...
Read more...
---
Hands-on learning module
23 October 2019, Altron Arrow , Test & Measurement
The ADALM2000 (M2K) active learning module is an affordable, USB-powered, software-defined instrument that exceeds the capabilities of its predecessor ADALM1000 (M1K). With 12-bit ADCs (analog-to-digital 
...
Read more...
---
Digital multimeter with thermal imager
23 October 2019, RS Components (SA) , Test & Measurement
A digital multimeter (DMM) with a built-in thermal imager has been added to RS Components' RS PRO product range. The RS-9889 allows engineers to identify thermal overload issues in electrical equipment 
...
Read more...
---
Project-based learning for the modern engineer
23 October 2019 , Test & Measurement
Projects that inherently challenge students to use innovative design thinking often involve interacting with an unknown process or device. Students are encouraged to understand the unknown through theory, 
...
Read more...
---