printer friendly version
IEC, IPC highlights inadequacies of traditional test methods for ensuring reliability of lead-free electronic assemblies
23 August 2006
Test & Measurement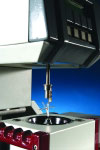 Gen3 Systems' managing director Graham Naisbitt, a member of both the IEC and IPC test standards committees, says lead-free implementation has exacerbated the need for manufacturers to draw a distinction between 'solderability' and 'soldering ability' tests, to avoid undermining the integrity of electronic assemblies used in critical applications
Solderability' is a quantitative measurement of how well molten solder wets component joints and PCB pads indicating the robustness of the surface finish, while 'soldering ability' is a term used to describe how well a specific combination of flux and solder work together to solder a component to a PCB.
While this is not a new problem, he says it has become more critical as lead-free solder becomes the norm after the EU's Restriction of Hazardous Substances (RoHS) deadline and the release of updated International Electrotechnical Commission (IEC) and Association Connecting Electronics Industries (IPC) soldering standards.
Previously, manufacturers using tin/lead alloys could compensate for poor solderability by tuning the soldering process - thus improving the soldering ability of the assembly. However, this is no longer an option for lead-free solder because it is a much less forgiving process. Consequently, it is now critically important for manufacturers of high reliability electronics to determine the solderability of components and PCBs prior to assembly.
"Solderability testing now needs a much higher level of precision, repeatability and reproducibility to take account of the unforgiving nature of the high tin content alloys that have been recommended by IEC and IPC," explains Naisbitt. "While tweaking the soldering process might have been acceptable to overcome poor solderability and improve soldering ability for some assemblies using familiar lead alloys, it just will not work with lead-free solder alloys - particularly in no-clean processes. Unreliable solder joints would be almost inevitable.
"Assemblers need to know for sure that they are using boards and components of known acceptable solderability that will always solder satisfactorily in their established and optimised process without any form of tweaking or adjustment," Naisbitt continues. "The higher soldering temperatures and thermal issues of lead-free allied with unproven on-board electrochemical and contamination reactions between various other process chemistries are just too complex and poorly understood to let the soldering process be changed at will."
After extensive soldering analysis involving 30 000 individual tests, imminent new IPC standards recognise that wetting balance force measurement and globule testing is better than traditional 'dip-and-look' manual judgements for quantitatively determining solderability to the precision required so that adjustment to the soldering process becomes unnecessary.
The main problem with the traditional, and popular, dip-and-look technique, is its lack of adequate gauge repeatability and reproducibility (or gauge R&R). This is a measure of how repeatable and reproducible tests are when performed by different people at different times.
According to the IPC: "Users who believe that the 'dip-and-look' methodology has a respectable Gauge R&R would be in for an extreme shock. The IPC committees have also voted that no new solderability test methods will be introduced into the standards without a demonstrated, industry acceptable gauge R&R value."
Defining new test methods is critical because the reliability of electronics hinges on the performance of the solder. Gen3 Systems manufactures the Must System Solderability Tester for wetting balance force measurement and globule testing (pictured). The equipment is ideal for both tin/lead and lead-free alloy testing and has been used by the industry for many years. The company has also produced a lead-free bath and globule set and lead-free accessories kit for existing Must Solderability Tester owners.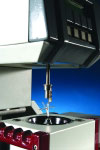 The Must System Solderability Tester measures wetting balance force measurement and globule testing of both tin/lead and lead-free alloys
For more information contact Graham Naisbitt, +44 (0)12 5252 1500, graham.naisbitt@gen3systems.com
Further reading:
Smart oscilloscope for faster debug
30 June 2020, Comtest , Test & Measurement
PicoTechnology announced the PicoScope 6000E Series FlexRes oscilloscopes, featuring 8 channels with 500 MHz bandwidth, 16 digital channels, and resolution of 8, 10 or 12 bits. The products work with 
...
Read more...
---
New range of Tektronix DSOs
30 June 2020, Comtest , Test & Measurement
Comtest has released Tektronix's new TBS2000B series of digital storage oscilloscopes (DSOs) that was developed to meet the performance, usability and affordability needs of both engineers and educators. 
...
Read more...
---
Contactless ESD testing and access control unit
30 June 2020, Actum Group , Test & Measurement
In the electronics manufacturing industry, an electrostatic discharge (ESD) can cause irreparable damage to electronic components. This micro-lightning bolt can burn holes through insulating layers and 
...
Read more...
---
How are IR cameras calibrated and how does ambient temperature affect readings?
30 June 2020, Instrotech , Test & Measurement
Infrared thermometers are calibrated with the help of reference radiation sources, so-called 'black bodies'. These radiant sources are able to produce different temperatures with a high stability.  
...
Read more...
---
Thermal monitor for fever screening
30 June 2020, Actum Group , Test & Measurement
The TCSF256 thermal monitor from Actum Group is a fully automated, plug-and-play fever screening unit. It adopts an infrared radiation measurement technique that can measure body temperature by non-contact 
...
Read more...
---
Uncover EMI issues early with simple pre-compliance tests
30 June 2020, Concilium Technologies , Test & Measurement
An effective pre-compliance testing methodology will reduce test cycle times, which ultimately impacts a company's bottom line.
Read more...
---
The promise of 5G wireless communications
30 June 2020, Lambda Test , Test & Measurement
The deployment of 5G services worldwide is driving a massive increase in fibre densification for the required fronthaul and backhaul links interconnecting radio base stations and web-scale core packet networks.
Read more...
---
Phase noise analyser for precision oscillator characterisation
29 April 2020, Altron Arrow , Test & Measurement
To help research and manufacturing engineers make precise and accurate measurement of frequency signals, including those generated by atomic clocks and other high-performance frequency reference modules 
...
Read more...
---
Ethernet tap for IO Ninja
25 March 2020, RF Design , Test & Measurement
Monitoring network communications of your PC can be accomplished without any specialised hardware – just use the Pcap Sniffer plugin of IO Ninja. The task of tapping into the Ethernet traffic of a non-PC 
...
Read more...
---
Bench-top vector signal generator
29 April 2020, RFiber Solutions , Test & Measurement
The T3267E series bench-top vector signal generator from Transcom Instruments has excellent radio frequency performance and rich signal generating function. It can provide arbitrary wave, continuous 
...
Read more...
---