printer friendly version
Audio technology housed in leading-edge subracks for 2006 FIFA World Cup
20 September 2006
Enclosures, Racks, Cabinets & Panel Products
Lawo, a leading supplier of professional audio technology in radio and television, received the order to take over the audio transmission from all 12 World Cup stadia to the International Broadcast Centre (IBC) in Munich.
The IBC is the star point at which all audio signals (up to 240 per stadium) are joined via an ATM telecoms network from 12 stadia and then made available to the individual radio and television transmitters.
Through the ATM interface, audio signals of the highest quality are transmitted via a telecom network, which is normally used as a backbone network for the Internet or similar applications. The complete audio routing system of the 12 stadia and the IBC in Munich is probably the largest audio router in the world.
Realtime audio technology via ATM interfaces
Each stadium is equipped with several Dallis I/O systems and a Nova73 HD, a digital crossbar. So, on a compact 10U up to 8192 inlets and outlets (mono) via AES3-, MADI and ATM interfaces can be achieved. Other formats and decentralised structures can be carried out with the 3 U high Dallis system, which creates a homogenous system together with the Nova73 crossbar.
The Nova73 HD digital crossbar in a 10 U high Schroff subrack
The HD technology offers extensive features such as 96 kHz scanning rate, Dolby-E compatibility, tact synchronic switching to video frames or integrated signal processing for level adjustment and mono formation. The Dallis I/O system is very flexible. Its fibre connection offers the possibility to form decentralised structures. On account of its high density it is also suitable for central installation.
Dallis-I/O systems assembled with 3U Schroff subracks
The modular concept is based on subracks, which house the diverse boards. These come in an extensive choice with different interfaces and insertion types. Each subrack is controlled with a master board, which provides an ATM or MADI interface as collective connection, via which the control data are transferred.
The IBC, where all the signals come together, is equipped with two mc²66 mixers from Lawo. The integrated audio crossbar with a capacity of up to 8192 mono channels as well as audio processing of 192 fully equipped DSP channels fulfils the set requirements.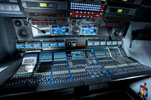 The IBC in Munich was equipped with two mc²66 mixers
And suitable subracks
The I/O systems as well as the digital crossbars from Lawo are based on 3U and 10U europacPRO subracks from Schroff. These are already equipped with a backplane, power supply and cooling unit by Schroff. When these systems were developed by Lawo around four years ago, there were a number of requirements that could not be fulfilled by the subracks available on the market at that time. Therefore the Lawo engineers searched for experts in electronics packaging, who were prepared to work on a customer-specific solution.
The main demands on the subrack system for the Nova73 were: the smallest possible dimensions - especially relating to height, an effective cooling concept for the high density (for a maximum performance loss of 600 W), EMC shielding, suitable power supply and a backplane with 64 symmetric cable pairs with a transfer rate of 1,2 Gbp each.
Through the constructive co-operation a subrack system was created that consisted of standard parts of the europacPRO range as well as customer-specific components and solutions such as airflow panels, side panels with special perforation, rear assembly, strengthened backplane assembly etc. A particularly narrow backplane and specifically adapted, compact, redundant power supply was also developed for the customer. For the power supply, the demand was for high performance with the least possible space requirement.
A particular requirement for the 10U system was the optimum cooling of the components. In the bottom area the two power supplies were located with separate fans. Above it is the area where the air is taken in, led through the 6U high board area to the top, and then sucked out of the system by fans. Because of the compact assembly, some specific measures were necessary to direct the airflow so that the function and life expectancy of the components was not affected. The cooling concept and the fans used contributed decisively to limited noise generation.
For the subracks for I/O systems, too, the main demands were for the smallest possible dimensions and passive cooling. In this case the rear assembly of two redundant power supplies into an only 3U high and limited depth system, was quite demanding. The solution was found with hinged mechanisms into which the power supplies were assembled sideways and could be swapped during operation.
High availability
Important elements of the development for the systems also were the high reliability and availability. The digital crossbar could be maintained, re-assembled and re-configured during operation. Hot-swapping is therefore no longer restricted to the exchange of the same components, but allows to extend the system during the transmission. Furthermore, the Lawo STAR technology is a further guarantee for highest availability. All important components including the power supply are arranged redundantly. For the Dallis I/O systems, too, all components are hot-swap capable. As further safety measure a redundant power supply and a redundant master board are available.
Credit(s)
Further reading:
Clearing the Static
31 August 2020, Actum Electronics , News
Ionisation and static control
Electronic products normally consist of conductors and insulators. Within the ESD-protected workstation, insulators can be found on products such as PCBs, onthe tools being 
...
Read more...
---
Enclosures for small table-top instruments
30 September 2020, Avnet Abacus , Enclosures, Racks, Cabinets & Panel Products
The Evotec range of table-top plastic enclosures, made by OKW, is suitable for tough working environments in applications such as measurement and control engineering, IT, medical, laboratory and environmental 
...
Read more...
---
Enclosures for mounting electronic applications
30 September 2020, Sivan Electronic Supplies , Enclosures, Racks, Cabinets & Panel Products
Available from Gainta is a range of plastic enclosures for mounting and assembly of general electronic applications. The bases of the cases have a mounting flange and incorporate a tongue and groove 
...
Read more...
---
Stylish new plastic enclosure family
30 September 2020, Electrocomp , Enclosures, Racks, Cabinets & Panel Products
Hammond Electronics has announced its new 1557 family. Initially available in four plan sizes, each in two heights, it is available in polycarbonate sealed to IP68 and ABS designed to meet IP66. The sizes 
...
Read more...
---
Range of DIN rail enclosures
30 September 2020, Vepac Electronics , Enclosures, Racks, Cabinets & Panel Products
The CNMB range of DIN rail enclosures provides a diverse selection of modular housings which are available in eight set lengths. They are optimised for a wide range of electrical and electronics industries 
...
Read more...
---
Rittal's range of compact and small enclosures
30 September 2020 , Enclosures, Racks, Cabinets & Panel Products
After more than 50 years and 35 million enclosures sold, Rittal has introduced its small and compact enclosures in the form of the AX and KX series. According to managing director of Rittal South Africa, 
...
Read more...
---
Versatile rack cases
30 September 2020, Vepac Electronics , Enclosures, Racks, Cabinets & Panel Products
Rack cases are a key building block of rack mounting systems, enabling electronic, electric and electro-mechanical sub-systems and assemblies to be mounted easily in any standard 19" enclosure. For 
...
Read more...
---
Industrial enclosures in stainless steel
31 August 2020, Electrocomp , Enclosures, Racks, Cabinets & Panel Products
The IP66 EJSS family from Hammond Electronics is available in 304 or 316 grade stainless steel, supplied as standard in a natural smooth brushed finish. Sealed to IP66, the EJSS is designed for use as 
...
Read more...
---
Navigating EMI challenges in next-generation railway technology
31 August 2020, Actum Group , Enclosures, Racks, Cabinets & Panel Products
The advent of new-age connectivity, such as 5G networks and LTE, has enabled railway systems to process higher volumes of data digitally, which has significantly improved operational safety, efficiency 
...
Read more...
---
Clearing the Static: ESD wrist straps
29 July 2020, Actum Electronics , News
The human body is the primary source of electrostatic charge generation. In order to control and reduce static charge build-up and prevent electrostatic discharges (ESD), we use grounding systems to ensure 
...
Read more...
---