printer friendly version
LED driver has no need for µC or converter
20 September 2006
Opto-Electronics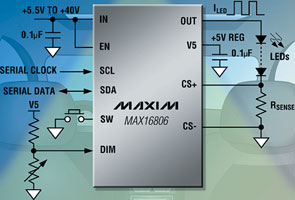 The MAX16806 is the first linear LED driver that controls total power dissipation in a lighting system, according to the manufacturer, Maxim. It eliminates the need for a switch-mode driver by folding back the LED current at high-input voltage or high ambient temperature. The 200 Hz ramp on-board allows analog control of PWM dimming, eliminating the need for a μC PWM signal. It employs a unique approach to ensure consistent product brightness. An EEPROM-programmable current-sense reference eliminates the need for a complex matrix of sense resistors to match each LED bin in production. Using only one of the sense resistor's values and the I²C interface, the LED current will be programmed at the production line, based on the LED bin information. The device requires minimum external components to implement the LED driver circuit in automotive dome and map-lighting applications. It is said to be a cost-effective lighting solution for applications that would usually require a switch-mode LED driver or many discrete components. Additionally its use in these applications eliminates EMI concerns - usually caused by switch-mode converters. The MAX16806/5 are rated for -40 to 125°C and come in SMT, 5 x 5 mm, 20-pin TQFN lead-free packages.
Credit(s)
Further reading:
AEC-Q200 compliant line filters
28 October 2020, Electrocomp , Circuit & System Protection
Bourns Magnetics Product Line is introducing the Model DR334A line filter series. These filters are constructed with a ferrite toroid core delivering compact size and high impedance over a broad frequency 
...
Read more...
---
Global shutter image sensor for machine vision
28 October 2020, EBV Electrolink , Opto-Electronics
ON Semiconductor has introduced the AR0234CS 2,3 megapixel CMOS image sensor with global shutter technology. The high-performance sensor is designed for a variety of applications including machine vision 
...
Read more...
---
3D time-of-flight image sensors
28 October 2020, Hamamatsu Photonics UK , Opto-Electronics
Touchless operation of machinery for hygiene management, measurement tools for ensuring social distance and labour-saving autonomous robots are becoming more common in everyday life. Today, distance 
...
Read more...
---
Rugged three-phase AC filter capacitors
30 September 2020, Electrocomp , Passive Components
TDK introduced two new series of EPCOS power capacitors for AC filtering in three-phase delta connection applications. The B32375* series is designed for the low to medium power range and covers a capacitance 
...
Read more...
---
High-speed protectors for automotive circuits
30 September 2020, Electrocomp , Circuit & System Protection
Bourns announced the release of the AEC-Q101 compliant Model TBU-CA-Q High-Speed Protector series. These products are low-capacitance, single bidirectional high-speed protection components, constructed 
...
Read more...
---
Stylish new plastic enclosure family
30 September 2020, Electrocomp , Enclosures, Racks, Cabinets & Panel Products
Hammond Electronics has announced its new 1557 family. Initially available in four plan sizes, each in two heights, it is available in polycarbonate sealed to IP68 and ABS designed to meet IP66. The sizes 
...
Read more...
---
New generation of LEDs for greater driving safety
30 September 2020, Vepac Electronics , Opto-Electronics
In a few years LEDs will be the predominant light source in car headlights. Their compactness and energy efficiency in particular are major advantages over conventional technologies. LEDs also make it 
...
Read more...
---
Microthermal liquid flow sensors
29 July 2020, Electrocomp , Analogue, Mixed Signal, LSI
The SLF3x liquid flow sensor series from Sensirion represents an advancement for microthermal liquid flow sensors. By combining Sensirion's 20-year track record in low and lowest flow rate sensing with 
...
Read more...
---
Industrial enclosures in stainless steel
31 August 2020, Electrocomp , Enclosures, Racks, Cabinets & Panel Products
The IP66 EJSS family from Hammond Electronics is available in 304 or 316 grade stainless steel, supplied as standard in a natural smooth brushed finish. Sealed to IP66, the EJSS is designed for use as 
...
Read more...
---
OLED module with yellow and blue display
31 August 2020, iCorp Technologies , Opto-Electronics
Raystar's REA012864M is a COG (chip-on-glass) 0,96-inch dual colour OLED in the form of a PCB module. The module is built on an SSD1306 IC, supporting an I
2
C interface, 1/64 driving duty cycle, and supply 
...
Read more...
---