printer friendly version
Case study: vehicle-mounted computing achieves realtime traceability
16 May 2007
Computer/Embedded Technology
As is well-known, warehousing logistics has benefited greatly from the development of bar-code scanning systems.
However, implementation of new technologies that are intended to fulfil precise functions is never a simple process. The keynotes of a successful new system are efficiency and trouble-free operation.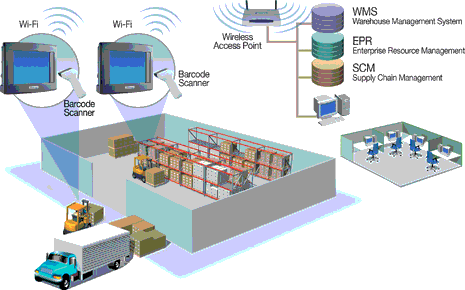 System requirements
The end-user, a major food manufacturer with a busy warehouse, required an efficient vehicle-mounted computer to log and relay incoming and outgoing merchandise to the company's logistics control centre. The new mobile computer required a bar-code scanner and a 10,4" high brightness LCD display for mounting onto forklifts. The main function of the computer would be to maintain efficient inventory control and ordering logistics. A Korean system integrator (SI), Nuri Telecom, was commissioned to update an antiquated system.
Realtime traceability of inventory and shipment
The SI chose to offer the TREK-755, Advantech's fanless, vehicle-mounted computer. It offers an x86 based core, the latest platform which outperforms competing RISC systems. The TREK mobile computer is supported by WLAN and must supply essential data for storing, locating and moving merchandise for inventory management and outbound shipment. The data recorded by TREK-755 would include storage locations, quantities and schedules. Automatic tracking is central to the logistics system: locating stock must be error-free and instantaneous, and must catalogue all incoming and outgoing merchandise. Simultaneously, each scanner and TREK must register the forklift number used to receive and handle the merchandise; the logistics system can then compute each forklift's efficiency while tracking its location in the warehouse. The system assigns tasks equitably. Since orders must be fulfilled quickly, the system must establish a robust capacity for well-planned logistical turnarounds.
Tough conditions
The toughest criterion was presented by environmental conditions: the TREK-755 must be built to withstand continuous daily use year-round, in both summer and winter conditions. In the winter, the TREK-755 is required to start up outside in cold temperatures of -20°C.
The TREK-755 is also subject to strict reliability and performance requirements. The power requirements of the TREK-755 must conform to power sources already available on an existing fleet of forklifts, which include a range of DC batteries: 12, 24 and 48 V. Simultaneously, it must be rugged, easily programmed and fully integrate with vehicles and warehousing equipment already in use. The Advantech system proved to be the most accessible, offering the easiest and most practical implementation of all available systems.
The system
The TREK-755 is built into a very compact and completely sealed aluminum enclosure. The aluminium enclosure is tough enough to endure the vibration from forklifts and is impervious to dust and water from daily operations.
* Improves warehousing management efficiency: The TREK-755 integrates a wireless LAN solution, which streamlines the unit for round-the-clock, inside and outside operations. It can be equipped with a high-brightness display, which is necessary for efficient operation.
* Fulfils computing tasks in sub-zero conditions: the TREK-755 anti-freeze platforms are guaranteed to perform consistently through winter and summer.
* X86 system empowers flexible programming: The TREK-755 offers an x86-based computer core for rapid configuration and operation. An XP Pro Embedded OS supports the inventory software and wireless relay to the central logistics system. The SI programmed the porting and information relay applications with Visual C++.
Credit(s)
Further reading:
AI-powered computer for autonomous machines
Altron Arrow Computer/Embedded Technology
Nvidia recently premiered Jetson AGX Orin, the world's smallest, most powerful and energy-efficient AI supercomputer for robotics, autonomous machines, medical devices and other forms of embedded computing 
...
Read more...
---
AI voice development kit
iCorp Technologies Computer/Embedded Technology
Espressif Systems announced the launch of its AI voice development kit, ESP32-S3-BOX, which provides a platform for developing the control of smart devices with offline and online voice assistants. The 
...
Read more...
---
VITA 42.0 XMC updates: A refreshed standard and new optical XMC modules
Spectrum Concepts Computer/Embedded Technology
Open standards simplify system design while offering robust ecosystems of solutions providers. Even as open standards are adopted across industries and platforms, updates are needed from time to time. 
...
Read more...
---
VPX processor board with strong security
Rugged Interconnect Technologies Computer/Embedded Technology
Concurrent Technologies has developed a VPX processor board based on the Intel Xeon E-2200 processor family (previously known as Coffee Lake Refresh) launched by Intel for use in long-lifecycle embedded 
...
Read more...
---
Full AI/machine learning sensing solution
Computer/Embedded Technology
SensiML, a developer of AI tools for building intelligent Internet of Things (IoT) endpoints, has teamed up with onsemi to deliver a complete machine learning solution for autonomous sensor data processing 
...
Read more...
---
Frame grabber for up to four CoaXPress links
Rugged Interconnect Technologies Computer/Embedded Technology
Kaya Instruments' Komodo II CoaXPress 12G PCIe/104 is a high-spec frame grabber supporting the CoaXPress 2.0 standard. It can receive video streams from up to four CoaXPress links in single, dual or 
...
Read more...
---
Benchmarking tools for quantum computing released
Computer/Embedded Technology
Quantum computers are still a long way from being practical in real-world scenarios, but development is already underway on benchmarking tools to measure their performance. The Quantum Economic Development 
...
Read more...
---
Updates add video to ST's TouchGFX suite
Altron Arrow Computer/Embedded Technology
STMicroelectronics has released TouchGFX Version 4.18 for user-interface development with STM32 microcontrollers (MCUs), adding video playback, enhanced tools for multi-developer collaboration and support 
...
Read more...
---
SoM maker relies on ST MPU and open-source community
Altron Arrow Computer/Embedded Technology
"Open source is not only code sharing but a willingness to bring a certain know-how to a community and make a business around it."
Read more...
---
Analog microphone array board for advanced audio sensing
Altron Arrow Computer/Embedded Technology
The STEVAL-STWINMAV1 microphone array expansion board adds advanced audio sensing capabilities to STMicroelectronics' STEVAL-STWINKT1B (and STEVAL-STWINKT1) SensorTile Wireless Industrial Node (STWIN) 
...
Read more...
---