printer friendly version
The real issue limiting wireless sensor networks
16 May 2007
Telecoms, Datacoms, Wireless, IoT
While wireless sensors have become a hot topic in recent years, many experts note that they remain underused commercially. Some cite confusion with the numerous proprietary and standard communication protocols as the cause, while others talk about lack of security.
Companies such as Crossbow, MicroStrain, and Millennial Net are beginning to offer wireless sensor hardware that addresses some of those concerns, but one issue still frustrates potential users of this technology - software.
Companies that provide hardware solutions typically offer network configuration and monitoring software, but the problem of allowing users to program multiple nodes at once with the same functionality has yet to be well addressed. In addition, the existing software may make sharing data among the nodes in the wireless sensor network simple, but challenges arise when users try to share that data on the rest of the network or publish it to the Web. This article discusses these and other software challenges that wireless sensor network users still face and offers potential solutions to these problems.
The current state of wireless sensor software
The software packages provided by today's wireless sensor vendors include the basics for performing wireless measurements - node configuration and management and data logging and display.
* Node configuration and management: nearly every wireless sensor vendor's software package provides some level of node configuration. For example, with Agile-Link software from MicroStrain, a user can add a node to the system, manually put it to sleep or wake it up, and configure how fast it will stream data. Other software packages, such as Mote-View (Figure 1) from Crossbow Technology, also represent visually where the node is located on a floor plan of your facility. Most software packages also offer information on the state of each node, indicating whether the node is connected to the network and actively transmitting data.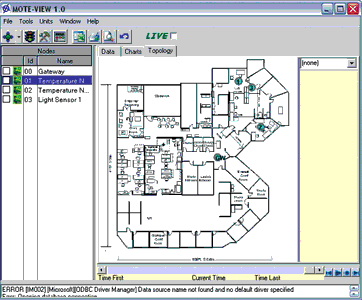 Figure 1. Mote-View software from Crossbow Technology lets users represent wireless nodes on a floor plan of their facility
* Data logging and display: all software packages display realtime wireless sensor data on a graph for monitoring purposes, but some such as Agile-Link also provide an interface for the user to set up basic datalogging. The user can then export data to Microsoft Excel or other spreadsheet packages for offline analysis.
While these node management software tools are fairly intuitive even for beginners, they typically have fixed capabilities and lack several features that many users view as necessary for wireless sensor networks to be truly useful.
What is still missing
Wireless sensor technology has certainly come a long way in the past decade, but the software for programming and managing these nodes is still missing many of the fundamental pieces that would make it beneficial to real users, not just those experimenting with the technology. These boil down to three high-level features - node intelligence and automation, node aggregation, and integration with the rest of the enterprise.
* Node intelligence and automation: while the software packages mentioned above and others contain some basic features for configuring a node, none of them offer an intuitive method for users to customise their hardware nodes with additional intelligence, such as local analysis. Local analysis facilitates scenarios where higher-power gateway nodes aggregate and process data from several lower-power end nodes and pass minimal information, such as the result of a limit test, back to a central location. Another form of an intelligent node is one that can acquire data very fast (on the order of several kilosamples per second) and store it locally, passing back only parametric data. For example, a node might be embedded in a large machine to monitor its vibration levels. While it may be acquiring a large amount of raw data, it may only need to send a pass or fail indicator to the host indicating whether the machine is within required limits.
Most wireless sensor nodes today are still passive nodes that simply pass back the data they are hard-coded to provide. Very few have built-in intelligence for data analysis or automated power management. Those nodes that do have a way to incorporate additional intelligence use programming interfaces that are not nearly as simple as the node management interface described above, and users must often resort to low-level text-based programming. This is a less than ideal situation for engineers and scientists who may be experts in their fields but who are not embedded programmers.
* Node aggregation: the current node management software may work well for networks of 20 to 30 nodes, but when a government organisation or large corporation wants to implement a network of hundreds or thousands of nodes, the setup becomes extremely time-consuming. At this point, it becomes difficult to program each node individually, so software packages for programming and configuring nodes need to be able to aggregate them into groups and program an entire group at a time with the same function. For instance, an oil company may want to monitor the flow in its pipeline at many points. Since all nodes will essentially perform the same task, monitor flow and log or pass data back to a central location, the company could save time and money if they could program all nodes at once. This node aggregation capability creates a simple interface for developing redundant systems and speeds the configuration of very large networks. Wireless sensor technology cannot scale beyond research and small applications without this feature.
* Integration with the enterprise: before fully adopting wireless sensor technologies, most companies will demand the ability to easily integrate their sensor networks with the rest of the enterprise. This means not just providing a method for datalogging and offline analysis, but also offering a way to pass data directly between a hybrid network of wireless sensors and office systems that use different networking protocols (Figure 2). This, in turn, requires online analysis capabilities. Being able to aggregate this data and provide access to it via a Web server is an optional but often important feature for companies whose employees are spread out across the globe or who want to give multiple internal consumers of the data easy access to it.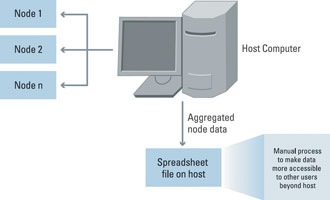 Figure 2. Currently, most wireless sensor node data can only be logged to a spreadsheet, and no automated method exists for getting the data to the rest of the enterprise
A potential solution to much of the problem
Wireless sensor networks may seem to have a long way to go before their software can meet the majority of user needs, but a solution to some of these shortcomings actually exists today. Though it does not yet have the capability to program multiple nodes at once, a currently available software tool offers a way to program nodes, add intelligence, and integrate wireless sensor data with the rest of the enterprise. That tool is National Instruments' LabVIEW, an industry-standard graphical development environment for measurement and automation in the wired world.
* Node intelligence and automation: with the recently-released NI LabVIEW Embedded Development Module, users can program any 32-bit processor and, therefore, any wireless sensor based on a 32-bit processor. Using this tool, wireless sensor vendors can develop drivers for their wireless nodes so end users can program the nodes with LabVIEW. As a result, wireless sensor users can add custom intelligence to their nodes without complex register-level or text-based programming.
* Integration with the enterprise: NI LabVIEW and its toolkits offer compatibility with numerous networking protocols, such as TCP/IP and Bluetooth, and databases, such as Microsoft Access, SQL Server, and Oracle. As a result, a host computer can run a LabVIEW program to aggregate data from multiple wireless sensor nodes and automatically send it to other machines on the network or store it to a database. In addition, LabVIEW Full Development Systems and higher include a built-in Web server, so a host computer can aggregate data from the nodes and serve up the data in realtime to a website that clients of the data can access and even control through their web browser (Figure 3). Even though LabVIEW cannot yet program multiple nodes at once, a user can build a standard configuration, save it, and download it to each node in turn.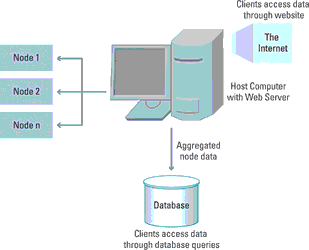 Figure 3. LabVIEW provides database connectivity and a built-in Web server so that wireless sensor node data can easily integrate with the rest of the enterprise
Several top universities and many corporations already place heavy emphasis on wireless sensor technology research. As the buzz around wireless sensors continues to grow and hardware platforms and protocols proliferate, the software must scale to meet the needs of users who could most benefit from implementing them. By providing LabVIEW drivers for wireless sensors, manufacturers can open the door to a whole new set of users who require node intelligence and integration with the rest of their enterprises.
For more information contact National Instruments SA, +27 (0)800 203 199.
Further reading:
Connectivity for IoT devices with SoftSIM
Otto Wireless Solutions Telecoms, Datacoms, Wireless, IoT
IoT device vendors are facing more and more complex cellular connectivity issues these days. Manufacturing is often outsourced to third-party factories and finished devices are being distributed to many 
...
Read more...
---
High-power GaN RF amplifier
RFiber Solutions Telecoms, Datacoms, Wireless, IoT
The CHA7618-99F is a three-stage GaN high-power amplifier (HPA) in the frequency band 5,5-18 GHz. This United Monolithic Semiconductors HPA typically provides 10 W of output power allied with 20% of power-added 
...
Read more...
---
ExpressLink modules for secure connectivity to AWS Cloud
RF Design Telecoms, Datacoms, Wireless, IoT
u-blox has announced two new modules designed to enable Amazon Web Services (AWS) cloud services for device and fleet management out of the box: the NORA-W2 AWS IoT ExpressLink Wi-Fi module and the SARA-R5 
...
Read more...
---
Cellular antenna for 4G/LTE and 5G NR
iCorp Technologies Telecoms, Datacoms, Wireless, IoT
Antenova's new 'Affini' (part number SRFL064) is a flexible printed circuit (FPC) antenna for the LTE, 4G and 5G NR networks in global markets. This antenna covers all main 4G bands plus 617-698 MHz which 
...
Read more...
---
Passive MMIC diplexer
RF Design Telecoms, Datacoms, Wireless, IoT
The MDPX-0710 from Marki Microwave is a passive MMIC diplexer with passbands from DC to 7 GHz (low band) and 10 to 26,5 GHz (high band). It has an insertion loss of less than 0,9 dB within its passbands 
...
Read more...
---
Automotive-grade GNSS signal splitter
RF Design Telecoms, Datacoms, Wireless, IoT
Tallysman Wireless has added the TW162A automotive-grade 'Smart Power' GNSS signal splitter to its line of GNSS accessories. The device supports the full GNSS spectrum: GPS/QZSS-L1/L2/L5, QZSS-L6, GLONASS-G1/G2/G3, 
...
Read more...
---
u-blox extends 'bring your own SIM' approach to MQTT
RF Design Telecoms, Datacoms, Wireless, IoT
u-blox has introduced a service that gives IoT sensor network developers the flexibility to combine any cellular connectivity with all the benefits of MQTT communication. The u-blox MQTT Flex service 
...
Read more...
---
GNSS correction service receivers for cm-level accuracy
RF Design Telecoms, Datacoms, Wireless, IoT
For designers who require reliable centimetre-level positioning accuracy, e.g. for the industrial navigation and robotics markets, a new suite of products and feature additions have been rolled out by 
...
Read more...
---
4xMIMO cross-polarised antenna
RF Design Telecoms, Datacoms, Wireless, IoT
The TGX.04 from Taoglas is a 5G/4G 4xMIMO dipole antenna that operates from 450 to 6000 MHz. It supports worldwide sub-6 GHz cellular bands including 5G NR, LTE, NB-IoT, etc. This cross-polarised 
...
Read more...
---
High-linearity, multi-octave RF mixers for up to 40 GHz
RF Design Telecoms, Datacoms, Wireless, IoT
Two new SMT-packaged multi-octave RF mixers featuring high linearity and broad bandwidths have been added to Marki Microwave's stable of products. The MM1-1040HPSM is an ideal choice for 5G signal 
...
Read more...
---