printer friendly version
High quality headsets now locally made
16 May 2007
Telecoms, Datacoms, Wireless, IoT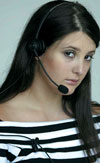 Cape Town-based Crystel Clear Communications, in association with Ashdan Electronics has launched South Africa's first and fully locally manufactured range of telecommunications/call centre headsets.
The 'Crystel' range of headsets include both monaural and binaural models (one or two speakers) with either omni-directional or noise-cancelling microphones.
Says Mike Mair, electronic design engineer and Crystel Headset project executive, "For the first time in South Africa, call centre managers, switchboard operators and businesses, large and small, have access to a top quality range of locally manufactured headsets."
With over 20 years of experience in the electronic and telecommunication industries, Ashdan is producing a high quality product that it fully guarantees for two years. Crystel undertakes to supply all components used in its headsets for a minimum of 10 years. Should the headsets require servicing when out of guarantee, the company says that service costs are dramatically lower than that of compatible imported products, most of which are irrepairable, leaving the user no choice but to buy a completely new headset.
Crystel products are easily customised to suit special requirements. Applications include Emergency call centres where binaural headsets are configured to allow trained operators to listen to two conversations simultaneously.
"Because of our technical ability and our local production facilities, we are able to customise headsets for special applications. Visually impaired operators can listen to a conversation in one ear while voice commands are transmitted to them in another ear. Migration from competitors products to Crystel Headsets are easy and trouble free," adds Mair.
The Crystel range includes a large variety of headset amplifiers, SAM and adaptors. The Cradle Adaptor, the analog telephone line switch and its Dual Adaptor, handset headset switch, allow users to easily integrate Crystel Headsets into their telephone systems. The Training Adaptors and Call Monitoring devices allow call centre operators to be trained or assessed by supervisors during live conversations. Telephone recordings can be made by way of the company's analog telephone recording interface. Also supplied are digital music/message on hold devices.
For more information contact Crystel Clear Communications, +27 (0)21 710 2239, sales@crystel.co.za
Further reading:
Connectivity for IoT devices with SoftSIM
Otto Wireless Solutions Telecoms, Datacoms, Wireless, IoT
IoT device vendors are facing more and more complex cellular connectivity issues these days. Manufacturing is often outsourced to third-party factories and finished devices are being distributed to many 
...
Read more...
---
High-power GaN RF amplifier
RFiber Solutions Telecoms, Datacoms, Wireless, IoT
The CHA7618-99F is a three-stage GaN high-power amplifier (HPA) in the frequency band 5,5-18 GHz. This United Monolithic Semiconductors HPA typically provides 10 W of output power allied with 20% of power-added 
...
Read more...
---
ExpressLink modules for secure connectivity to AWS Cloud
RF Design Telecoms, Datacoms, Wireless, IoT
u-blox has announced two new modules designed to enable Amazon Web Services (AWS) cloud services for device and fleet management out of the box: the NORA-W2 AWS IoT ExpressLink Wi-Fi module and the SARA-R5 
...
Read more...
---
Cellular antenna for 4G/LTE and 5G NR
iCorp Technologies Telecoms, Datacoms, Wireless, IoT
Antenova's new 'Affini' (part number SRFL064) is a flexible printed circuit (FPC) antenna for the LTE, 4G and 5G NR networks in global markets. This antenna covers all main 4G bands plus 617-698 MHz which 
...
Read more...
---
Passive MMIC diplexer
RF Design Telecoms, Datacoms, Wireless, IoT
The MDPX-0710 from Marki Microwave is a passive MMIC diplexer with passbands from DC to 7 GHz (low band) and 10 to 26,5 GHz (high band). It has an insertion loss of less than 0,9 dB within its passbands 
...
Read more...
---
Automotive-grade GNSS signal splitter
RF Design Telecoms, Datacoms, Wireless, IoT
Tallysman Wireless has added the TW162A automotive-grade 'Smart Power' GNSS signal splitter to its line of GNSS accessories. The device supports the full GNSS spectrum: GPS/QZSS-L1/L2/L5, QZSS-L6, GLONASS-G1/G2/G3, 
...
Read more...
---
u-blox extends 'bring your own SIM' approach to MQTT
RF Design Telecoms, Datacoms, Wireless, IoT
u-blox has introduced a service that gives IoT sensor network developers the flexibility to combine any cellular connectivity with all the benefits of MQTT communication. The u-blox MQTT Flex service 
...
Read more...
---
GNSS correction service receivers for cm-level accuracy
RF Design Telecoms, Datacoms, Wireless, IoT
For designers who require reliable centimetre-level positioning accuracy, e.g. for the industrial navigation and robotics markets, a new suite of products and feature additions have been rolled out by 
...
Read more...
---
4xMIMO cross-polarised antenna
RF Design Telecoms, Datacoms, Wireless, IoT
The TGX.04 from Taoglas is a 5G/4G 4xMIMO dipole antenna that operates from 450 to 6000 MHz. It supports worldwide sub-6 GHz cellular bands including 5G NR, LTE, NB-IoT, etc. This cross-polarised 
...
Read more...
---
High-linearity, multi-octave RF mixers for up to 40 GHz
RF Design Telecoms, Datacoms, Wireless, IoT
Two new SMT-packaged multi-octave RF mixers featuring high linearity and broad bandwidths have been added to Marki Microwave's stable of products. The MM1-1040HPSM is an ideal choice for 5G signal 
...
Read more...
---