printer friendly version
Building high-end Ethernet functionality into SDH networks: an introduction
16 May 2007
Telecoms, Datacoms, Wireless, IoT
Metro networks have seen a large amount of churn over the last few years. Given that the MAN (metro area network) is the first part of the network in offering customer services, the mix of technology in the MAN could enable or hinder the service provider from providing newer services. Also, a MAN is characterised by a higher order of magnitude of devices, and hence the cost and complexity of the technology has a direct impact on the profitability of the network.
Several technologies have been strong contenders for deployment in metro networks. Traditionally, SDH (synchronous digital hierarchy)/SONET (synchronous optical network) has dominated Metro networks. Traditional SDH/SONET was a hierarchical TDM technology that provided speeds of up to 2,5 Gbps in the metro. Since voice represented a majority of the traffic in the metro in the previous decade, a circuit-oriented technology like first-generation SDH/SONET suited the needs just fine.
Next-generation SDH/SONET
Given the large installed base of SDH/SONET and increasing demand for data services, significant efforts have been made towards data-optimising SDH/SONET networks. Next-generation SDH/SONET (NG SDH/SONET), which came into existence around 2002, has three important components: virtual concatenation (VCAT) (ITU-T G.707/Y.1322 and G.783), link capacity adjustment scheme (LCAS) (ITU-T G.7042/Y.1305) and generic framing procedure (GFP) (ITU-T G.7041 (2001) and ANSI T1.105.02 (2002)). The above protocols help SDH/SONET efficiently carry data, and lend flexibility and dynamism to SDH networks. However, just next-generation SDH/SONET itself can only help realise point-to-point Ethernet services. The full power of Ethernet can only be realised by integrating Ethernet switching into a network.
Why Ethernet switching
The biggest disadvantage of traditional SDH/SONET is the use of dedicated point-to-point circuits. This implies that when a customer is assigned a VC-12 (the smallest unit of an SDH network, a 2 Mbps pipe), the 2 Mbps pipe is reserved for that customer, whether he uses it or not (Figure 1). When the customer does not use this bandwidth, it cannot be re-claimed by another customer. Another disadvantage is the lack of flexibility. If the customer required another 2 Mbps, the equipment will have to be cross-connected again, and another pipe of 2 Mbps will be assigned.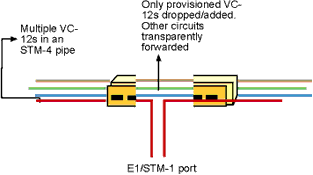 Figure 1. Traditional SDH Node cross-connects circuits
Ethernet takes advantage of statistical multiplexing. In Ethernet, all data travels in one pipe, rather than hierarchically aggregated pipes (such as VC-12s in SDH). This implies that if a certain customer is not using the 2 Mbps assigned to him, another customer can use it. This results in a significant amount of bandwidth efficiency in the network. Another advantage of Ethernet is the flexibility it provides. If the bandwidth requirement at a certain Ethernet switch goes up, more traffic can be pumped into the same port (or another port on the same equipment) without any configuration. Thus, bandwidth efficiency and upgradeability are the strongest points in favour of introducing Ethernet switching in the network (Figure 2).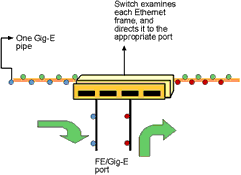 Figure 2. Ethernet switch takes and puts back data into one common pipe
However, Ethernet has traditionally had poor OAM capabilities, which arises from its roots in the local area network. And Ethernet performs poorly in delivering carrier-class services like voice across the network.
Integrating Ethernet switching into next-generation SDH/SONET
The true power of Ethernet and SDH can be realised by integrating Ethernet switching into an SDH network. In this case, a set of pipes in the network can function as a virtual Ethernet pipe as shown in Figure 3. Each node would behave like an SDH ADM or an Ethernet switch based on the pipe the traffic is being carried in.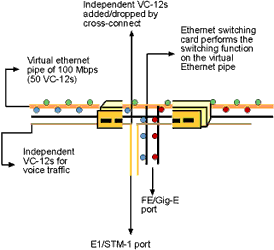 Figure 3. An SDH MSPP with Ethernet switching functionality
An Ethernet switching network on NG-SDH/SONET is proving to be a very popular option for deployment in metro networks (Figure 4). Point-to-point as well as advanced point-to-multipoint, and multipoint-to-multipoint Ethernet/IP services such as video, VoIP (voice over IP) and virtual private networks can be delivered over existing SDH/SONET networks - incrementally, and in parallel with traditional TDM services such as voice and private lines. This feature is the strongest point in favour of Ethernet-over-SDH, given that there are significant SDH/SONET deployments in place in the metro. For example, a service provider could start with a virtual 10 Mbps Ethernet pipe (consisting of 5 VC-12 SDH pipes) and then gradually increase it to 50 Mbps (25 VC-12 SDH pipes) as demand for these services increases.
Figure 4. Logical view of an Ethernet switched sub-network in an NG-SDH network
Conclusion
For now, NG-SDH seems to have its roots firmly entrenched in service provider networks. Given the ubiquitous presence of SDH in the metro, incrementally offering high-end Ethernet services over this SDH network would be the best way of packetising the metro. This approach ensures that the service provider can start offering risky but more profitable data services without letting go of 'cash cow' voice services. The incremental nature of this approach should also alleviate the risk of introducing these new data services into the network. The high comfort-levels network operators have with NG-SDH, and NG-SDH's strong OAM features, combine well with the flexibility and efficiency of Ethernet to give the service provider the best of both worlds.
Credit(s)
Further reading:
Connectivity for IoT devices with SoftSIM
Otto Wireless Solutions Telecoms, Datacoms, Wireless, IoT
IoT device vendors are facing more and more complex cellular connectivity issues these days. Manufacturing is often outsourced to third-party factories and finished devices are being distributed to many 
...
Read more...
---
High-power GaN RF amplifier
RFiber Solutions Telecoms, Datacoms, Wireless, IoT
The CHA7618-99F is a three-stage GaN high-power amplifier (HPA) in the frequency band 5,5-18 GHz. This United Monolithic Semiconductors HPA typically provides 10 W of output power allied with 20% of power-added 
...
Read more...
---
ExpressLink modules for secure connectivity to AWS Cloud
RF Design Telecoms, Datacoms, Wireless, IoT
u-blox has announced two new modules designed to enable Amazon Web Services (AWS) cloud services for device and fleet management out of the box: the NORA-W2 AWS IoT ExpressLink Wi-Fi module and the SARA-R5 
...
Read more...
---
Cellular antenna for 4G/LTE and 5G NR
iCorp Technologies Telecoms, Datacoms, Wireless, IoT
Antenova's new 'Affini' (part number SRFL064) is a flexible printed circuit (FPC) antenna for the LTE, 4G and 5G NR networks in global markets. This antenna covers all main 4G bands plus 617-698 MHz which 
...
Read more...
---
Passive MMIC diplexer
RF Design Telecoms, Datacoms, Wireless, IoT
The MDPX-0710 from Marki Microwave is a passive MMIC diplexer with passbands from DC to 7 GHz (low band) and 10 to 26,5 GHz (high band). It has an insertion loss of less than 0,9 dB within its passbands 
...
Read more...
---
Automotive-grade GNSS signal splitter
RF Design Telecoms, Datacoms, Wireless, IoT
Tallysman Wireless has added the TW162A automotive-grade 'Smart Power' GNSS signal splitter to its line of GNSS accessories. The device supports the full GNSS spectrum: GPS/QZSS-L1/L2/L5, QZSS-L6, GLONASS-G1/G2/G3, 
...
Read more...
---
u-blox extends 'bring your own SIM' approach to MQTT
RF Design Telecoms, Datacoms, Wireless, IoT
u-blox has introduced a service that gives IoT sensor network developers the flexibility to combine any cellular connectivity with all the benefits of MQTT communication. The u-blox MQTT Flex service 
...
Read more...
---
GNSS correction service receivers for cm-level accuracy
RF Design Telecoms, Datacoms, Wireless, IoT
For designers who require reliable centimetre-level positioning accuracy, e.g. for the industrial navigation and robotics markets, a new suite of products and feature additions have been rolled out by 
...
Read more...
---
4xMIMO cross-polarised antenna
RF Design Telecoms, Datacoms, Wireless, IoT
The TGX.04 from Taoglas is a 5G/4G 4xMIMO dipole antenna that operates from 450 to 6000 MHz. It supports worldwide sub-6 GHz cellular bands including 5G NR, LTE, NB-IoT, etc. This cross-polarised 
...
Read more...
---
High-linearity, multi-octave RF mixers for up to 40 GHz
RF Design Telecoms, Datacoms, Wireless, IoT
Two new SMT-packaged multi-octave RF mixers featuring high linearity and broad bandwidths have been added to Marki Microwave's stable of products. The MM1-1040HPSM is an ideal choice for 5G signal 
...
Read more...
---