The VS6724 from STMicroelectronics is an UXGA, CMOS colour digital camera module suited to applications such as security cameras, video conference cameras, mobile games platforms, PDAs and mobile phones. The module features an onboard PLL supporting a wide range of input clock frequencies (6,5 to 27 MHz), comes in an SmOP2 package measuring 8 mm x 8 mm x 5,5 mm which is compatible with industry standard sockets, and features ultra-low standby power consumption.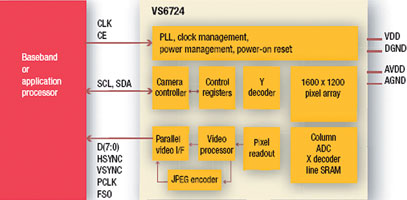 The sensor array is 2 megapixel UXGA, with the hardware M-JPEG encoder delivering what the company claims is best-in-class performance of 30 fps (frames per second) UXGA resolution output, providing for fast image capture. Internal register reconfiguration is done via an I²C interface, and features such as image pan/tilt mode and imaging special effects like sepia, negative and black and white are incorporated.
The digital video interface supports ITU-R BT.656-4 YUV (YCbCr) 4:2:2 with embedded synchronisation signals, 8-bit parallel video interface with external horizontal and vertical synchronisation signals, as well as output video formats of YCbCr 4:2:2 at up to 15 fps, RGB (444 and 565) at up to 15 fps and M-JPEG at up to 30 fps. The figure shows a typical application diagram for the module.
Two package options are available: the VS6724P0LP contains a camera module on a flexible cable with a board-to-board connector, while the VS6724Q0KP contains a camera module suitable for insertion into a socket. Both are also available in small plug-in modules. Also available is a demonstration kit that comes supplied with a small plug-in module containing a VS6724Q0KP. This demonstration kit streams video data via USB to a host PC and the software supplied allows the images to be viewed and sensor parameters to be adjusted.
For more information contact Larry Gordon, Arrow Altech Distribution, +27 (0)11 923 9600, lgordon@arrow.altech.co.za, www.arrow.altech.co.za