printer friendly version
Deep memory, ultra-compact oscilloscopes
27 June 2007
Test & Measurement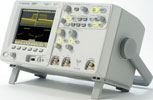 Concilium Technologies has announced the availability of Agilent Technologies' 5000 Series oscilloscopes that offer 1 Mpts deep memory, high-resolution, lab-quality waveform acquisition as well as measurement capability in a lightweight, portable frame.
High-resolution measurements are typically taken with larger, more expensive instrumentation; however, with the 5000 series it can be taken wherever and whenever needed - either in the field or at the bench.
"The balance of high performance at an attractive price has attracted a lot of interest in the 5000 series in South Africa, as it is an exciting new addition to the ever increasing range of Agilent oscilloscopes. Judging by the reaction so far, I believe the 5000 series has hit the mark with the local electronics fraternity;" says Steve Alves MD of Concilium Technologies.
Agilent's portable deep-memory oscilloscopes allow engineers to discover the root of debug issues notably faster than those using previous-generation portable oscilloscopes. With 1 Mpts deep memory the can sustain high sample rates for long periods of time. Plus with 100 000 waveforms/s acquisition rate - the 5000 Series offers superior glitch-capture capability.
Furthermore, a high-definition XGA display system, which displays signals in 256 levels of intensity grading, highlights varying degrees of signal activity - which provides the ability to view signal anomalies as they occur.
The Agilent 5000 Series oscilloscopes also integrate a full suite of connectivity standards, including front- and back-panel USB ports, GPIB, LAN and XGA-out.
Credit(s)
Further reading:
Phase noise analyser for precision oscillator characterisation
29 April 2020, Altron Arrow , Test & Measurement
To help research and manufacturing engineers make precise and accurate measurement of frequency signals, including those generated by atomic clocks and other high-performance frequency reference modules 
...
Read more...
---
Principles and testing of 5G over-the-air performance
29 May 2020, Concilium Technologies , Telecoms, Datacoms, Wireless, IoT
Deploying 5G on mmWave presents many challenges to RF engineers. It is essential to have a robust channel model for 5G mmWave frequencies.
Read more...
---
Ethernet tap for IO Ninja
25 March 2020, RF Design , Test & Measurement
Monitoring network communications of your PC can be accomplished without any specialised hardware – just use the Pcap Sniffer plugin of IO Ninja. The task of tapping into the Ethernet traffic of a non-PC 
...
Read more...
---
Bench-top vector signal generator
29 April 2020, RFiber Solutions , Test & Measurement
The T3267E series bench-top vector signal generator from Transcom Instruments has excellent radio frequency performance and rich signal generating function. It can provide arbitrary wave, continuous 
...
Read more...
---
Tektronix and Coherent Solutions partner for fully integrated optical comms
25 March 2020, Comtest , Test & Measurement
Comtest has announced that technology companies Tektronix and Coherent Solutions have an exclusive partnership agreement to provide fully integrated optical communications platforms to new and existing 
...
Read more...
---
Vector network analyser training kit
26 February 2020, Comtest , Test & Measurement
Pico Technology has added significant functionality and value to its low-cost, high-performance vector network analyser (VNA), by joining the NI/AWR Connected Partner community. The PicoVNA interface 
...
Read more...
---
Better phase noise measurement for Infiniium UXR scopes
26 February 2020, Concilium Technologies , Test & Measurement
Keysight Technologies and Silicon Labs announced a collaboration that streamlines the validation of timing solutions critical in the development of system-level designs for wireless communications, high-speed 
...
Read more...
---
Eliminate risk with proper calibration
26 February 2020, Concilium Technologies , Test & Measurement
Proper calibration lowers cost of test by reducing the number of incorrect decisions made, by improving instrument performance.
Read more...
---
Double pulse test software for Tektronix AFG
29 January 2020, Comtest , Test & Measurement
Comtest announced the availability of Tektronix' new software plugin for its AFG31000 arbitrary function generator (AFG), making it possible to perform crucial double pulse testing in less than a minute, 
...
Read more...
---
Battery charge/discharge test system
29 January 2020, Conical Technologies , Test & Measurement
The ITS5300 battery charge and discharge test system from ITECH is designed for a variety of power batteries including lead acid, nickel hydrogen, lithium batteries, supercapacitors, hydrogen fuel cells 
...
Read more...
---