printer friendly version
Lead-acid battery capacity analysers
11 July 2007
Test & Measurement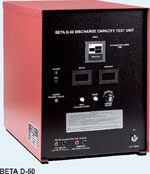 Today, most UPS, aircraft, telecoms and other critical application batteries are of the lead-acid chemistry. The unfortunate truth about most of these batteries is that you will never know their true capacity until you actually perform a full capacity test.
In order to correctly determine the capacity of a given lead-acid battery, the battery must first be fully recharged before being allowed to 'cool down' for several hours. Once cool, the battery must be discharged at the manufacturer's determined rate, down to a set end voltage. For example, a 12 V 100 Ah battery could be discharged at 10 A for 10 hours down to 1,85 V per cell. If the battery is able to sustain the 10 A discharge for 10 hours then it has 100 A hours of capacity at the C/10 rate, where C is the capacity of the battery. However, if the same battery can only sustain the 10 A discharge for say 5 hours, then the battery only has approximately 50% capacity left.
One of the most advantageous features of lead-acid batteries with pure lead-tin alloy (from suppliers such as NorthStar and Hawker SBS) as opposed to the cheaper and lower performance lead-calcium is that their state of charge (SOC) can be estimated simply by measuring their open-circuit voltage, since the open-circuit voltage is a direct function of the concentration of electrolyte within the battery - even though the battery might be dry. As the concentration of electrolyte decreases so too does the % SOC. For NorthStar batteries, the relationship can be linearly approximated by the following equation: % SOC @ C/20 = OCV x 62,5-712,5 where C is the capacity of the battery in question.
Aztec Electronics stocks a wide range of lead-acid (and NiCad) battery analysers/dischargers. Aztec's Beta D-50 analyser is suitable for 12 V and 24 V batteries and can be adjusted for constant current discharges between 0 and 50 A. The end-point voltage and test time can be set prior to discharging. Once complete, the digital display will show elapsed time, voltage and current and a green lamp will illuminate when the battery capacity is above the preset requirement. Alternatively, a red lamp will illuminate if the battery fails to meet preset limits.
Credit(s)
Further reading:
Ethernet tap for IO Ninja
25 March 2020, RF Design , Test & Measurement
Monitoring network communications of your PC can be accomplished without any specialised hardware – just use the Pcap Sniffer plugin of IO Ninja. The task of tapping into the Ethernet traffic of a non-PC 
...
Read more...
---
Bench-top vector signal generator
29 April 2020, RFiber Solutions , Test & Measurement
The T3267E series bench-top vector signal generator from Transcom Instruments has excellent radio frequency performance and rich signal generating function. It can provide arbitrary wave, continuous 
...
Read more...
---
Tektronix and Coherent Solutions partner for fully integrated optical comms
25 March 2020, Comtest , Test & Measurement
Comtest has announced that technology companies Tektronix and Coherent Solutions have an exclusive partnership agreement to provide fully integrated optical communications platforms to new and existing 
...
Read more...
---
Vector network analyser training kit
26 February 2020, Comtest , Test & Measurement
Pico Technology has added significant functionality and value to its low-cost, high-performance vector network analyser (VNA), by joining the NI/AWR Connected Partner community. The PicoVNA interface 
...
Read more...
---
Better phase noise measurement for Infiniium UXR scopes
26 February 2020, Concilium Technologies , Test & Measurement
Keysight Technologies and Silicon Labs announced a collaboration that streamlines the validation of timing solutions critical in the development of system-level designs for wireless communications, high-speed 
...
Read more...
---
Eliminate risk with proper calibration
26 February 2020, Concilium Technologies , Test & Measurement
Proper calibration lowers cost of test by reducing the number of incorrect decisions made, by improving instrument performance.
Read more...
---
Double pulse test software for Tektronix AFG
29 January 2020, Comtest , Test & Measurement
Comtest announced the availability of Tektronix' new software plugin for its AFG31000 arbitrary function generator (AFG), making it possible to perform crucial double pulse testing in less than a minute, 
...
Read more...
---
Battery charge/discharge test system
29 January 2020, Conical Technologies , Test & Measurement
The ITS5300 battery charge and discharge test system from ITECH is designed for a variety of power batteries including lead acid, nickel hydrogen, lithium batteries, supercapacitors, hydrogen fuel cells 
...
Read more...
---
DIN-rail programmable transmitter
23 October 2019, Instrotech , Test & Measurement
Calog Instrument's versatile DPM9000 series – a miniature DIN-rail mount programmable isolated transmitter range – boasts high reliability and a versatile, wide range of programmable inputs. With dimensions 
...
Read more...
---
Hands-on learning module
23 October 2019, Altron Arrow , Test & Measurement
The ADALM2000 (M2K) active learning module is an affordable, USB-powered, software-defined instrument that exceeds the capabilities of its predecessor ADALM1000 (M1K). With 12-bit ADCs (analog-to-digital 
...
Read more...
---