printer friendly version
Innovative busbar system is 'time and cost saving'
19 September 2007
Enclosures, Racks, Cabinets & Panel Products
The power supply with busbars in switchgears is a comparatively old and time-tested technology. One could therefore assume that there are few innovations to be expected in this field. Rittal says that its RiLine60 busbar system shows that this is not the case and that, using this system, users in the switchgear construction sector can save time and costs.
Busbar support with automatic cross-section adaptation
For flat copper bars there is a busbar support with integrated cross-section adaptation to fit different dimensions ranging from 15 x 5 to 30 x 10 mm. No additional parts are necessary (Figure 1). A slide accommodates the height adjustment for 5 mm bars and an integrated locating block automatically adapts to widths from 15 mm to 30 mm.

Figure 1. Integrated cross-section adaptation
The patented copper bars in what is referred to as PLS format (Figure 2) can also be quickly and easily installed. This is made possible by a new locking system. Flat copper bars and bars of the PLS type can be flexibly used for applications with up to 1600 A capacity. The system has been type-tested to DIN EN 60439-1 and guarantees high stability, such as for short circuit resistance. In the course of the type testing, DIN EN 60439-1 compliance was likewise certified with respect to insulation properties, creepage and clearance distances and IP2x protection rating.

Figure 2. Patented copper bars in PLS format
Along with the rail and end covers, the base tray offers all-round hazard protection, whereby the cover sections can be individually cut and snapped onto the base tray, and the end covers are attached directly to the busbar supports.
Connection adapter with IP2x protection rating
The connection adapter for the system is available in six sizes to cover currents ranging from 63 A to 1600 A. All adapters are available with feed-through function. The connection adapters have box terminals with a single-screw mechanism for cross-sections of up to 300 mm². The variants for laminated flat copper can handle currents up to 800 A or 1600 A. The covers for the connection adapters have a locking mechanism for which the locking position is clearly displayed via a slider and these covers provide for an IP2x protection rating.
Two mounting options for component adapter
There are two options to choose from when mounting component adapters for the busbar system; these are referred to as OneMove and One-Turn adapters. The OneMove adapter is attached to the rails using standard snap-on technology. The rails are pushed from above onto the rails and the profile of the base tray (Figure 3). The steel-reinforced clamping feet are suited for 5 mm as well as 10 mm bar thicknesses.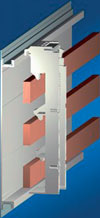 Figure 3. With OneMove technology the component adapter is placed on the rails from above
OneTurn adapters are hinged into the upper base tray section, which has to be additionally reinforced by an aluminium bar. The component adapter is then swung and snapped into the busbar system (Figure 4). The advantage of this variant is that less force is necessary while still maintaining good contact, due to the low leverage quotient needed for installation.
Figure 4. OneTurn technology allows the component adapter to be hinged in the top of the base tray section
Both variants are available in widths of 45 mm and 55 mm, and there are 10 mm wide cable connectors which can be lined up sideways for auxiliary switches. This system makes it possible to create any module arrangement using a connector pin.
Three connection techniques for component adapters
Users also have various options to choose from for component connections. The simplest and classic type is standard mounted connection cables that are offered in standard sizes of AWG12, AWG10 and AWG6. There is also a new connection option using flexible tension spring clamps that can save time during mounting. For this, there are also two variants for conductors with a 6 mm² cross section for currents up to 32 A and for conductors with a 16 mm² cross-section for currents up to 65 A. Three main lines and eight auxiliary lines can be connected via one jack and one outgoing connector block.
With the basic version, the equipment is assembled directly on the component adapter. As an alternative to this solution, it is still possible to use support frames that permit servicing by separating the component and support frame from the component adapter (Figure 5). Thus, downtime can be considerably reduced when switching out components. Even if the device has been separated from the support frame, the component adapter covers the busbars to protect them from contact, making it possible to switch out components while operational (hot-swap).

Figure 5. With removable support frames, it is possible to quickly switch out parts for servicing purposes
Power circuit breakers are attached using what are referred to as CB adapters, which are suitable for all commercially available versions up to 630 A. The new sliding block concept (Figure 6) is used for this installation. The sliding block is mounted on the switchgear, the pre-assembled component slid into the appropriate guide channel, and then secured with a plug-in end stop. Box terminals are used for connecting models with capacities of up to 250 A while for versions up to 630 A, the connection is created using a solid threaded bolt. The contact tracks are completely imbedded in the adapter housing, which ensures high protection and short circuit resistance.

Figure 6. Power circuit breakers are mounted with sliding blocks
All plastic parts of the busbar system are halogen-free and guarantee fire protection that complies to UL 94-V0.
Credit(s)
Further reading:
Enclosures for small table-top instruments
30 September 2020, Avnet Abacus , Enclosures, Racks, Cabinets & Panel Products
The Evotec range of table-top plastic enclosures, made by OKW, is suitable for tough working environments in applications such as measurement and control engineering, IT, medical, laboratory and environmental 
...
Read more...
---
Enclosures for mounting electronic applications
30 September 2020, Sivan Electronic Supplies , Enclosures, Racks, Cabinets & Panel Products
Available from Gainta is a range of plastic enclosures for mounting and assembly of general electronic applications. The bases of the cases have a mounting flange and incorporate a tongue and groove 
...
Read more...
---
Stylish new plastic enclosure family
30 September 2020, Electrocomp , Enclosures, Racks, Cabinets & Panel Products
Hammond Electronics has announced its new 1557 family. Initially available in four plan sizes, each in two heights, it is available in polycarbonate sealed to IP68 and ABS designed to meet IP66. The sizes 
...
Read more...
---
Range of DIN rail enclosures
30 September 2020, Vepac Electronics , Enclosures, Racks, Cabinets & Panel Products
The CNMB range of DIN rail enclosures provides a diverse selection of modular housings which are available in eight set lengths. They are optimised for a wide range of electrical and electronics industries 
...
Read more...
---
Rittal's range of compact and small enclosures
30 September 2020 , Enclosures, Racks, Cabinets & Panel Products
After more than 50 years and 35 million enclosures sold, Rittal has introduced its small and compact enclosures in the form of the AX and KX series. According to managing director of Rittal South Africa, 
...
Read more...
---
Versatile rack cases
30 September 2020, Vepac Electronics , Enclosures, Racks, Cabinets & Panel Products
Rack cases are a key building block of rack mounting systems, enabling electronic, electric and electro-mechanical sub-systems and assemblies to be mounted easily in any standard 19" enclosure. For 
...
Read more...
---
Industrial enclosures in stainless steel
31 August 2020, Electrocomp , Enclosures, Racks, Cabinets & Panel Products
The IP66 EJSS family from Hammond Electronics is available in 304 or 316 grade stainless steel, supplied as standard in a natural smooth brushed finish. Sealed to IP66, the EJSS is designed for use as 
...
Read more...
---
Navigating EMI challenges in next-generation railway technology
31 August 2020, Actum Group , Enclosures, Racks, Cabinets & Panel Products
The advent of new-age connectivity, such as 5G networks and LTE, has enabled railway systems to process higher volumes of data digitally, which has significantly improved operational safety, efficiency 
...
Read more...
---
DIN rail enclosures
30 June 2020, Electrocomp , Enclosures, Racks, Cabinets & Panel Products
Hammond Manufacturing has announced its 1597DIN family of UL94-V0 flame-retardant plastic enclosures for mounting to standard IEC/EN 60715 35 mm DIN rails for applications such as industrial control equipment, 
...
Read more...
---
Company profile: Rittal
30 June 2020, Rittal , Enclosures, Racks, Cabinets & Panel Products
Rittal was founded by Prof. Friedhelm Loh in 1961 in Herborn, Germany. The enclosure specialist forms part of a larger family-owned group called the Friedhelm Loh Group. Today, the company has 10 000 
...
Read more...
---