printer friendly version
Next generation network testing is crucial
20 February 2008
News
The number of fixed and wireless broadband connections in South Africa is expected to reach over 3,3 million subscribers by 2012, according to research firm BMI-TechKnowledge.
Installers and cabling professionals need access to test equipment that will help them do their jobs faster and more efficiently, while service providers need to monitor these next-generation networks (NGNs) for quality.
Comtest recently played host to JDSU's George Ishak. Based in Dubai, Ishak is the account manager for JDSU's Africa Channel Partners. JDSU offers communications test and measurement solutions and optical products for telecommunications service providers, cable operators and network equipment manufacturers.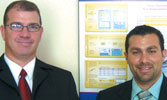 Comtest's Gary Casper (left) with JDSU's George Ishak
During his week-long trip, Ishak visited several key Comtest customers, including Eskom, Transtel, Neotel, Telkom and Nokia Siemens. He says that one of the trends that he identified was a need for equipment to monitor the service and quality of NGNs.
"In addition, the adoption of IP-based voice, data and video services makes it a strategic imperative that telecommunications and cable network operators deploy broadband triple-play test solutions that extend from the core network into the home," adds Ishak.
"Essentially, all of JDSU's products are NGN compliant. We would like to create a new culture where even companies using the older types of networking will convert to the 'new' way of testing and measuring the quality of service on those networks."
While some of these technologies are still in the planning stages in South Africa, they are already well implemented in Europe and the United States. The addition of a second national telecommunications operator is also expected to herald a boom in the wireless business.
Ishak says, "We have a great deal of experience in assisting companies to reach the levels that they need to be at in order to be competitive. We are ready to share this knowledge with South African companies through our local representative, Comtest."
According to Comtest's Gary Casper, Ishak's visit proved invaluable in highlighting current and future applications for JDSU's technology. "George asked different questions to those that we ask, putting another angle on the service that we can offer our customers. It was also good for him to meet our customers, cementing the continuity between Comtest and our partner, JDSU."
Credit(s)
Further reading:
Personality profile: Jean Mearns
29 July 2020, WH Circuit , News
"No one works for me, they only work with me, for without each other our team will fail to exceed the expectations of our customers."
Read more...
---
Letter to the editor
29 July 2020 , News
I take exception to the article 'To fake or not to fake' published in the June edition of Dataweek that is clearly based on the principle 'guilty until proven innocent'. I am by no means an expert 
...
Read more...
---
Q&A with Brandon Kuhn and Steve Stafford
29 July 2020 , News
Q: What is the rationale behind the reorganisation? What impact will it have on Avnet's customers in South Africa?    A (Kuhn):
Since 2009, our shared front-end model in South Africa has differed from the 
...
Read more...
---
Avnet EMEA names two new leaders to SA operation
29 July 2020 , News
Avnet has named Steve Stafford and Brandon Kuhn as new leaders in South Africa following the completion of a reorganisation in the region.
Read more...
---
UCT chooses Tektronix instruments for training lab
29 July 2020, Comtest , News
Comtest, local partner to Tektronix, recently assisted the University of Cape Town (UCT) physics department in refurbishing its electrical training laboratory. All of the existing analog oscilloscopes 
...
Read more...
---
New electromagnetic solutions range from Accutronics
29 July 2020, Accutronics , News
Accutronics has been appointed as the reseller for the Electromagnetic Integrated Solutions (EIS) range of products from API Technologies. APITech offers a complete line of coaxial EMI solutions, 
...
Read more...
---
Fighting COVID-19 using TV white space spectrum
29 July 2020 , News
The CSIR has partnered with the Technology Innovation Agency (TIA) to enable local Internet service providers to deploy Television White Space (TVWS) networks, using the CSIR-developed Secondary Geo-Location 
...
Read more...
---
Clearing the Static: ESD wrist straps
29 July 2020, Actum Electronics , News
The human body is the primary source of electrostatic charge generation. In order to control and reduce static charge build-up and prevent electrostatic discharges (ESD), we use grounding systems to ensure 
...
Read more...
---
From the editor's desk: This too shall pass
29 July 2020, Technews Publishing , News
Things were tough enough for the South African electronics manufacturing industry before, but this year has thrown up unprecedented challenges that nobody could have foreseen and which are outside of 
...
Read more...
---
Electronics news digest
29 July 2020 , News
South Africa
• As part of the national data-driven approach to countering COVID-19, the CSIR has developed a platform that monitors human mobility to better understand movement patterns across specific 
...
Read more...
---