printer friendly version
GPS technology aids golfers
20 February 2008
News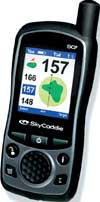 SkyGolf, the developers of the SkyCaddie golf rangefinder, and u-blox, the manufacturer of high performance consumer GPS receiver technology, have announced the development of TruePoint precision GPS technology in an exclusive cooperation to provide unprecedented accuracy for golfers.
The SkyCaddie SG5 rangefinder uses GPS to answer the oldest question in golf, 'how far?' without looking for markers or wasting time pacing off distances. It calculates distances automatically, providing golfers with the information they need to play on more than 17 000 golf courses in more than 45 countries. The patented IntelliGreen technology also allows golfers to measure the full depth and shape of the green from any angle of approach and quickly calculate distances to up to 40 targets at a time, helping golfers gauge distances to hazards and choose the best club for their next shot.
At the heart of the SkyCaddie's functionality is a custom-engineered GPS receiver from u-blox. A cooperative engineering effort between u-blox and SkyGolf resulted in the advanced positioning technology TruePoint. TruePoint provides positioning accurate to under a metre and an ultra-fast time to first fix in a small, easy-to-use, handheld device with extremely low power requirements. This technology provides dramatically more accurate position calculations than conventional GPS receivers used in consumer GPS devices designed for less demanding applications such as hiking, hunting and boating.
Credit(s)
Further reading:
Personality profile: Jean Mearns
29 July 2020, WH Circuit , News
"No one works for me, they only work with me, for without each other our team will fail to exceed the expectations of our customers."
Read more...
---
Letter to the editor
29 July 2020 , News
I take exception to the article 'To fake or not to fake' published in the June edition of Dataweek that is clearly based on the principle 'guilty until proven innocent'. I am by no means an expert 
...
Read more...
---
Q&A with Brandon Kuhn and Steve Stafford
29 July 2020 , News
Q: What is the rationale behind the reorganisation? What impact will it have on Avnet's customers in South Africa?    A (Kuhn):
Since 2009, our shared front-end model in South Africa has differed from the 
...
Read more...
---
Avnet EMEA names two new leaders to SA operation
29 July 2020 , News
Avnet has named Steve Stafford and Brandon Kuhn as new leaders in South Africa following the completion of a reorganisation in the region.
Read more...
---
UCT chooses Tektronix instruments for training lab
29 July 2020, Comtest , News
Comtest, local partner to Tektronix, recently assisted the University of Cape Town (UCT) physics department in refurbishing its electrical training laboratory. All of the existing analog oscilloscopes 
...
Read more...
---
New electromagnetic solutions range from Accutronics
29 July 2020, Accutronics , News
Accutronics has been appointed as the reseller for the Electromagnetic Integrated Solutions (EIS) range of products from API Technologies. APITech offers a complete line of coaxial EMI solutions, 
...
Read more...
---
Fighting COVID-19 using TV white space spectrum
29 July 2020 , News
The CSIR has partnered with the Technology Innovation Agency (TIA) to enable local Internet service providers to deploy Television White Space (TVWS) networks, using the CSIR-developed Secondary Geo-Location 
...
Read more...
---
Clearing the Static: ESD wrist straps
29 July 2020, Actum Electronics , News
The human body is the primary source of electrostatic charge generation. In order to control and reduce static charge build-up and prevent electrostatic discharges (ESD), we use grounding systems to ensure 
...
Read more...
---
From the editor's desk: This too shall pass
29 July 2020, Technews Publishing , News
Things were tough enough for the South African electronics manufacturing industry before, but this year has thrown up unprecedented challenges that nobody could have foreseen and which are outside of 
...
Read more...
---
Electronics news digest
29 July 2020 , News
South Africa
• As part of the national data-driven approach to countering COVID-19, the CSIR has developed a platform that monitors human mobility to better understand movement patterns across specific 
...
Read more...
---