printer friendly version
'Trend-setting' logging multimeter
20 February 2008
Test & Measurement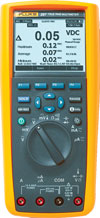 Comtest, distributor of Fluke test equipment, has introduced a logging digital multimeter with high accuracy and trend capturing electronics.
The Fluke 287 documents design performance and graphically displays the results; its logging and graphing capabilities mean that users no longer need to download logged readings to a PC to detect a trend.
New functionality on the Fluke 287 includes a large 50 000 count, 1/4 VGA display with white backlight on which multiple sets of measurement information can be displayed simultaneously. There is also a logging function with TrendCapture, useful for characterising the performance of a design or for unattended monitoring. The multimeter has on-board help screens for measurement functions, while saved measurements allow users to name and recall measurements.
The 287 features 0,025% basic d.c. accuracy with 100 kHz a.c. bandwidth and true-rms a.c. voltage and current for accurate measurements on complex signals or non-linear loads. The peak capture function can record transients as fast as 250 μs, and a realtime clock allows for automatic time stamping of saved readings.
Credit(s)
Further reading:
UCT chooses Tektronix instruments for training lab
29 July 2020, Comtest , News
Comtest, local partner to Tektronix, recently assisted the University of Cape Town (UCT) physics department in refurbishing its electrical training laboratory. All of the existing analog oscilloscopes 
...
Read more...
---
Smart oscilloscope for faster debug
30 June 2020, Comtest , Test & Measurement
PicoTechnology announced the PicoScope 6000E Series FlexRes oscilloscopes, featuring 8 channels with 500 MHz bandwidth, 16 digital channels, and resolution of 8, 10 or 12 bits. The products work with 
...
Read more...
---
New range of Tektronix DSOs
30 June 2020, Comtest , Test & Measurement
Comtest has released Tektronix's new TBS2000B series of digital storage oscilloscopes (DSOs) that was developed to meet the performance, usability and affordability needs of both engineers and educators. 
...
Read more...
---
Contactless ESD testing and access control unit
30 June 2020, Actum Group , Test & Measurement
In the electronics manufacturing industry, an electrostatic discharge (ESD) can cause irreparable damage to electronic components. This micro-lightning bolt can burn holes through insulating layers and 
...
Read more...
---
How are IR cameras calibrated and how does ambient temperature affect readings?
30 June 2020, Instrotech , Test & Measurement
Infrared thermometers are calibrated with the help of reference radiation sources, so-called 'black bodies'. These radiant sources are able to produce different temperatures with a high stability.  
...
Read more...
---
Thermal monitor for fever screening
30 June 2020, Actum Group , Test & Measurement
The TCSF256 thermal monitor from Actum Group is a fully automated, plug-and-play fever screening unit. It adopts an infrared radiation measurement technique that can measure body temperature by non-contact 
...
Read more...
---
Uncover EMI issues early with simple pre-compliance tests
30 June 2020, Concilium Technologies , Test & Measurement
An effective pre-compliance testing methodology will reduce test cycle times, which ultimately impacts a company's bottom line.
Read more...
---
The promise of 5G wireless communications
30 June 2020, Lambda Test , Test & Measurement
The deployment of 5G services worldwide is driving a massive increase in fibre densification for the required fronthaul and backhaul links interconnecting radio base stations and web-scale core packet networks.
Read more...
---
Phase noise analyser for precision oscillator characterisation
29 April 2020, Altron Arrow , Test & Measurement
To help research and manufacturing engineers make precise and accurate measurement of frequency signals, including those generated by atomic clocks and other high-performance frequency reference modules 
...
Read more...
---
Comtest trading for 15 years
29 May 2020, Comtest , News
Comtest, one of South Africa's leading providers of test, measurement and communications equipment, is proud to mark its 15-year trading milestone in 2020. CEO Barend Niemand says, "Comtest has representation 
...
Read more...
---