printer friendly version
Epcos first to ship niobium capacitors
28 February 2001
News
Epcos has announced it will start shipping niobium capacitors from volume production in late 2001 as a supplement to tantalum capacitors: it will be the first company in the world to manufacture this product.
Two factors were decisive for the development of this type of capacitor, says Epcos, for which patents are pending: first, niobium oxide permits three times higher dielectric constants, so that capacitors can either be built significantly smaller or else three times the capacitance can be implemented in the same chip package. This makes 1500 µF at 10 V feasible in case size E it says.
The other reason lies in the continuing scarcity and dramatic rise in the price of tantalum powder, which is expected to top 200% in January 2001 alone. As around half the cost of the tantalum chips is determined by this rare raw material, a price increase is unavoidable. In contrast, niobium is currently estimated to be some thirty times more common than its close relative tantalum, according to the company, so that capacitors made of this can offer significant cost benefits.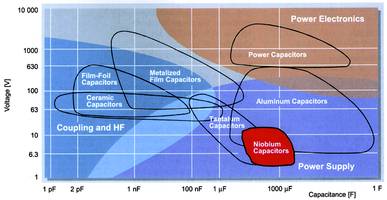 Niobium technology represents an economical alternative for a number of applications in the sector of high-capacitance low-voltage capacitors
Niobium technology will gain a particularly strong foothold sectors such as mobile communications, telecom, data and consumer electronics as an economical alternative to tantalum - and in some cases also to low-voltage aluminium electrolytic capacitors. Current estimates suggest that around 10% of tantalum chips can be replaced by niobium. But Dr Werner Lohwasser, Head of Development of Tantalum Electrolytic Capacitors at Epcos, is certain that a separate market will develop for this product in view of its attractions.
Because niobium capacitors are still specified only to a temperature of 105°C, Epcos says that for now the important automotive market remains closed to them. However Lohwasser is confident: "It is quite likely that we will clear the important hurdle of 125°C in the next development stage of niobium technology so that we will be able to tap the enormous application potential of automotive electronics."
Credit(s)
Further reading:
Quectel masterclass: IoT device application development
iCorp Technologies News
Quectel has announced the latest masterclass in a series of technical webinars titled "Accelerate wireless IoT device application development with Azure RTOS on STM32 MCUs".
Read more...
---
TDK announces robust varistors with 14 mm disk diameter
Electrocomp Passive Components
The new AdvanceD series of varistors have a wide operating voltage range up to 625 V and offer a surge current capability of 3000 A.
Read more...
---
Compact varistors offer surge capability of 6000 A
Electrocomp Circuit & System Protection
TDK has released the new EPCOS B72314S2* series of leaded disk varistors which cover a wide operating voltage range of 175 V
RMS
to 625 V
RMS
.
Read more...
---
ST announces status of common share repurchase programme
News
The repurchase programme took place over the period from 11 to 15 July 2022 and saw ST repurchasing 210 462 ordinary shares.
Read more...
---
Actum Group leads in the interconnect industry
Actum Electronics News
Actum Group is a specialist importer and distributor of industrial and electronic products in Southern Africa and a leader in the interconnect industry.
Read more...
---
From the editor's desk: Do we have the power?
Technews Publishing News
On a recent trip to Grahamstown in the Eastern Cape I was reminded, quite rudely and abruptly to be honest, of the load shedding that has plagued South Africa for the last few years. Living in KZN, we 
...
Read more...
---
Top five MPU suppliers strengthen market dominance
Editor's Choice News
The new ranking shows that long-time leader in microprocessor units, Intel, has moved downwards closer to half the total worldwide sales in microprocessors.
Read more...
---
New meta-lens revolutionises vacuum UV optics
News
A research team co-led by City University of Hong Kong have successfully developed a novel vacuum ultra-violet (VUV) meta-lens which can generate and focus the UV light.
Read more...
---
Short body USB-A with no compromise on performance
Electrocomp Interconnection
The all-new USB1125 connector from GCT with a minimal PCB footprint of just 13mm2 is 25% smaller than full-size equivalents.
Read more...
---
Electronics news digest
Technews Publishing Electronic News Digest News
The Semiconductor Industry Association (SIA) has announced global semiconductor industry sales were $51,8 billion in the month of May 2022, an increase of 18,0% over the May 2021 total of $43,9 billion 
...
Read more...
---