printer friendly version
Epcos first to ship niobium capacitors
28 February 2001
News
Epcos has announced it will start shipping niobium capacitors from volume production in late 2001 as a supplement to tantalum capacitors: it will be the first company in the world to manufacture this product.
Two factors were decisive for the development of this type of capacitor, says Epcos, for which patents are pending: first, niobium oxide permits three times higher dielectric constants, so that capacitors can either be built significantly smaller or else three times the capacitance can be implemented in the same chip package. This makes 1500 µF at 10 V feasible in case size E it says.
The other reason lies in the continuing scarcity and dramatic rise in the price of tantalum powder, which is expected to top 200% in January 2001 alone. As around half the cost of the tantalum chips is determined by this rare raw material, a price increase is unavoidable. In contrast, niobium is currently estimated to be some thirty times more common than its close relative tantalum, according to the company, so that capacitors made of this can offer significant cost benefits.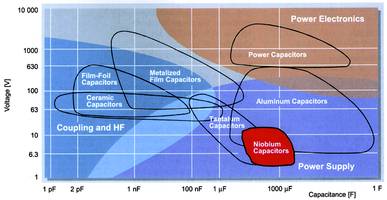 Niobium technology represents an economical alternative for a number of applications in the sector of high-capacitance low-voltage capacitors
Niobium technology will gain a particularly strong foothold sectors such as mobile communications, telecom, data and consumer electronics as an economical alternative to tantalum - and in some cases also to low-voltage aluminium electrolytic capacitors. Current estimates suggest that around 10% of tantalum chips can be replaced by niobium. But Dr Werner Lohwasser, Head of Development of Tantalum Electrolytic Capacitors at Epcos, is certain that a separate market will develop for this product in view of its attractions.
Because niobium capacitors are still specified only to a temperature of 105°C, Epcos says that for now the important automotive market remains closed to them. However Lohwasser is confident: "It is quite likely that we will clear the important hurdle of 125°C in the next development stage of niobium technology so that we will be able to tap the enormous application potential of automotive electronics."
Credit(s)
Further reading:
Obituary: Steven James Meyer
January 1957 - January 2022
Technews Publishing News
It is with deep sadness and shock that we announce the sudden death of SA Instrumentation & Control Editor, Steven Meyer. Steven joined Technews in October 2007 in the position of Deputy Editor. His 
...
Read more...
---
ICASA doles out provisional RF spectrum
News
The Independent Communications Authority of South Africa (ICASA) has concluded its analysis of applications for provisional assignment of radio frequency spectrum under the new ICT Covid-19 National State 
...
Read more...
---
productronica's hybrid format a success despite restrictions
News
Following its tried and trusted biennial scheduling, productronica 2021 was held on the fairgrounds of Messe München on 16-19 November. Strict hygiene rules were observed in accordance with Covid-19 protocols, 
...
Read more...
---
Report evaluates market for Li-ion battery recycling
News
In the past, the lack of end-of-life batteries meant that the Li-ion (lithium-ion) recycling market had little opportunity to prosper. The transition to electric vehicles (EVs) is changing this. Recycling 
...
Read more...
---
RFID market research explores 2021 and what to expect for the future
News
Despite a 5% drop in the global RFID market in 2020 compared to 2019 due to the impact of Covid-19, the market has recovered well in 2021. According to the newly released RFID market research report from 
...
Read more...
---
Braid tail swept elbow backshells
Electrocomp Interconnection
TE Connectivity is complementing its series of banding (BT) and Tinel ring (TXR) backshells with a braid tail backshell. The new 70 Series swept elbow backshells include a pre-terminated screenbraid sock 
...
Read more...
---
SABS launches local content verification scheme
News
A new certification and grading scheme launched by the South African Bureau of Standards (SABS) intends to harmonise local content and local production for producers and manufacturers, levelling the playing 
...
Read more...
---
DesignSpark to host new activist engineering programme
RS Components (SA) News
RS Components has launched its DesignSpark #ActivistEngineering programme, further strengthening the company's commitment to engage and inspire design engineers across the globe to 'make amazing happen 
...
Read more...
---
Field-installable mini industrial I/O connector
Electrocomp Interconnection
The Industrial Mini I/O connector system made by TE Connectivity is a compact, wire-to-wire and wire-to-board solution for reliable serial, bus and Ethernet connections in industrial applications. At 
...
Read more...
---
October semiconductor sales up 24% over 2020
News
Global sales of semiconductors were $48,8 billion in October 2021, an increase of 24,0% from the October 2020 total of $39,4 billion and 1,1% more than the September 2021 total of $48,3 billion. Announced 
...
Read more...
---