printer friendly version
Using a PTC thermistor for degaussing
28 February 2001
Passive Components

To minimise picture distortion and beam landing error (colour impurity), the shadow mask and associated metal parts of a CRT tube must be demagnetised at switch on. This is done by passing decaying AC through the degaussing coil. An alternating magnetic field is generated which gradually decays to demagnetise the tube.
BC Components says that by implementing its dual positive temperature coefficient (PTC) thermistor in the degaussing circuit, a significant improvement of picture quality can be achieved.
Connecting a PTC thermistor (mono PTC housed or leaded) in series with the AC mains and degaussing coil; as in Figure 1, is the simplest method of producing the required decaying current. At switch on, the PTC thermistor is cold and has low resistance, so a large inrush current flows through the degaussing coil. As both the temperature and, therefore, the resistance of the PTC thermistor increase, the current and magnetic field decay. The PTC temperature stabilises after a few minutes, leaving a small alternating residual current flowing through the degaussing coil.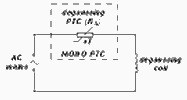 Figure 1. Mono PTC arrangement
Degaussing with dual PTC thermistors
To avoid picture distortion with large-screen television and high-resolution colour monitors, it is crucial that the residual current and hence the residual magnetic field, be as low as possible. A dual PTC thermistor in the degaussing circuit can achieve this.
The degaussing PTC is connected in series with the degaussing coil; see Figure 2. The heater PTC, with a higher R25 resistance (resistance at 25°C), is in parallel with the main supply. At switch on, the inrush current through the degaussing coil is high, raising the temperature and resistance of the degaussing PTC. The temperature of the heater PTC also increases and its heat is dissipated towards the degaussing PTC. This further increases the degaussing PTC resistance, so further reducing the residual current.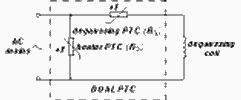 Figure 2. Dual PTC arrangement
To maximise this heating effect and thereby minimise the residual current, the two thermistors are carefully matched and clamped in close thermal contact inside a PBTP (polybutyleneteraphthalate) case. The plastic composition of the case is self-extinguishing in accordance with UL94.V.0.
Further advantages can be obtained by using double mono PTC thermistors. This consists of a parallel combination of two degaussing PTC thermistors in one standard BC Components 3-pin housing. This component offers substantial benefits compared to a single PTC degaussing thermistor. Inrush currents can be higher than with normal dual or mono degaussing PTC thermistors and by doubling the normal ceramic volume, a smoother decay is obtained.
Credit(s)
Further reading:
Multi-sensor IoT module
29 July 2020, Electrocomp , Telecoms, Datacoms, Wireless, IoT
TDK announced worldwide availability of the InvenSense SmartBug, a compact, wireless multi-sensor solution designed for a plethora of commercial and consumer IoT applications. The out-of-the-box solution 
...
Read more...
---
DIN rail enclosures
30 June 2020, Electrocomp , Enclosures, Racks, Cabinets & Panel Products
Hammond Manufacturing has announced its 1597DIN family of UL94-V0 flame-retardant plastic enclosures for mounting to standard IEC/EN 60715 35 mm DIN rails for applications such as industrial control equipment, 
...
Read more...
---
CeraCharge now available in a small packing unit
30 June 2020, Electrocomp , Passive Components
TDK is presenting a new packing unit for CeraCharge, the world's first SMD technology solid-state rechargeable battery, in the compact size EIA 1812 (4,4 x 3,0 x 1,1 mm). The packing unit (B73180A0101M199) 
...
Read more...
---
Robust temperature sensor for E-mobility
30 June 2020, Electrocomp , Analogue, Mixed Signal, LSI
The new B58703M1103A* temperature sensor is specially developed for demanding E-mobility applications, which call for high long-term stability. The NTC sensor is designed for a temperature range of -40°C 
...
Read more...
---
Surface mount resistors and terminations
30 June 2020, RF Design , Passive Components
Smiths Interconnect announced the release of its extended CXH series of surface mount chip resistors and terminations. The CXH series uses a patented layout to provide improved power handling over conventional 
...
Read more...
---
Broadband capacitors and their significance
30 June 2020, TRX Electronics , Passive Components
There are a number of circuits that require coupling RF signals or bypassing them to ground while blocking DC over extraordinarily large RF bandwidths. The applications for which they are intended typically 
...
Read more...
---
Thick-film chip resistors
29 April 2020, Electrocomp , Passive Components
Bourns announced the introduction of its new Model CR01005 series thick-film chip resistor. This extra small – 01005 inch (0402 metric) – CR01005 series broadens the general purpose thick-film chip resistor 
...
Read more...
---
Automotive-grade MLCCs
29 April 2020, TRX Electronics , Passive Components
Yageo's automotive grade MLCC (multilayer chip capacitor) AC/AS series is AEC-Q200 qualified as well as MIL-STD-020D tested to ensure its reliability under various temperatures (from -55°C to +150°C) 
...
Read more...
---
Chip resistors in automotive grade
29 May 2020, Altron Arrow , Passive Components
Vishay has enhanced its MC AT precision series of automotive grade thin film chip resistors with a wider range of resistance values from 47 Ω to 10 MΩ in the 1206 case size. The MCA 1206 AT is the industry's 
...
Read more...
---
Storage choke against harmonic distortion
29 April 2020, Würth Elektronik eiSos , Passive Components
The WE-LHMD is an SMT-mountable storage choke from Würth Elektronik optimised for filter topologies in Class-D amplifiers. Thanks to their iron powder cores, the high-current inductors for audio applications 
...
Read more...
---