printer friendly version
Using a PTC thermistor for degaussing
28 February 2001
Passive Components

To minimise picture distortion and beam landing error (colour impurity), the shadow mask and associated metal parts of a CRT tube must be demagnetised at switch on. This is done by passing decaying AC through the degaussing coil. An alternating magnetic field is generated which gradually decays to demagnetise the tube.
BC Components says that by implementing its dual positive temperature coefficient (PTC) thermistor in the degaussing circuit, a significant improvement of picture quality can be achieved.
Connecting a PTC thermistor (mono PTC housed or leaded) in series with the AC mains and degaussing coil; as in Figure 1, is the simplest method of producing the required decaying current. At switch on, the PTC thermistor is cold and has low resistance, so a large inrush current flows through the degaussing coil. As both the temperature and, therefore, the resistance of the PTC thermistor increase, the current and magnetic field decay. The PTC temperature stabilises after a few minutes, leaving a small alternating residual current flowing through the degaussing coil.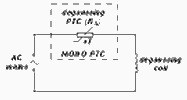 Figure 1. Mono PTC arrangement
Degaussing with dual PTC thermistors
To avoid picture distortion with large-screen television and high-resolution colour monitors, it is crucial that the residual current and hence the residual magnetic field, be as low as possible. A dual PTC thermistor in the degaussing circuit can achieve this.
The degaussing PTC is connected in series with the degaussing coil; see Figure 2. The heater PTC, with a higher R25 resistance (resistance at 25°C), is in parallel with the main supply. At switch on, the inrush current through the degaussing coil is high, raising the temperature and resistance of the degaussing PTC. The temperature of the heater PTC also increases and its heat is dissipated towards the degaussing PTC. This further increases the degaussing PTC resistance, so further reducing the residual current.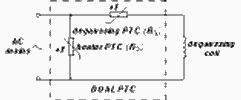 Figure 2. Dual PTC arrangement
To maximise this heating effect and thereby minimise the residual current, the two thermistors are carefully matched and clamped in close thermal contact inside a PBTP (polybutyleneteraphthalate) case. The plastic composition of the case is self-extinguishing in accordance with UL94.V.0.
Further advantages can be obtained by using double mono PTC thermistors. This consists of a parallel combination of two degaussing PTC thermistors in one standard BC Components 3-pin housing. This component offers substantial benefits compared to a single PTC degaussing thermistor. Inrush currents can be higher than with normal dual or mono degaussing PTC thermistors and by doubling the normal ceramic volume, a smoother decay is obtained.
Credit(s)
Further reading:
TDK announces robust varistors with 14 mm disk diameter
Electrocomp Passive Components
The new AdvanceD series of varistors have a wide operating voltage range up to 625 V and offer a surge current capability of 3000 A.
Read more...
---
Angle sensor for safety-critical applications
Altron Arrow Passive Components
TDK's TAS4240 TMR-based angle-sensor enables precise angle measurements in applications where high performance is needed and space is limited.
Read more...
---
Compact varistors offer surge capability of 6000 A
Electrocomp Circuit & System Protection
TDK has released the new EPCOS B72314S2* series of leaded disk varistors which cover a wide operating voltage range of 175 V
RMS
to 625 V
RMS
.
Read more...
---
New high current through-hole inductors
EBV Electrolink Passive Components
Vishay has released a high current, through-hole inductor for use in high current and high temperature applications, DC/DC converters, high current differential chokes and inverters.
Read more...
---
Short body USB-A with no compromise on performance
Electrocomp Interconnection
The all-new USB1125 connector from GCT with a minimal PCB footprint of just 13mm2 is 25% smaller than full-size equivalents.
Read more...
---
Bourns releases new series of power inductors
Electrocomp Power Electronics / Power Management
Constructed with a magnetic-silica coating to the perimeter of the inductor winding to provide effective shielding, these inductors release lower magnetic field radiation compared to non-shielded inductors.
Read more...
---
IP68 sealed enclosures from Hammond Manufacturing
Electrocomp Enclosures, Racks, Cabinets & Panel Products
Hammond Manufacturing has introduced the 1551W series, IP68 sealed versions of its popular 1551 miniature enclosure family, in five initial sizes.
Read more...
---
High performance power inductor in a tiny package
RF Design Passive Components
The LPS4010 series inductors from Coilcraft are low-profile power inductors in a shielded package that offer high energy storage and low DC resistance.
Read more...
---
New series of power ribbon wire-wound resistors
Electrocomp Power Electronics / Power Management
This QL/QRZG series of high-power resistors have a high-power load up to 2500 W and are suitable for applications such as industrial braking, EV battery packs and charging stations.
Read more...
---
Surface-mount resettable fuses
Electrocomp Passive Components
The new series of fuses, suitable for overcurrent and thermal protection, expand the hold current up to 6 A and the maximum voltage to 33 V DC.
Read more...
---