printer friendly version
Local wireless distributor now provides M2M solutions
14 May 2008
News
Electrocomp, a leading distributor in the South African wireless module market, is now evolving into an M2M solutions provider that offers customers various options when it comes to wireless modules. Being the sole local distributor of the Siemens range of wireless modules in South Africa, Electrocomp now offers customers application-based solutions which will assist in designing a product ideally suited for their market.
Gerrie van Heerden, the product line manager for wireless modules, states: "We are changing the way that Electrocomp distributes components. We are no longer just a distributor, but a company that offers the customer a complete M2M solution."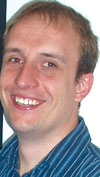 Gerrie van Heerden, product line manager for wireless modules at Electrocomp
Some of the solutions Electrocomp now offers include the following:
APN
With its APN solution, Electrocomp offers customers the ability to do GPRS data transfers cost effectively. Customers have access to a fixed IP address as well as 10 MB of data per SIM card.
Design development
Electrocomp has a qualified team of electronic engineers which can provide assistance to customers with their GSM/GPRS/GPS designs. Performing design work from schematic to prototype level, and with a qualified software development team, Electrocomp offers the customer a complete package. The company is also in the process of setting up a technical laboratory facility where customers can test their products.
Technical support
The technical support staff at Electrocomp has been approved by Siemens South Africa for both hardware and software support. Any technical queries, assistance and even field support can therefore be handled by this support team.
Java and GSM training
Electrocomp is in the process of setting up a fully equipped training facility which will offer Java and GSM training sessions. These training sessions will be available to new and existing customers that need to know more about GSM development as well as the popular Java development. Training will commence at the beginning of June and will be offered countrywide.
For more information contact Gerrie van Heerden, Electrocomp, +27 (0)11 458 9000, cbrand@electrocomp.co.za, www.electrocomp.co.za
Credit(s)
Further reading:
Thick-film chip resistors
29 April 2020, Electrocomp , Passive Components
Bourns announced the introduction of its new Model CR01005 series thick-film chip resistor. This extra small – 01005 inch (0402 metric) – CR01005 series broadens the general purpose thick-film chip resistor 
...
Read more...
---
From the editor's desk: Making and sending things to space
29 May 2020, Technews Publishing , News
In this issue, one of the topics we are featuring is the aerospace and military/defence sector.
Read more...
---
Personality profile: David Power
29 May 2020, Cadshop , News
"Aspire to work for a company that you admire, and for a boss that you want to serve, that shares your passion and motivation."
Read more...
---
Designing for military and defence applications
29 May 2020, Omnigo, Kreon Technology , News
No business can stand on its own without strong partnerships and stakeholder relationships. In this regard the military and defence industry is no exception.
Read more...
---
Why 'new space' satellites demand a new approach to components
29 May 2020, Avnet South Africa , News
New space is opening up exciting opportunities for businesses, which can create completely new products, services and capabilities that were, until recently, impossible or impractical.
Read more...
---
Clearing the Static: Safe storage and transportation of components
29 May 2020, Altico Static Control Solutions , News
During product transportation or storage, humidity can lead to excessive moisture inside of packaging, which can potentially damage electronic components by causing corrosion and mould-attack. Apart from 
...
Read more...
---
Elmatica's SA seminars on PCB design a success
29 May 2020, Elmatica , News
During March, just weeks before COVID-19 resulted in South Africa going into lockdown, Elmatica held several seminars in the country, to get closer to and educate the local industry on printed circuit 
...
Read more...
---
Vepac launches new website
29 May 2020, Vepac Electronics , News
Vepac Electronics has recently launched its new and optimised website to enable its customers to navigate effortlessly, with a host of new products and related datasheets. Visitors to the site are also 
...
Read more...
---
Comtest trading for 15 years
29 May 2020, Comtest , News
Comtest, one of South Africa's leading providers of test, measurement and communications equipment, is proud to mark its 15-year trading milestone in 2020. CEO Barend Niemand says, "Comtest has representation 
...
Read more...
---
Dual-channel high-speed protector
29 April 2020, Electrocomp , Circuit & System Protection
Bourns announced the release of the Model TBU-RS085-300-WH, for use in RS-485 communication interface protection. The part is an integrated dual-channel transient blocking unit (TBU) over-current and 
...
Read more...
---