Webb Industries has supplied Transnet Freight Rail with a series of unique antennas for its locomotives.
These antennas are in response to Transnet's requirement for a wide range of frequencies including VHF, UHF, WiFi, GSM and GPS.
"We have succeeded in housing in one antenna VHF (or UHF), WiFi, GSM and GPS. We believe this to be unique," says Terry Reuss, Webb engineer.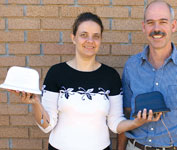 Margherita Perini (left), Webb inventor and Terry Reuss, Webb engineer, show off two of the unique antennas developed specifically for Transnet Freight Rail
Transnet have for some years had dual antennas (GSM and GPS) on their Richards Bay coal line and when WiFi had to be introduced, a new solution was required. "The solution was, in essence, a radical new design consisting of two antennas, one with VHF, WiFi, GSM and GPS and the other with UHF, WiFi, GSM and GPS," says Reuss.
He adds that one of the key challenges of the project was to maintain the same shape and footprint as the older antennas to obviate fitment problems on the locomotives. "In addition to keeping the basic footprint the same, we also made modifications to the outer cover, enabling the antennas to withstand up to 90 kV a.c. voltage without breaking down. We have completed a series of very successful tests on these covers," says Reuss.
Paul Richards, Webb CEO says that he is proud that his company managed to fulfil this brief. "This is the type of ingenuity that has helped us develop a reputation for developing cutting-edge technology in the telecommunications industry."
Transnet Freight Rail's Derrick Marais was equally pleased with the job. "We needed a unique solution and the Webb team came up with it without too much fuss and, of course, within the required budgetary constraints," he said.
He added that these antennas are part of an ambitious programme, Project Triton, to upgrade Transnet's wireless communications with its trains. "The digital age enables us to convey a host of important information to various points, including the locomotive operator and the various control centres. This information includes details of the condition of the locomotives and the wagons being hauled, alarm warnings and other crucial operational information. This entails the transmission of both voice and data, hence the requirement for so many frequencies. We needed to reduce the number of antennas as a result, and Webb was able to do this."
For more information contact Webb Industries, +27 (0)11 444 2299, webb@webb.co.za, www.webb.co.za