printer friendly version
New president of South African Radio League announced
14 May 2008
News
Delivering his inaugural address at the South African Radio League (SARL) convention in Bloemfontein recently, the newly elected president, Rassie Erasmus, said that amateur radio is a foundation for technical knowledge.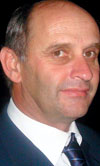 Rassie Erasmus, president of the SARL
"It is no secret that many professionals in the field of radio, TV, communications and electronics have started their technical education as young radio amateurs and it should still be used as a unique attraction for future young radio amateurs," he said
For his presidential year he has chosen three themes that follow from the SARL slogan 'Amateur Radio Communication Technology in action'.
"I have chosen the three themes carefully because for the past few years we have taken the high road and worked hard to grow amateur radio and the SARL. While not an easy task and a road with many diversions, I believe in the need to continue conquering the high road."
The three themes for this year have a common thread - growth:
1. Growth in application of new technologies, building on the Radio Technology in Action symposia which the SARL presents annually in the main centres and on the air technical discussions and tuition. Radio amateurs have unique opportunities to talk to each other via radio and satellites, which facilitates technical and interactive discussions from the comfort of their own homes.
2. Growth of the SARL membership to the point where the organisation can truly claim to represent the radio amateurs of South Africa. Currently the SARL represent the majority of all active radio amateurs, but it would like to bring all of them into its fold, including people who show an interest in communication technology and who like to experience the magic of talking to the world.
3. Growth of the amateur radio community in South Africa, by bringing in more young people but also focusing on the value that amateur radio can bring to senior citizens as a quality pastime. Amateur radio has no age or gender restriction, it requires only a keen interest in wanting to be involved in technical activity and communication. For many people, amateur radio has provided a stepping stone into a career in electronics and communication. The technical knowledge acquired during taking a course to prepare for the Radio Amateur Examination, augers well as a foundation for further studies in this field.
For more information visit www.sarl.org.za
Further reading:
Locked down but not knocked out
25 March 2020, ExecuKit , News
As a business, we are facing extremely hard times with the current worldwide pandemic and isolation. We are all maintaining social distancing and must learn how to do business with an enforced lockdown 
...
Read more...
---
From the editor's desk: A new era – after mourning comes rebuilding
29 April 2020, Technews Publishing , News
When I sit down to write these columns once a month, even if the topic I decide to write about is not all sunshine and roses, I always try and look for a silver lining. I'm simply not able to do that 
...
Read more...
---
Personality profile: Chris Viveiros
29 April 2020, Otto Wireless , News
The operations director of Otto Wireless Solutions shares his background, experience, advice and thoughts on the future.
Read more...
---
Locked down but not knocked out
29 April 2020, ExecuKit , News
We as a company salute the component suppliers who have supported us and are there to assist during this time even if the requests we pose are not always realistic.
Read more...
---
Electronics industry tackling the coronavirus
29 April 2020 , News
2020 has been a crazy year already. From Australian bushfires to climate emergencies to US trade tariffs, the start of the decade hasn't been very positive. Not only this, within the last few months there 
...
Read more...
---
SqwidNet becomes first Sigfox-accredited lab in southern hemisphere
29 April 2020, iSERT , News
iSERT (Safety, EMC, RF, Testing), a leader in the provision of turnkey testing solutions for EMC, RF and safety testing, has collaborated with SqwidNet, the only licenced Sigfox operator in South Africa, 
...
Read more...
---
Clearing the Static: ESD cleaning and hygiene products
29 April 2020, Altico Static Control Solutions , News
In light of the current COVID-19 pandemic, Actum Group would like to remind electronics manufacturers of our range of antistatic cleaning agents, cleanroom materials and PPE.      
Cleanroom garments and 
...
Read more...
---
Jemstech continuing its growth path
29 April 2020, Jemstech , News
Since its inception in 2005 and especially during the past five years, Jemstech has grown from a medium-sized electronic manufacturing services (EMS) provider into one of the major players for electronics 
...
Read more...
---
Company profile: Phoenix Contact
29 April 2020, Phoenix Contact , News
Phoenix Contact was founded in 1923 in Essen, Germany, by Hugo Knümann. It entered the South African market in 1969 through a local distributor, and was later established as a wholly owned subsidiary 
...
Read more...
---
In memoriam: Vivienne Caroline Dorrington - 19 June 1958 – 21 April 2020
29 April 2020, Technews Publishing , News
It is with great sadness that we announce the death of our CEO, Vivienne Dorrington, after a long and brave battle with cancer. Like her father, Ray Beaumont, who founded Technews Publishing in 1985, 
...
Read more...
---