Delivering his inaugural address at the South African Radio League (SARL) convention in Bloemfontein recently, the newly elected president, Rassie Erasmus, said that amateur radio is a foundation for technical knowledge.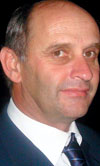 Rassie Erasmus, president of the SARL
"It is no secret that many professionals in the field of radio, TV, communications and electronics have started their technical education as young radio amateurs and it should still be used as a unique attraction for future young radio amateurs," he said
For his presidential year he has chosen three themes that follow from the SARL slogan 'Amateur Radio Communication Technology in action'.
"I have chosen the three themes carefully because for the past few years we have taken the high road and worked hard to grow amateur radio and the SARL. While not an easy task and a road with many diversions, I believe in the need to continue conquering the high road."
The three themes for this year have a common thread - growth:
1. Growth in application of new technologies, building on the Radio Technology in Action symposia which the SARL presents annually in the main centres and on the air technical discussions and tuition. Radio amateurs have unique opportunities to talk to each other via radio and satellites, which facilitates technical and interactive discussions from the comfort of their own homes.
2. Growth of the SARL membership to the point where the organisation can truly claim to represent the radio amateurs of South Africa. Currently the SARL represent the majority of all active radio amateurs, but it would like to bring all of them into its fold, including people who show an interest in communication technology and who like to experience the magic of talking to the world.
3. Growth of the amateur radio community in South Africa, by bringing in more young people but also focusing on the value that amateur radio can bring to senior citizens as a quality pastime. Amateur radio has no age or gender restriction, it requires only a keen interest in wanting to be involved in technical activity and communication. For many people, amateur radio has provided a stepping stone into a career in electronics and communication. The technical knowledge acquired during taking a course to prepare for the Radio Amateur Examination, augers well as a foundation for further studies in this field.
For more information visit www.sarl.org.za