printer friendly version
New president of South African Radio League announced
14 May 2008
News
Delivering his inaugural address at the South African Radio League (SARL) convention in Bloemfontein recently, the newly elected president, Rassie Erasmus, said that amateur radio is a foundation for technical knowledge.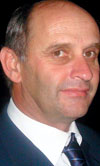 Rassie Erasmus, president of the SARL
"It is no secret that many professionals in the field of radio, TV, communications and electronics have started their technical education as young radio amateurs and it should still be used as a unique attraction for future young radio amateurs," he said
For his presidential year he has chosen three themes that follow from the SARL slogan 'Amateur Radio Communication Technology in action'.
"I have chosen the three themes carefully because for the past few years we have taken the high road and worked hard to grow amateur radio and the SARL. While not an easy task and a road with many diversions, I believe in the need to continue conquering the high road."
The three themes for this year have a common thread - growth:
1. Growth in application of new technologies, building on the Radio Technology in Action symposia which the SARL presents annually in the main centres and on the air technical discussions and tuition. Radio amateurs have unique opportunities to talk to each other via radio and satellites, which facilitates technical and interactive discussions from the comfort of their own homes.
2. Growth of the SARL membership to the point where the organisation can truly claim to represent the radio amateurs of South Africa. Currently the SARL represent the majority of all active radio amateurs, but it would like to bring all of them into its fold, including people who show an interest in communication technology and who like to experience the magic of talking to the world.
3. Growth of the amateur radio community in South Africa, by bringing in more young people but also focusing on the value that amateur radio can bring to senior citizens as a quality pastime. Amateur radio has no age or gender restriction, it requires only a keen interest in wanting to be involved in technical activity and communication. For many people, amateur radio has provided a stepping stone into a career in electronics and communication. The technical knowledge acquired during taking a course to prepare for the Radio Amateur Examination, augers well as a foundation for further studies in this field.
For more information visit www.sarl.org.za
Further reading:
Plan your media strategy with Technews Publishing
23 October 2019, Technews Publishing , News
Dear Marketer, Have you ever looked back on a year and wondered how you survived it? For the majority of South Africans, 2019 started benignly enough, cosily wrapped in the blanket of Ramaphoria that 
...
Read more...
---
From the editor's desk: Getting charged up for the new year
25 November 2019, Technews Publishing , News
The Springboks' Rugby World Cup triumph in Japan couldn't have come at a better time for South Africa, as the country was in desperate need of a jolt of positive energy going into the festive season. 
...
Read more...
---
Battery Technologies Conference 2019
25 November 2019 , News, Editor's Choice
Batteries are a critical enabler of the Fourth Industrial Revolution, powering technology in products from laptops and handheld devices to electric vehicles and renewable energy storage.
Read more...
---
Boom, doom and gloom, or something completely different?
25 November 2019, Technews Publishing , News, Editor's Choice
As the end of 2019 looms, it's time to look ahead to what next year might have in store, and reflect on the year gone by. And what a year it's been.
Read more...
---
Actum Group remains resilient and optimistic for 2020
25 November 2019, Actum Electronics , News
Running a profitable business in South Africa is not for the fainthearted. With the national treasury downgrading this year's growth forecast from 1,5% to 0,5%, and state-owned entities like Eskom negotiating 
...
Read more...
---
Additional renewable energy development zones proposed
25 November 2019 , News
The second phase of the Strategic Environmental Assessment (SEA) for wind and solar photovoltaic (PV) energy in South Africa proposes three additional Renewable Energy Development Zones (REDZs) for wind 
...
Read more...
---
Locally developed electronic circuit builder for students
25 November 2019, K Measure , News, Editor's Choice
K Measure, creator of the award-winning Seebox engineering education solution, has created a new innovation to enable quick and easy electronic circuit-building. The SeeBlocks electronic circuit creator 
...
Read more...
---
Clearing the Static:Topic 9: Time to audit your ESD environment
25 November 2019, Actum Electronics , News
Now that we are nearing the end of the year, it is a good time to audit your existing static control products and procedures. The first line of defence should be your antistatic floor, since this is the 
...
Read more...
---
Winning hackathon entry curbs cell tower battery theft
25 November 2019 , News
The fourth annual TADHackJHB was held at MTN's head office in Fairland, Johannesburg, on 12 and 13 October, with a cell tower protection app emerging as the winner. The theme for the 2019 global TADHack 
...
Read more...
---
Products of the Year 2019
25 November 2019 , News
SmartServer IoT by Adesto
BAW-based chips for comms infrastructure
Cellular modules for LPWA applications
SoCs and software for smart home and IIoT
Secure element for IoT authentication
MPU for embedded 
...
Read more...
---