printer friendly version
Customisable touch-sensitive keypads
14 May 2008
Switches, Relays & Keypads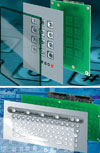 EAO has unveiled an innovative approach to create personalised keypads and keyboards that are impact-resistant, vandal-resistant, oil- and water-proof.
The TSK series is a versatile range of customisable, PCB-based products, which features 12- and 16-key keypads, and a full-sized PC-style keyboard with the option of a touchpad mouse. It is also possible to create any custom layout from four to 128 keys.
EAO supplies the PCB-based keypad or keyboard and a suitable connecting interface, including PS2, USB and Matrix. The front plate, which is provided by the customer, ensures total protection from dirt and fluid ingress, and damage from shock and impact.
A typical TSK setup comprises the desired PCB layout, connected to an interface card and then placed under the non-conductive, transparent plate such as polycarbonate or glass up to 10 mm thick. EAO also offers a special version of the keypad suitable for use under double-glazed glass up to 24 mm thick.
The keyboard design and key arrangement is created using the supplied software then printed on a plastic or paper overlay and placed between the PCB and front plate. Customers can create a unique design by inserting their logo into easy-to-use, adaptable templates, or even print directly on the plate.
The PCB keyboards are available in the standard layout for different languages including English, German, French, US English, Italian, Dutch, Danish, Swedish and many more. They are compatible with most operating systems from Windows 2000 to Vista, as well as Linux.
Also offered is an OEM complete kit, which comprises a PCB keyboard, PCB housing, interface card, cables and mounting kit.
Further reading:
Compact, easy-to-integrate contactors
31 August 2020, RS Components (SA) , Switches, Relays & Keypads
RS Components is now stocking Eaton's complete Moeller series of compact DILMT contactors. Easy to integrate in a variety of industrial machines and systems, the contactors enable space savings of up 
...
Read more...
---
Versatile micro switches
30 June 2020, TRX Electronics , Switches, Relays & Keypads
The V19, Honeywell's unsealed micro switch family, provides a cost-conscious switch solution to assist in hitting overall system-level cost and design goals in high-volume applications. Suitable applications 
...
Read more...
---
Tactile switches for demanding applications
29 April 2020, Brabek , Interconnection, Switches, Relays & Keypads
The Multimec switch from APEM has been designed with the intention to manufacture the best possible switch. The company's automatic production lines have 100% in-line testing, but before the parts get 
...
Read more...
---
Waveguide electromechanical relay switches
26 February 2020, RF Design , Switches, Relays & Keypads
Pasternack has just launched a new series of double ridge waveguide electromechanical relay switches which perform over broader frequency bands, making them ideal for applications involved with electronic 
...
Read more...
---
Illuminated pushbutton switches
25 November 2019, TRX Electronics , Switches, Relays & Keypads
The KLS series expands C&K Switches' product offering in the LED pushbutton family. It meets the market requirements for haptics and sound with clear 'click' feedback. With various cap options and bright 
...
Read more...
---
Connectors for automotive electronics
31 July 2019, TRX Electronics , Switches, Relays & Keypads
TE Connectivity's HDSCS connector series is designed to meet the rigorous demands of the commercial vehicle industry and off-road applications that require high standards of performance. Made from a rugged 
...
Read more...
---
SP4T switch matrix
26 June 2019, Conical Technologies , Switches, Relays & Keypads
Mini-Circuits announced the release of the latest addition to its test system lineup, the RC-2SP4T-40 USB and Ethernet controlled single-pole four-throw switching matrix. This new device is fitted with 
...
Read more...
---
Wi-Fi microcontroller
29 May 2019, iCorp Technologies , DSP, Micros & Memory, Switches, Relays & Keypads
The ESP32-S2 from Espressif Systems is a highly integrated, low-power, 2,4 GHz Wi-Fi microcontroller SoC (system-on-chip) supporting Wi-Fi HT40 and 43 general-purpose I/Os. Based on an Xtensa single-core 
...
Read more...
---
Miniature slide switches
29 May 2019, Wiltron Agencies , Switches, Relays & Keypads
Hartmann Codier's new SR254 product range of slide switches provides variants in horizontal and vertical versions that can be used as on, off, or change-over switches with contact wiping on make and break. 
...
Read more...
---
DIN-rail mounted SSRs
30 April 2019, TRX Electronics , Switches, Relays & Keypads
Crydom's SeriesOne DIN-rail mounted AC and DC output solid state relays (SSRs) offer a cost-effective combination of size and ratings thanks to their patent-pending design. The product line includes single-channel 
...
Read more...
---