printer friendly version
Variable-fit pipe-mounted temperature sensor
11 June 2008
Test & Measurement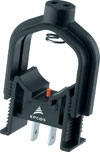 Epcos has introduced a pipe-mounted temperature sensor designed for permanent mounting on pipe diameters of 12 to 20 mm, the most common sizes used in heating systems.
Its patented design, which features a plastic body and clip, makes it particularly easy to install. A spring in the clip provides the tension needed to create a good contact between the pipe and sensor element.
The pipe-contact sensor is designed for a temperature range from -5 to +110°C in a dry environment. It has a response time of below 3 seconds. On request, the sensor may be designed with identifying elements for various pipe diameters and fitted with various connector systems.
Credit(s)
Further reading:
Multi-sensor IoT module
29 July 2020, Electrocomp , Telecoms, Datacoms, Wireless, IoT
TDK announced worldwide availability of the InvenSense SmartBug, a compact, wireless multi-sensor solution designed for a plethora of commercial and consumer IoT applications. The out-of-the-box solution 
...
Read more...
---
DIN rail enclosures
30 June 2020, Electrocomp , Enclosures, Racks, Cabinets & Panel Products
Hammond Manufacturing has announced its 1597DIN family of UL94-V0 flame-retardant plastic enclosures for mounting to standard IEC/EN 60715 35 mm DIN rails for applications such as industrial control equipment, 
...
Read more...
---
CeraCharge now available in a small packing unit
30 June 2020, Electrocomp , Passive Components
TDK is presenting a new packing unit for CeraCharge, the world's first SMD technology solid-state rechargeable battery, in the compact size EIA 1812 (4,4 x 3,0 x 1,1 mm). The packing unit (B73180A0101M199) 
...
Read more...
---
Smart oscilloscope for faster debug
30 June 2020, Comtest , Test & Measurement
PicoTechnology announced the PicoScope 6000E Series FlexRes oscilloscopes, featuring 8 channels with 500 MHz bandwidth, 16 digital channels, and resolution of 8, 10 or 12 bits. The products work with 
...
Read more...
---
Robust temperature sensor for E-mobility
30 June 2020, Electrocomp , Analogue, Mixed Signal, LSI
The new B58703M1103A* temperature sensor is specially developed for demanding E-mobility applications, which call for high long-term stability. The NTC sensor is designed for a temperature range of -40°C 
...
Read more...
---
New range of Tektronix DSOs
30 June 2020, Comtest , Test & Measurement
Comtest has released Tektronix's new TBS2000B series of digital storage oscilloscopes (DSOs) that was developed to meet the performance, usability and affordability needs of both engineers and educators. 
...
Read more...
---
Contactless ESD testing and access control unit
30 June 2020, Actum Group , Test & Measurement
In the electronics manufacturing industry, an electrostatic discharge (ESD) can cause irreparable damage to electronic components. This micro-lightning bolt can burn holes through insulating layers and 
...
Read more...
---
How are IR cameras calibrated and how does ambient temperature affect readings?
30 June 2020, Instrotech , Test & Measurement
Infrared thermometers are calibrated with the help of reference radiation sources, so-called 'black bodies'. These radiant sources are able to produce different temperatures with a high stability.  
...
Read more...
---
Thermal monitor for fever screening
30 June 2020, Actum Group , Test & Measurement
The TCSF256 thermal monitor from Actum Group is a fully automated, plug-and-play fever screening unit. It adopts an infrared radiation measurement technique that can measure body temperature by non-contact 
...
Read more...
---
Uncover EMI issues early with simple pre-compliance tests
30 June 2020, Concilium Technologies , Test & Measurement
An effective pre-compliance testing methodology will reduce test cycle times, which ultimately impacts a company's bottom line.
Read more...
---