printer friendly version
High-precision angle position sensor
11 June 2008
Test & Measurement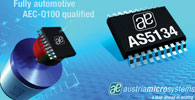 austriamicrosystems has expanded its successful magnetic rotary encoder family with the AS5134. This IC is fully qualified to AEC-Q100 and specifically designed for brushless DC sensing in automotive applications in an ambient temperature range up to 150°C. With an 8,5-bit resolution, the AS5134 can recognise 360 positions within one 360° turn and is accessible with either a serial or a PWM (pulse-width modulation) interface. In addition, there are three differently programmable incremental outputs available, one of which delivers a three-phase commutation signal for brushless DC motors. Another special feature is the programmability of one to six pole pairs. The AS5134 provides a 'power saving mode' with a power consumption of less than 1,5 mA and a fast start-up time to normal operation of less than 250 μs. Several features of the AS5134, including user-specific zero programming, a diagnostic function for correct positioning of the magnet, and the ability to recognise interruptions of the power supply are standard functions. The AS5134 additionally offers a 'daisy chain' mode to read position data serially over a two wire bus.
ASIC Design Services, +27 (0)11 315 8316, info@asic.co.za, www.asic.co.za
NuVision Electronics, +27 (0)11 894 8214, calim@nuvisionelec.co.za, www.nuvisionelec.co.za
Credit(s)
Further reading:
Smart oscilloscope for faster debug
30 June 2020, Comtest , Test & Measurement
PicoTechnology announced the PicoScope 6000E Series FlexRes oscilloscopes, featuring 8 channels with 500 MHz bandwidth, 16 digital channels, and resolution of 8, 10 or 12 bits. The products work with 
...
Read more...
---
New range of Tektronix DSOs
30 June 2020, Comtest , Test & Measurement
Comtest has released Tektronix's new TBS2000B series of digital storage oscilloscopes (DSOs) that was developed to meet the performance, usability and affordability needs of both engineers and educators. 
...
Read more...
---
Contactless ESD testing and access control unit
30 June 2020, Actum Group , Test & Measurement
In the electronics manufacturing industry, an electrostatic discharge (ESD) can cause irreparable damage to electronic components. This micro-lightning bolt can burn holes through insulating layers and 
...
Read more...
---
How are IR cameras calibrated and how does ambient temperature affect readings?
30 June 2020, Instrotech , Test & Measurement
Infrared thermometers are calibrated with the help of reference radiation sources, so-called 'black bodies'. These radiant sources are able to produce different temperatures with a high stability.  
...
Read more...
---
Thermal monitor for fever screening
30 June 2020, Actum Group , Test & Measurement
The TCSF256 thermal monitor from Actum Group is a fully automated, plug-and-play fever screening unit. It adopts an infrared radiation measurement technique that can measure body temperature by non-contact 
...
Read more...
---
Smart manufacturing for electronics
29 July 2020, ASIC Design Services , Manufacturing / Production Technology, Hardware & Services
This article describes a product development strategy designed for manufacturers of electronics for consumer and industrial products, home appliances, manufacturing services, automotive and transportation, 
...
Read more...
---
Energy-friendly PMICs
29 July 2020, NuVision Electronics , Power Electronics / Power Management
Silicon Labs announced a new line of energy-friendly power management ICs (PMICs) serving as dedicated companion chips for EFR32 wireless devices and EFM32 microcontrollers (MCUs). The EFP01 PMIC 
...
Read more...
---
Uncover EMI issues early with simple pre-compliance tests
30 June 2020, Concilium Technologies , Test & Measurement
An effective pre-compliance testing methodology will reduce test cycle times, which ultimately impacts a company's bottom line.
Read more...
---
The promise of 5G wireless communications
30 June 2020, Lambda Test , Test & Measurement
The deployment of 5G services worldwide is driving a massive increase in fibre densification for the required fronthaul and backhaul links interconnecting radio base stations and web-scale core packet networks.
Read more...
---
Phase noise analyser for precision oscillator characterisation
29 April 2020, Altron Arrow , Test & Measurement
To help research and manufacturing engineers make precise and accurate measurement of frequency signals, including those generated by atomic clocks and other high-performance frequency reference modules 
...
Read more...
---