printer friendly version
High-precision angle position sensor
11 June 2008
Test & Measurement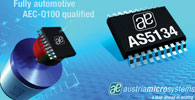 austriamicrosystems has expanded its successful magnetic rotary encoder family with the AS5134. This IC is fully qualified to AEC-Q100 and specifically designed for brushless DC sensing in automotive applications in an ambient temperature range up to 150°C. With an 8,5-bit resolution, the AS5134 can recognise 360 positions within one 360° turn and is accessible with either a serial or a PWM (pulse-width modulation) interface. In addition, there are three differently programmable incremental outputs available, one of which delivers a three-phase commutation signal for brushless DC motors. Another special feature is the programmability of one to six pole pairs. The AS5134 provides a 'power saving mode' with a power consumption of less than 1,5 mA and a fast start-up time to normal operation of less than 250 μs. Several features of the AS5134, including user-specific zero programming, a diagnostic function for correct positioning of the magnet, and the ability to recognise interruptions of the power supply are standard functions. The AS5134 additionally offers a 'daisy chain' mode to read position data serially over a two wire bus.
ASIC Design Services, +27 (0)11 315 8316, info@asic.co.za, www.asic.co.za
NuVision Electronics, +27 (0)11 894 8214, calim@nuvisionelec.co.za, www.nuvisionelec.co.za
Credit(s)
Further reading:
Power management companion chips
29 April 2020, NuVision Electronics , Power Electronics / Power Management
Silicon Labs announced a new line of energy-friendly power management ICs (PMICs) serving as dedicated companion chips for EFR32 wireless devices and EFM32 microcontrollers (MCUs). The EFP01 PMIC 
...
Read more...
---
Ethernet tap for IO Ninja
25 March 2020, RF Design , Test & Measurement
Monitoring network communications of your PC can be accomplished without any specialised hardware – just use the Pcap Sniffer plugin of IO Ninja. The task of tapping into the Ethernet traffic of a non-PC 
...
Read more...
---
Dual military-grade transceiver
29 April 2020, ASIC Design Services , Telecoms, Datacoms, Wireless, IoT
Holt Integrated Circuits today announced the introduction of its HI-15850, the world's first 3,3 V MIL-STD-1553 dual transceiver with 1,8 V, 2,5 V and 3,3 V compatible digital I/O. This feature gives 
...
Read more...
---
Bench-top vector signal generator
29 April 2020, RFiber Solutions , Test & Measurement
The T3267E series bench-top vector signal generator from Transcom Instruments has excellent radio frequency performance and rich signal generating function. It can provide arbitrary wave, continuous 
...
Read more...
---
Advanced electronics help explore the sun
25 March 2020, ASIC Design Services , Programmable Logic
3D Plus has developed, in collaboration with CEA (France), gamma ray detectors for STIX instrument on board the Solar Orbiter. The mission was launched on 10 February 2020 from Cape Canaveral in Florida 
...
Read more...
---
Mini PCIe reference design for MIL-STD-1553
25 March 2020, ASIC Design Services , Computer/Embedded Technology
Holt Integrated Circuits introduced a new dual-channel development kit and complete reference design based on the popular HI-2130LBx MIL-STD-1553 fully integrated terminals. The kit includes a full-size 
...
Read more...
---
Violeds technology achieves 99,9% COVID-19 sterilisation in 30 seconds
25 March 2020, NuVision Electronics , Opto-Electronics
Seoul Viosys and Sensor Electronic Technology, innovators of compound semiconductor products and technology, announced that they had been successful in achieving 99,9% sterilisation of coronavirus (COVID-19) 
...
Read more...
---
Tektronix and Coherent Solutions partner for fully integrated optical comms
25 March 2020, Comtest , Test & Measurement
Comtest has announced that technology companies Tektronix and Coherent Solutions have an exclusive partnership agreement to provide fully integrated optical communications platforms to new and existing 
...
Read more...
---
Vector network analyser training kit
26 February 2020, Comtest , Test & Measurement
Pico Technology has added significant functionality and value to its low-cost, high-performance vector network analyser (VNA), by joining the NI/AWR Connected Partner community. The PicoVNA interface 
...
Read more...
---
Better phase noise measurement for Infiniium UXR scopes
26 February 2020, Concilium Technologies , Test & Measurement
Keysight Technologies and Silicon Labs announced a collaboration that streamlines the validation of timing solutions critical in the development of system-level designs for wireless communications, high-speed 
...
Read more...
---