printer friendly version
Design consequences of geometry 'shrinks'
2 November 2005
Circuit & System Protection
As we all know, the process geometries of both digital and analog integrated circuits are continually shrinking - with the clear advantages of lower power requirements, silicon areas and prices.
However, this reduction in geometry size does have implications for board designs. A simple substitution of a device manufactured with a 0,25 μm (micron) process in place of one manufactured in a 0,7 μm process can produce unexpected results.
Why is this? In theory, nothing has changed, but the evidence contradicts this. One option is to avoid using smaller-geometry devices, but this is very short-sighted. Such a decision means that systems will not benefit from lower power-supply voltages, faster speeds and lower cost - making them uncompetitive in a very short time.
The best approach is to design in the expectation that geometries will continue to shrink. An important issue to consider is increased susceptibility to electrostatic discharge (ESD). Smaller-geometry devices are less able to absorb high-voltage transients and lack robustness around high currents. The manufacturers' standards are not reduced, with a 2000 V r.m.s. to 4000 V r.m.s. ESD tolerance (Human Body Model). However, their tests look for catastrophic failures while the end-user can experience RAM contamination caused by electromagnetic interference (EMI) or electrical fast transient (EFT) signals.
A number of approaches can help with this problem, including protection circuits (MOVs, transient suppressors), microcontroller or processor pin protection (I/O, interrupt, reset pins), or firmware recovery techniques (WDT, register refresh), etc. All of these techniques help to produce a more-robust design, but the most significant results are achieved by layout optimisation.
To move to smaller-geometry devices, it is important to look at places on the board layout where spikes and glitches can enter the newly-sensitive circuits. One of the most productive places to look, is at the power-supply tracks. In a typical circuit, buck- or boost-converters provide the power supplies. This type of supply is inherently noisy, but there is also the risk of added EFT signals, in the form of voltage or current spikes. These may be quite acceptable in circuits using larger-geometry devices, but can cause problems as smaller geometries are used. A general rule-of-thumb is to minimise these effects by managing the power and ground traces (or planes). Finally, the circuit has always required decoupling or bypass capacitors, but now, accurate selection is critical. Figure 1 illustrates a range of techniques that offer different levels of effectiveness.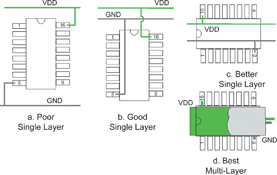 Figure 1. Connecting several devices with one ground and VDD trace; (a) can became a candidate for ground and power-supply loops. This topology also enhances power-supply glitches. Having ground, or VDD jumper (b) is a better solution, but not great. Creating a ground and VDD trace from device to device is a better solution (c) between these three. However, the best solution is to have separate ground and power-supply planes (d) in a multilayer board
Summary
Of course, these are not new suggestions, but many engineers have discovered that not all of them have to be implemented too carefully for circuits using larger-geometry devices. Now, the situation is changing. As new silicon geometries work their way into designs, board layouts must be optimised with power glitches in mind: add protection circuits such as MOVs and transient suppressors; protect the I/O, interrupt and reset pins of the controller or processor; use firmware recovery techniques such as WDT or 'register refresh' so that they contain the correct values. All of these techniques will help to produce a robust design.
Credit(s)
Further reading:
Bluetooth evaluation kit
29 April 2020, Altron Arrow , Telecoms, Datacoms, Wireless, IoT
The Cypress CYW920719B2Q40EVB-01 evaluation kit enables users to evaluate and develop single-chip Bluetooth applications using the CYW20719, an ultra-low-power dual-mode Bluetooth 5.0 wireless MCU (microcontroller) 
...
Read more...
---
Solid-state drive based on QLC technology
29 April 2020, Altron Arrow , Computer/Embedded Technology
Micron Technology announced new Micron 5210 ION enterprise SATA SSD capacity and features, solidifying its leadership in QLC (quad-level cell) technology volume production. The world's first QLC solid-state 
...
Read more...
---
Dual-channel high-speed protector
29 April 2020, Electrocomp , Circuit & System Protection
Bourns announced the release of the Model TBU-RS085-300-WH, for use in RS-485 communication interface protection. The part is an integrated dual-channel transient blocking unit (TBU) over-current and 
...
Read more...
---
Automotive MOSFETs in a variety of packages
29 April 2020, Altron Arrow , Power Electronics / Power Management
Reducing CO
2
emissions of passenger cars is accelerating 48 V board net adoption. For this emerging 48 V market, Infineon Technologies offers a broad portfolio of automotive 80 V and 100 V MOSFETs as 
...
Read more...
---
Chipset for Wi-Fi 6E applications
29 April 2020, Altron Arrow , Telecoms, Datacoms, Wireless, IoT
ON Semiconductor announced sampling of its new QCS-AX2 chipset family that supports the 6 GHz spectrum band based on the enhanced Wi-Fi 6E standard. Designed with a high-performance, flexible architecture 
...
Read more...
---
Enabling cloud connectivity to all Microchip MCUs and MPUs
25 March 2020, Avnet South Africa , DSP, Micros & Memory
Due to the fragmented nature of the Internet of Things (IoT) marketplace, increasing project complexity and costs, today's developers face more challenges in design decisions than ever before. These challenges 
...
Read more...
---
Synchronous buck converter
29 April 2020, Altron Arrow , Power Electronics / Power Management
Diodes Incorporated introduced the AP62600 synchronous DC-DC buck converter for point-of-load (POL) conversion in applications such as TVs, monitors, white goods, home appliances, consumer electronics 
...
Read more...
---
Tiny step-down regulator
29 April 2020, Altron Arrow , Power Electronics / Power Management
The LTM4657 is part of Analog Devices' family of tiny, high-efficiency, identical pin-out, step-down µModule devices. The LTM4657 is designed to operate at lower switching frequencies than the LTM4626 
...
Read more...
---
Stackable DC-DC buck converter
29 April 2020, Avnet South Africa , Power Electronics / Power Management
Texas Instruments introduced a new 40 A SWIFT DC-DC buck converter, offering first-of-its-kind stackability of up to four ICs. The TPS546D24A PMBus buck converter can deliver up to 160 A of output current 
...
Read more...
---
Reliably protect LED applications
29 April 2020, Phoenix Contact , Circuit & System Protection
The Type 2 surge protective device from the Blocktrab series from Phoenix Contact protects all lighting systems and is particularly suitable for LED applications. LED technology has become indispensable 
...
Read more...
---