printer friendly version
Designing mini x86 devices efficiently
16 September 2009
Computer/Embedded Technology
With Pico-ITX, small form factor (SFF) designers can benefit from a standard solution with which they can develop the smallest embedded devices quickly and without having to make customer-specific adaptations. There are, however, alternatives.
Increasingly, developers of SFF devices are looking for off-the-shelf products that minimise development costs and time, consequently guaranteeing fast time-to-market. With the new 2,5" Pico-ITX form factor, a mini single board computer (SBC) form factor has become available which enables immediate application. This means that custom developments on such a small form factor (10 x 7,2 cm) are no longer compulsory.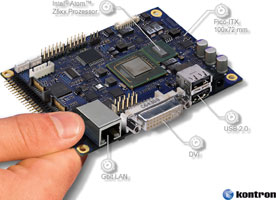 The Pico-ITX form factor
To the embedded computer technology market, which is characterised by the need for long-term availability, Pico-ITX offers independent support via SFF-SIG (the SFF special interest group). In terms of hardware, the Pico-ITX form factor is equipped, for example, with Intel's Atom processors and the highly-integrated Intel System Controller Hub in the smallest of spaces.
In order to exploit the full potential of the Intel Atom processors, the most crucial thing was to find an ideal balance between embedded connectors and interfaces available on the enclosure. Due to these reasons, for example, on Kontron's Pico-ITX SBC pITX-SP, GBit Ethernet, two x USB 2.0 and DVI are placed externally, as these are the interfaces which are in most common use in applications. Further interfaces are provided via embedded connectors.
In spite of the fact that the Pico-ITX form factor is no larger than the connector panel of an ATX conform motherboard, the new embedded motherboard offers room for one DDR2 SODIMM module, four further USB 2.0 interfaces, up to two x SATA II, one x PATA44 and a socket for microSD cards, along with a Jili30 LVDS interface for simple monitor connection. Additionally, a backlight inverter can be connected and controlled. Audio devices can be connected via Line In, Line Out, MIC In and SPDIF Out to the integrated HDA controller. Customer specific extensions are possible via 1x SDIO (secure digital input/output) pin header or digital I/O (4-bit).
The 2,5" form factor is ideal for combining congruent 2,5" hard disks in a space-saving way. System designs including CPU heatsinks of approximately 10 mm in height can be integrated into a construction of around 40 mm. Without a heatsink and with a micro SD card instead of a 2,5" hard disk, the result is even flatter.
The right board for every application
Depending on the solution required, a standard board does not always fit the bill. With the COM Express compatible computer-on-modules (COM) form factor nanoETXexpress (55 x 84 mm), compact solutions similar to Pico-ITX can be developed. However, the concepts of both solutions meet different requirements. With COMs, for example, it is possible to implement any external interfaces that are required and this – from a certain production quantity – can have a positive effect on costs. This is realised on a customer-specific carrier board which is fitted directly into the enclosure; cables are not necessary. A Pico-ITX board can do without this design effort, if existing interfaces suit the requirements. So both solutions target different fields of application.
Especially in this class of small boards, COMs are gaining significance, as for example, customer-specific interfaces connected via PCIe in small spaces are more and more in demand. For this reason, it is important to choose the right COM. Market researchers VDC have already announced their prognosis, which promises best growth rates for nanoETXexpress – COMs with COM Express Type 1 connectors are expected to achieve an annual growth rate of 70% and attain a market share of 21% in 2010.
This confirms the high acceptance of the credit-card sized form factor nanoETXexpress, as this COM form factor is the most dominant representative of its class. Hence, it is not surprising that Aaeon, Adlink and Advantech have joined this specification and have – together with Kontron – passed revision 1.0 of the nanoETXexpress specification, which now also supports SDVO. Furthermore, together with the PICMG consortium they will jointly present the nanoETXexpress form factor under the proposed neutral name of 'Ultra', so that it can be included in the next COM Express specifications.
Revision 1.0 of the nanoETXexpress COM specification sees, by the way, SDVO becoming available via a separate flat foil connector. This enables continued LVDS support via the COM Express connector and DVI can still be used, which gives the green light for solutions with two independent monitors. Revision 1.0 of the nanoETXexpress specification is available for download at www.nanoetxexpress.com.
ODM services for tailor-made ­embedded solutions
When larger production quantities are required, employing individual semi- and full-custom single board solutions is recommended. Companies like Kontron also offer – along with a wide range of standard COTS products – ODM (original design and manufacturing) services for tailor-made platform solutions.
Instead of splitting different stages of development and/or production of embedded computer technology between several partners, OEMs have the opportunity to switch to just one ODM service provider and in doing so profit from a higher level of project efficiency with simpler, overall management.
Assuming that in the past in-house projects and new custom designs were essentially a matter of large production quantities, not every company comes into question as a partner for ODM outsourcing projects. A certain size and financial strength of the potential ODM service provider are important factors which serve to guarantee long-term availability and competitiveness. Additionally, an extensive standard product portfolio can have cost-saving effects, as the ODM has already carried out designs for its own range, and these can be easily transferred to customer-specific products.
Inexpensive purchasing is also guaranteed due to scaling effects, as the ODM service provider has purchased according to his own needs and quantities are consequently larger. Manufacturers who can provide a large product range are also in a much better position to balance out up- and down-turns in demand. The choice of ODM partner therefore should fall on a manufacturer of embedded computer technology which ideally would have its own production facility in Asia, to ensure production costs keep to a minimum.
A further real benefit is the fact that the ODM project manager liaises and coordinates all aspects of the project locally with the customer, meaning that the customer will be spared any control and coordination work regarding the Asian manufacturing and moreover released from any possible risks connected with this. Beside the importance of the hardware portfolio, software is increasingly becoming a competitive and differentiating feature, so the software range of the ODM service provider should be taken into consideration. The more dedicated software an ODM offers for its embedded solutions, the better it will fit into the particular application in question.
The compact alternative: nanoETXexpress
Demand for smaller form factors is not only met with SBCs but also via established COM Express specifications of the PICMG. A turnover of over $61 million is expected to be achieved in 2010 with these COM Express modules. The smallest form factor with a COM Express compatible connector is the credit card-sized nanoETXexpress (55 mm x 84 mm). COM designs with nanoETXexpress bring the benefits of especially small enclosures and energy-efficient designs and are therefore ideal for SFF and ultra-mobile devices. For applications that require more graphic performance and a wider range of interfaces, COMs in the microETXexpress format (95 x 95 mm) are the answer. Boards with this form factor support, for example, high 3D graphic performance and dual-display support via SDVO, LVDS, VGA and TV Out. Depending on the application, all COM modules are easily interchangeable. The precondition for this is the use of Type 1 or type 2 COM Express connectors, which VDC sees in a leading position within the COM Express conform modules (93% in 2010) and consequently as the de facto standard. Therefore, alternative modules should only be used if no satisfactory technical solution can be found with COM Express, as the significance and the long-term availability of alternative modules are in no way guaranteed.

Credit(s)
Further reading:
Rugged single-board computer
25 November 2019, ETION Create , Computer/Embedded Technology
ETION Create released the 2nd in its family of 3U OpenVPX COTS modules. The VF370 3U OpenVPX single-board computer (SBC) is based on the Intel Atom E3900 series of embedded processors and Intel Cyclone 
...
Read more...
---
Signal recorder for military intelligence
25 November 2019, Rugged Interconnect Technologies , Computer/Embedded Technology
A new addition has been made to the family of Talon signal recording and playback systems from Pentek. The RTR 2654 26,5 GHz RF Sentinel intelligent signal scanning rackmount recorder combines the power 
...
Read more...
---
3-channel RGB LED lighting shield
25 November 2019, Altron Arrow , Computer/Embedded Technology
The XMC 3-channel RGB LED lighting shield from Infineon Technologies is an evaluation board compatible with Arduino as well as Infineon's XMC1100 Boot Kit. It is designed to be easily configurable and 
...
Read more...
---
Solderless robotics kit for university education
25 November 2019, Avnet South Africa , Computer/Embedded Technology
Texas Instruments introduced the newest addition to the TI Robotics System Learning Kit (TI-RSLK) family, the TI-RSLK MAX, a low-cost robotics kit and curriculum that is simple to build, code and test. 
...
Read more...
---
Rugged removable memory tokens and receptacles
23 October 2019, IPD Electronics , Computer/Embedded Technology
ATEK Access Technologies released the latest additions to its Datakey Bar Series of ruggedised removable memory devices. The BRFG and BRFN panel-mount Bar receptacles minimise the required internal mounting 
...
Read more...
---
3U VPX software radio board
23 October 2019, Rugged Interconnect Technologies , Computer/Embedded Technology
Pentek introduced the newest member of the Jade family of high-performance 3U VPX boards. The Model 54821 is based on the Xilinx Kintex Ultrascale FPGA and features three 200 MHz 16-bit A/Ds with three 
...
Read more...
---
Rugged single-board computer
23 October 2019, ETION Create , Computer/Embedded Technology
ETION Create released the 2nd in its family of 3U OpenVPX COTS modules. The VF370 3U OpenVPX single-board computer (SBC) is based on the Intel Atom E3900 series of embedded processors and Intel Cyclone 
...
Read more...
---
Read-only SD card adaptor
25 September 2019, IPD Electronics , Computer/Embedded Technology
ATEK Access Technologies launched its new Datakey read-only DFX PC adaptor, the latest addition to the DFX RUGGEDrive Series of Secure Digital (SD) memory devices. It works to prevent accidental deletion 
...
Read more...
---
Rugged USB Flash drives and SD cards
28 August 2019, IPD Electronics , Computer/Embedded Technology
Datakey Electronics' new RUGGEDrive line of portable memory solutions offers the data storage and transfer capabilities of consumer-grade USB Flash drives and SD cards in a more reliable and secure package. The 
...
Read more...
---
Embedded recorder for extreme environments
26 June 2019, Rugged Interconnect Technologies , Computer/Embedded Technology
Pentek announced the most recent addition to the Talon RTX 25xx series, a new high-performance, small form-factor (SFF) recorder product line for extreme operating environments. Optimised for SWaP (size, 
...
Read more...
---