printer friendly version
Digital multimeter
11 November 2009
Test & Measurement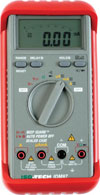 The IDM 97 from Iso-Tech is a digital multimeter which measures amps, volts and ohms. It is an auto-ranging, 3200 count meter with data hold, delayed hold and a high-resolution 65 segment display capable of displaying bargraphs.
The meter is enclosed in a water-resistant, O-ring sealed case, and is supplied with a protective holster, lead set, batteries and instruction manual.
The meter is protected by dual high-energy fuses and features a battery life of 1000 hours with an auto power off function. It can measure AC and DC current up to 10 A. As with all Iso-Tech products, it comes with a three year warranty as well as free technical support.
Credit(s)
Further reading:
Beware! Identity is the new gold – and criminals know it
23 October 2019, RS Components (SA) , News
Stolen identity is a highly potent tool for fraudsters, as a recent Carte Blanche insert featuring RS Components revealed. A buyer approached us to procure equipment on credit to the tune of R1,5 million. 
...
Read more...
---
DIN-rail programmable transmitter
23 October 2019, Instrotech , Test & Measurement
Calog Instrument's versatile DPM9000 series – a miniature DIN-rail mount programmable isolated transmitter range – boasts high reliability and a versatile, wide range of programmable inputs. With dimensions 
...
Read more...
---
Hands-on learning module
23 October 2019, Altron Arrow , Test & Measurement
The ADALM2000 (M2K) active learning module is an affordable, USB-powered, software-defined instrument that exceeds the capabilities of its predecessor ADALM1000 (M1K). With 12-bit ADCs (analog-to-digital 
...
Read more...
---
3D printer for rapid prototyping
23 October 2019, RS Components (SA) , Manufacturing / Production Technology, Hardware & Services
RS Components is shipping the latest version of the MakerBot 3D printer – the MakerBot Method – which has been designed to bridge the gap between industrial and desktop 3D printing. The unit targets engineers 
...
Read more...
---
Digital multimeter with thermal imager
23 October 2019, RS Components (SA) , Test & Measurement
A digital multimeter (DMM) with a built-in thermal imager has been added to RS Components' RS PRO product range. The RS-9889 allows engineers to identify thermal overload issues in electrical equipment 
...
Read more...
---
Red Bull Basement Hatch showcases Cape Town's tech talent
23 October 2019, RS Components (SA) , News
Cape Town's brightest young tech geniuses gathered in Woodstock in September to share their ideas and their creations at the Red Bull Basement Hatch event. The Red Bull Basement Hatch brings together 
...
Read more...
---
Project-based learning for the modern engineer
23 October 2019 , Test & Measurement
Projects that inherently challenge students to use innovative design thinking often involve interacting with an unknown process or device. Students are encouraged to understand the unknown through theory, 
...
Read more...
---
Compact industrial connectors
23 October 2019, RS Components (SA) , Interconnection
RS Components has extended its industrial connector portfolio with two new solutions from Harting, one of the world's leading providers of industrial connection technology, including the recently launched 
...
Read more...
---
Automotive Ethernet testing software
25 September 2019, Comtest , Test & Measurement
Tektronix has released two new software packages that greatly simplify Automotive Ethernet testing, debug and protocol decode for use with its 5 and 6 Series mixed-signal oscilloscopes (MSO). Using 
...
Read more...
---
What can sport teach us about MRO procurement?
28 August 2019, RS Components (SA) , News
Just like triathlon transitions, if you don?t respect the details and aren?t supportive about making manufacturing flexible, as a supplier you aren?t contributing to your customers? success.
Read more...
---