printer friendly version
Quad/dual 14-bit, 125 MSps ADCs
25 November 2009
Analogue, Mixed Signal, LSI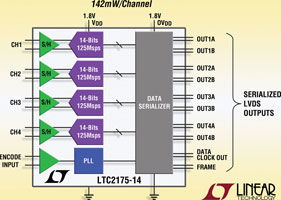 New from Linear Technology is a family of 24 low-power 14-bit/12-bit, 125 MSps to 25 MSps, quad and dual ADCs. The flagship model is the LTC2175-14, a quad 14-bit, 125 MSps part that dissipates only 558 mW (140 mW per channel).
The LTC2175 offers signal to noise ratio (SNR) performance of 73,4 dB and spurious free dynamic range (SFDR) of 88 dB at baseband. Operating from 1,8 V analog and digital supplies, the device includes a sleep mode that reduces power dissipation to just 1 mW. Whether operating at full speed or in sleep mode, this ADC is designed to lower the power budget for high-speed multichannel designs such as multiple-input multiple-output (MIMO) WiMAX/LTE and 3G base stations, portable medical imaging and non-destructive testers.
Data is output from the LTC2175 in serial LVDS format to minimise the number of data lines. At 125 MSps, each channel outputs two bits at a time, using two lanes per ADC. At lower sample rates, a one-bit-per-channel option is available. The device includes an SPI-compatible interface that allows users to choose between a variety of data settings that reduce digital feedback. Options include a data output randomiser that reduces digital feedback, seven programmable LVDS output current levels, internal 100 LVDS output termination resistors and digital output test patterns. These settings can be programmed via SPI or hard-wired for a reduced set of operating modes.
Credit(s)
Further reading:
Smallest automotive maXTouch controllers
29 July 2020, Altron Arrow, Avnet South Africa , DSP, Micros & Memory
To help enhance and ease today's driving experience, automotive manufacturers are implementing additional touch displays beyond the centre infotainment display (CID). Supporting the application of these 
...
Read more...
---
Robust temperature sensor for E-mobility
30 June 2020, Electrocomp , Analogue, Mixed Signal, LSI
The new B58703M1103A* temperature sensor is specially developed for demanding E-mobility applications, which call for high long-term stability. The NTC sensor is designed for a temperature range of -40°C 
...
Read more...
---
3 kW TVS diode arrays
30 June 2020, Avnet South Africa , Circuit & System Protection
To ensure critical operations, aviation and space systems rely on digital and logic functionality and circuitry in engine control units, environmental controls, instruments and actuators. Data centres, 
...
Read more...
---
PCIe Gen 4 switches
30 June 2020, Avnet South Africa , Computer/Embedded Technology
To support cloud, data centre and hyperscale computing that facilitates advancements in artificial intelligence (AI) and machine learning (ML), Microchip Technology released to production its Switchtec 
...
Read more...
---
Sensor signal conditioning IC
30 June 2020, Hi-Q Electronics , Analogue, Mixed Signal, LSI
New from Renesas Electronics is the ZSSC3240 sensor signal conditioner (SSC) – the newest member of its leading-edge SSC portfolio. The ZSSC3240 delivers high accuracy, sensitivity and flexibility for 
...
Read more...
---
DIN-rail mounting DC-DC converters
30 June 2020, Avnet South Africa , Power Electronics / Power Management
Shortly after unveiling the brand-new DIN-rail mounting DC-DC converter family, the DDR-15/30/60/120/240 series, Mean Well has announced the DDR-480 series (480 W) to enable integration into higher-power 
...
Read more...
---
Highly accurate 1-wire temperature sensor
29 April 2020, CST Electronics , Analogue, Mixed Signal, LSI
The MAX31825 temperature sensor from Maxim Integrated provides 8-bit to 12-bit Celsius temperature measurements with better than ±1°C accuracy from 0°C to +70°C and ±1,75°C from -45°C to +145°C. The 
...
Read more...
---
HDMI 2.1 active switch
29 May 2020, Altron Arrow , Analogue, Mixed Signal, LSI
Diodes Incorporated announced the PI3HDX12221, an HDMI 2.1 active switch with linear ReDriver that enables manufacturers of TVs, PCs, gaming consoles and set-top boxes to adopt the latest 12 Gbps HDMI 
...
Read more...
---
Board-mount pressure sensors
29 May 2020, TRX Electronics , Analogue, Mixed Signal, LSI
The ABP series of board-mount pressure sensors from Honeywell are fully calibrated and temperature compensated for sensor offset, sensitivity, temperature effects and accuracy errors (which include non-linearity, 
...
Read more...
---
Wi-Fi and BLE combo module
29 May 2020, Avnet South Africa , Telecoms, Datacoms, Wireless, IoT
Dialog Semiconductor announced the DA16600, a module that combines its advanced Wi-Fi and BLE (Bluetooth Low Energy) capabilities into a single solution. This two-in-one module is comprised of two 
...
Read more...
---