printer friendly version
High-voltage cable test system
20 January 2010
Test & Measurement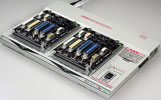 CAMI Research has introduced a high-voltage module for its CableEye M3U cable test system that permits expanded testing for insulation resistance and dielectric breakdown. After checking for opens, shorts, miswires and resistance limits, the new HVX hipot module will apply a user-selectable voltage from 10 V to 1500 V d.c., or 10 V to 1000 V RMS a.c., to each connection group in the cable.
Current leakage detected during the high-voltage test phase provides a measure of insulation resistance up to 1 G, and any leakage current exceeding a preset limit reveals the presence of moisture, flux or other contamination on exposed contacts.
This new high-voltage test capability allows users to meet the industry-standard A620 guidelines for cable and wire harness testing. The system also produces archival-quality reports for each cable tested, showing the test voltage, leakage current and insulation resistance for each wire group, and clearly denotes PASS or FAIL at the top of the report.
The system employs numerous measures to ensure operator safety. Each login name must have system administrator authorisation to enable the high-voltage function. Once logged in, the operator must confirm awareness of the presence of high voltage by pressing a hardware enable button for that test session. During testing, a bright red light bar turns on when high voltage is present. If desired, remote test and stop switches are available. Finally, test current that exceeds the maximum 1,5 mA causes an automatic halt of that test and cessation of voltage.
The CableEye HVX System consisting of an M3U tester and the HVX module is available for 128 test points and can be expanded to 512 test points with optional expansion units. The system includes software with scripting, one-year warranty, one year of free software upgrades, and one year of free tech support.
For more information contact Barry Culligan, Otto Marketing, +27 (0)11 791 1033, contact@otto.co.za, www.otto.co.za
Credit(s)
Further reading:
Double pulse test software for Tektronix AFG
29 January 2020, Comtest , Test & Measurement
Comtest announced the availability of Tektronix' new software plugin for its AFG31000 arbitrary function generator (AFG), making it possible to perform crucial double pulse testing in less than a minute, 
...
Read more...
---
Battery charge/discharge test system
29 January 2020, Conical Technologies , Test & Measurement
The ITS5300 battery charge and discharge test system from ITECH is designed for a variety of power batteries including lead acid, nickel hydrogen, lithium batteries, supercapacitors, hydrogen fuel cells 
...
Read more...
---
DIN-rail programmable transmitter
23 October 2019, Instrotech , Test & Measurement
Calog Instrument's versatile DPM9000 series – a miniature DIN-rail mount programmable isolated transmitter range – boasts high reliability and a versatile, wide range of programmable inputs. With dimensions 
...
Read more...
---
Hands-on learning module
23 October 2019, Altron Arrow , Test & Measurement
The ADALM2000 (M2K) active learning module is an affordable, USB-powered, software-defined instrument that exceeds the capabilities of its predecessor ADALM1000 (M1K). With 12-bit ADCs (analog-to-digital 
...
Read more...
---
Digital multimeter with thermal imager
23 October 2019, RS Components (SA) , Test & Measurement
A digital multimeter (DMM) with a built-in thermal imager has been added to RS Components' RS PRO product range. The RS-9889 allows engineers to identify thermal overload issues in electrical equipment 
...
Read more...
---
Project-based learning for the modern engineer
23 October 2019 , Test & Measurement
Projects that inherently challenge students to use innovative design thinking often involve interacting with an unknown process or device. Students are encouraged to understand the unknown through theory, 
...
Read more...
---
Automotive Ethernet testing software
25 September 2019, Comtest , Test & Measurement
Tektronix has released two new software packages that greatly simplify Automotive Ethernet testing, debug and protocol decode for use with its 5 and 6 Series mixed-signal oscilloscopes (MSO). Using 
...
Read more...
---
4-channel PC-based oscilloscope
28 August 2019, Vepac Electronics , Test & Measurement
The newly developed Model 1330 from Peaktech is a 4-channel PC oscilloscope with 100 MHz bandwidth and 1 GSps sample rate, which is suitable for mobile use on a laptop, and permanent installation in control 
...
Read more...
---
Handheld PoE tester
26 June 2019, Coral-i Solutions , Test & Measurement
Ideal Networks has launched a new handheld tester that eliminates guesswork when installing, maintaining and troubleshooting PoE devices and data cabling. PoE Pro measures and reports PoE class, voltage/voltage 
...
Read more...
---
Debugging probe for STM32 MCUs
31 July 2019, Altron Arrow , Test & Measurement
The STLINK-V3MINI probe, new from STMicroelectronics, combines the features of the STLINK-V3SET with standalone simplicity for faster programming and ease of use. The compact, portable probe can be 
...
Read more...
---