printer friendly version
Pulse transformers for LAN applications
28 April 2010
Passive Components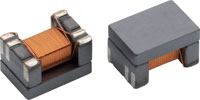 TDK-EPC has developed a series of pulse transformers in SMD design for LAN use. With an inductance of at least 200 μH and an insertion loss of not more than 1,5 dB, the design of the new ALT4532-001T series was made possible by the use of advanced fully automated wire winding and packaging that replaces the former manual processes. After winding, the wires to the contact pads are also attached automatically and the package is finished using thermo-compression bonding, resulting in higher quality and reliability.
The benefits of the product's SMD design come into play when the pulse transformer is used in combination with a common-mode filter to eliminate differential noise. Together, their mounting area is about 35% smaller because the previous version required that the two kinds of components be combined into a module with its own packaging. The new component is used for the transmission of differential pulse signals in high-speed LANs such as 100BASE-TX.
Credit(s)
Further reading:
Multi-sensor IoT module
29 July 2020, Electrocomp , Telecoms, Datacoms, Wireless, IoT
TDK announced worldwide availability of the InvenSense SmartBug, a compact, wireless multi-sensor solution designed for a plethora of commercial and consumer IoT applications. The out-of-the-box solution 
...
Read more...
---
DIN rail enclosures
30 June 2020, Electrocomp , Enclosures, Racks, Cabinets & Panel Products
Hammond Manufacturing has announced its 1597DIN family of UL94-V0 flame-retardant plastic enclosures for mounting to standard IEC/EN 60715 35 mm DIN rails for applications such as industrial control equipment, 
...
Read more...
---
CeraCharge now available in a small packing unit
30 June 2020, Electrocomp , Passive Components
TDK is presenting a new packing unit for CeraCharge, the world's first SMD technology solid-state rechargeable battery, in the compact size EIA 1812 (4,4 x 3,0 x 1,1 mm). The packing unit (B73180A0101M199) 
...
Read more...
---
Robust temperature sensor for E-mobility
30 June 2020, Electrocomp , Analogue, Mixed Signal, LSI
The new B58703M1103A* temperature sensor is specially developed for demanding E-mobility applications, which call for high long-term stability. The NTC sensor is designed for a temperature range of -40°C 
...
Read more...
---
Surface mount resistors and terminations
30 June 2020, RF Design , Passive Components
Smiths Interconnect announced the release of its extended CXH series of surface mount chip resistors and terminations. The CXH series uses a patented layout to provide improved power handling over conventional 
...
Read more...
---
Broadband capacitors and their significance
30 June 2020, TRX Electronics , Passive Components
There are a number of circuits that require coupling RF signals or bypassing them to ground while blocking DC over extraordinarily large RF bandwidths. The applications for which they are intended typically 
...
Read more...
---
Thick-film chip resistors
29 April 2020, Electrocomp , Passive Components
Bourns announced the introduction of its new Model CR01005 series thick-film chip resistor. This extra small – 01005 inch (0402 metric) – CR01005 series broadens the general purpose thick-film chip resistor 
...
Read more...
---
Automotive-grade MLCCs
29 April 2020, TRX Electronics , Passive Components
Yageo's automotive grade MLCC (multilayer chip capacitor) AC/AS series is AEC-Q200 qualified as well as MIL-STD-020D tested to ensure its reliability under various temperatures (from -55°C to +150°C) 
...
Read more...
---
Chip resistors in automotive grade
29 May 2020, Altron Arrow , Passive Components
Vishay has enhanced its MC AT precision series of automotive grade thin film chip resistors with a wider range of resistance values from 47 Ω to 10 MΩ in the 1206 case size. The MCA 1206 AT is the industry's 
...
Read more...
---
Storage choke against harmonic distortion
29 April 2020, Würth Elektronik eiSos , Passive Components
The WE-LHMD is an SMT-mountable storage choke from Würth Elektronik optimised for filter topologies in Class-D amplifiers. Thanks to their iron powder cores, the high-current inductors for audio applications 
...
Read more...
---