printer friendly version
Trends and developments in electronics packaging
26 May 2010
Enclosures, Racks, Cabinets & Panel Products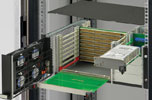 Applications for electronics packaging systems cover a wide range of industries that include railway and traffic engineering, telecommunications, automotive, industrial automation, control and instrumentation, security, medical and military technologies.
The determining factor here is not specific processor types but rather, invariably, the given framework conditions and the specifications required. It follows that the correct 'packaging' of the electronic systems plays a decisive role. This article looks at some of the current trends and future developments in this field.
Robust for industrial environments
Electronics packaging systems are used for computers in harsh industrial environments – settings in which an ordinary office PC is unsuitable owing to a greater required tolerance to, for example, temperature, shock and vibration. Many of these additional demands are met by electronics packaging systems in their standard versions, while particularly tough or specialised conditions can be satisfied with appropriate upgrades or extras. Conditions in a vehicle, for example, may include a wider than normal temperature range, and electronic and electrical components used there must be capable of withstanding such temperatures.
Systems used in production lines and situated in the proximity of punching or rotating machines must tolerate higher shock and vibration levels. In medical applications, safety considerations require special power supply units with greater insulation clearances. Electromagnetic compatibility is also critical here. Moreover, medical systems must meet the required standards of hygiene. In all respects, electronics packaging systems are highly robust. This is true of their individual components and parts and also of the complete mechanical structure.
Compared to other systems such as office, industrial or box PCs, electronics packaging systems have decisive advantages for industrial applications:
* Robust mechanical construction based on 19-inch technology.
* A passive backplane increases the mean time before failure (MTBF) of the fixed components in the system. All active modules can be easily changed, in some cases even while the system is running.
* Modular structure allows easy expansion.
* A choice of bus technologies to suit different applications: VMEbus, CompactPCI, CPCIe, CompactPCI Plus, MicroTCA, AdvancedTCA.
* Defined airflow through the board cage; no hot spots.
* Some types are multiprocessor capable (VME, AdvancedTCA, MicroTCA, CompactPCI Plus).
* Good IP and EMC protection, can also be further upgraded.
* Very maintenance-friendly; boards can be swapped easily without opening the case.
* Hot-swap capability an option.
* Guaranteed compatibility of components (when exchanged for replacements).
* Redundant systems an option.
* Long-term availability of components.
VMEbus: a growing strength for military applications
The VMEbus specification was issued by VITA (VMEbus International Trade Association) in 1984. The classic VMEbus was designed for industrial automation applications, but today its use in this field is decreasing. In its more recent specifications, VITA has concentrated primarily on very robust systems that are used primarily in military applications (Figure 1). Robust systems of this type are defined in the VITA 41 specification, also known as VXS. This specification combines the old VMEbus with serial data transmission.

Figure 1. VMEbus systems for robust applications in military and related areas
The relevant protocols, eg, PCI Express, Serial Rapid I/O, Infiniband etc, are defined in sub-specifications. VITA is currently working intensively on the VPX specification (VITA 46, 47 and 48, including various sub-specifications), which is aimed clearly at very robust systems for military and related applications. Typical uses include control systems for aircraft such as rocket guidance systems in fighter jets, anti-missile systems on naval ships and sonar and radar applications, etc. Since military and civil aviation standards are very similar, however, these components are also used in civil aviation on grounds of cost and availability.
Existing VMEbus systems in industrial automation continue to be maintained, but new developments in this field are concentrating increasingly on other specifications such as MicroTCA and CompactPCI Plus. This is also a function of component availability. The initially large advantage of VMEbus as a platform for real-time systems has meanwhile also steadily decreased. The high speeds of new data transmission systems and processors have enabled complex processes, such as the synchronising of printing presses, to be carried out by other systems such as CompactPCI. These newer technologies are also often lower in cost, since they have the benefit of mass-market components (PCI bus and commercial chipsets).
CompactPCI: focusing on industrial automation, railway and transport engineering and telecommunications
CompactPCI (CPCI) is a standard of the PCI Industrial Computer Manufacturers Group (PICMG) for high-end 19-inch systems with passive backplane for demanding applications in terms of performance, robustness and failure safety. With CompactPCI, PICMG has brought the benefits of the commercial market to the industrial sector. Originally, CompactPCI had two chief areas of application – industrial automation and telecommunications. Along with packet switching, CompactPCI continues to be frequently used in telecommunications. New developments mean, however, that in future this field will be increasingly covered by the AdvancedTCA and, for smaller telecoms units, the MicroTCA specifications.
The majority of current CompactPCI applications are in industrial automation and telecommunications. These situations are characterised not by the simple control of machines but by applications requiring high processing power. In industrial automation the focus for CompactPCI is on process monitoring and capturing large process data volumes such as the various types of output from video cameras. One example is a robot safety system in which the area surrounding the robot is monitored by two cameras (3D vectorised). Should a worker enter the monitored area, the system detects this and deactivates the robot. Another example could be process monitoring with cameras, such as for bottle cleaning in drinks bottling systems. High-speed cameras record the cleaned bottles, the images are evaluated and the bottles sorted accordingly.
Security equipment is also based on video surveillance. Examples include the monitoring of roulette tables in casinos or closed-circuit surveillance at railway stations, airports etc. A further aspect for security systems is encryption, in this case hardware-based. This applies particularly to military applications and in government agencies, where data security must be maximised and software encryption is far from sufficient. Here digital signal processors perform encryption and decryption continually in real time.
CompactPCI systems are also commonly used in traffic and transport engineering. In railways they are used for control tasks on trains and for passenger information and entertainment systems on trains and in stations. CompactPCI systems are also frequently found in signal box equipment for controlling track systems and at line-side measurement stations (Figure 2). A further application is in the control unit of a driverless bus.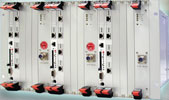 Figure 2. CompactPCI systems for a variety of railway applications
Largely for cost reasons, CompactPCI also continues to be employed in military applications such as tanks and other military vehicles. Since these applications demand substantially higher levels of resistance to shock and vibration, an entirely different system construction is necessary.
It can thus be seen that CompactPCI, with its still parallel data transmission, finds application in the most diverse of market sectors. However, driven by the PC sector, a move is now taking place towards serial data transmission. Customers want their system to adapt to future developments. Nobody wants to design new projects for ageing technology for which chipsets will shortly no longer be available.
One possibility for converting to serial data is offered by the MicroTCA specification. MicroTCA, however, is designed for high-performance applications, with redundancy, full hot-swap, system management etc. It represents a good alternative where these features are needed. It is desirable to be able to change from the old technology to the new in a single step. Despite its substantial advantages, however, not every user is ready or economically in a position to make the large step to adopting this new technology.
To accommodate this situation, Schroff has developed a hybrid system that combines trusted technologies such as VMEbus and CompactPCI with MicroTCA in one system. This makes it easy to harness the latest AdvancedMC processor modules to the wide range of existing CompactPCI and PMC I/O solutions for industrial applications. Another route to serial data transmission is offered by the CompactPCI Express specification; it has however been discovered that this is not sufficient for industrial applications.
The most recent development available to users is CompactPCI Plus and the PICMG 2.30 CPLUS I/O specification, which allow a 'soft' migration path from CompactPCI to the future-ready serial protocols. Both specifications, which are currently still drafts, represent the continued evolution of CompactPCI with the support of current data transport mechanisms – PCI Express (PCIe), S-ATA, USB II and III and Ethernet Base-T. The PICMG 2.30 CPLUS I/O specification makes it possible to mix existing CompactPCI boards with new CompactPCI PLUS boards in one system. In a Schroff hybrid system of this type, the built-in hybrid backplane provides slots for conventional CompactPCI slots in the left-hand area and slots for CompactPCI Plus to the right. The PICMG 2.30 CPLUS I/O slot, positioned in the centre, links the two worlds together.
It follows that CompactPCI Plus, together with the PICMG 2.30 CompactPCI Plus I/O specification, is well suited for updating existing projects. Individual boards, such as the processor boards, can be converted to the new technology while allowing existing industry-specific I/O boards to be retained. Thus a gradual migration can occur from parallel bus to serial transmission, and without a change of form factor.
AdvancedTCA: Mainly telecommunications
AdvancedTCA (Advanced Telecom Computing Architecture, PICMG 3.x) is a PICMG standard primarily for high-performance communications servers and is designed to handle the growing data traffic from new data services. The AdvancedTCA concept is a powerful, scalable architecture that excels in function density, availability and future compatibility, and provides a platform on which many emergent applications such as video-on-demand can be realised.
The AdvancedTCA specification was developed for the telecoms sector (Figure 3) and this is its primary area of application – in the core network, where large data volumes converge and are processed. Such a system also allows telephone and internet traffic to be searched by keywords and recorded accordingly. It is however equally possible to build storage servers or other media servers. There are also a number of applications in the datacom sector that are in effect competitors to the blade centre.

Figure 3. AdvancedTCA systems for future-orientated communications applications
Concerning communications applications, the use of AdvancedTCA and MicroTCA is also an option for the military sector. As in civilian systems, here also communications infrastructures, networks, etc must be set up. There are two ways to do this: either a VPX military system is adapted to telecommunications requirements, or an AdvancedTCA telecoms system is adapted to military requirements. Once certain technical issues have been addressed, such as those of the cartridge connectors of the AdvancedMC module, AdvancedTCA and MicroTCA may in future be able to play a larger role in military applications.
AdvancedTCA has meanwhile also found application in areas outside telecommunications. An example is the xTCA working group for physics, which is working on defining extensions and alterations to AdvancedTCA and MicroTCA to allow these specifications to be used by the physics community. Such systems would then be used, for example, in circular accelerators – MicroTCA for controlling the ring and AdvancedTCA chiefly for evaluating the experiments. This is thus a new area of application that will emerge in the future.
MicroTCA: much more than just a telecommunications system
MicroTCA adds a standardised solution for the entire telecommunications network to the PICMG3.0 Advanced Telecommunications Computing Architecture (AdvancedTCA) specification. While AdvancedTCA was designed for high-capacity and high-performance applications, MicroTCA is intended for cost-sensitive, physically smaller applications with lower capacity and performance but that require the same high level of availability.
MicroTCA provides a high-speed system platform that is sufficient both for the high demands of the telecoms sector and for the less demanding requirements of industrial applications. While AdvancedTCA is employed in the central network of a telecoms system, the more compact MicroTCA standard is used in access networks such as WiMAX base stations. MicroTCA, and the ruggedised version in particular, is used in military applications for communications, radar and sonar systems. Non-telecoms applications are also constantly increasing and are common in areas such as industrial automation (Figure 4), image processing, medical systems, transport, test and measurement and the military.

Figure 4. MicroTCA systems for industrial applications with high data traffic
The types of application are similar to those of CompactPCI. Examples in industrial automation include image processing and real-time motion control, the control of complex robot movements, safety monitoring of manufacturing cells by video camera and mechanised 'sight' for the sorting of goods on a production line or for surface inspection by video camera and image-processing system. In medical systems also, image processing systems for diagnosis are a major area of application. In traffic engineering, eg, video monitoring systems or information (Internet-to-train, WiMAX, 2G, wi-fi) and entertainment systems are constructed using MicroTCA-based electronics packaging systems.
The MicroTCA standard is now being extended to meet the specific demands of applications in harsh environments. Particularly in transport and military applications, but also in industry, high values of shock and vibration tolerance are frequently required. PICMG has therefore set up three MicroTCA sub-specifications to take care of these requirements. The first, MicroTCA.1, which defines solutions for air-cooled AMC.0 modules with high mechanical and thermal demands, has already been adopted. There are now rugged MicroTCA products ready for mass production that are already being used in the first applications. The introduction of AdvancedMC front panels for rugged MicroTCA was a further step towards bringing MicroTCA into the industrial environment.
Old and new technologies will continue to coexist
New and existing specifications are determined by the manufacturers, integrators and applications providers to meet the demands of the market. An upheaval is occurring in all sectors as the parallel bus is replaced by serial data transmission. Nevertheless, it is likely that both technologies will exist side by side for easily five to 10 years. Users will continue to use CompactPCI for a long time yet, at least in conjunction with CompactPCI Plus. Similarly, VMEbus systems will go on being used, certainly together with VPX and VXS.
Many applications continue to be based on older, proven technologies. None of the technologies will be totally replaced by another; it remains the case that each has its rightful place and remains appropriate and sufficient to particular sectors. In deciding which technology is most suitable, the user should draw on the competence of a reliable consultant who can provide all the necessary application, development and manufacturing know-how.
Credit(s)
Further reading:
Elegant and functional handheld enclosures
25 March 2020, Electrocomp , Enclosures, Racks, Cabinets & Panel Products
Hammond Electronics has launched its new 1552 family of handheld enclosures. Initially available in six sizes, the IP54 rated UL94-V0 flame-retardant ABS enclosure features an ergonomic design that fits 
...
Read more...
---
Modular DIN rail enclosure range
25 March 2020, Vepac Electronics , Enclosures, Racks, Cabinets & Panel Products
The CNMB range of DIN rail enclosures from CamdenBoss provides a diverse selection of modular housings which are available in eight set lengths, optimised for a wide range of electrical and electronics 
...
Read more...
---
Flanged extruded aluminium enclosures
25 March 2020, Electrocomp , Enclosures, Racks, Cabinets & Panel Products
Hammond Manufacturing is launching the 1455F flanged extruded aluminium enclosures, which add a further variant to the popular 1455 standard family, giving further options to the 1457 IP65 sealed version, 
...
Read more...
---
Modern flanged enclosures for IIoT and sensor applications
25 March 2020, Avnet South Africa , Enclosures, Racks, Cabinets & Panel Products
OKW Gehäusesysteme has expanded its range of enclosures with the new EASYTEC. The special feature of this enclosure range is that there are fully integrated lugs on the short end faces of the bottom part. 
...
Read more...
---
Plastic IoT and sensor enclosures
26 February 2020, Vepac Electronics , Enclosures, Racks, Cabinets & Panel Products
CamdenBoss has kickstarted the new year with the unveiling of its latest enclosure addition. The 1500 series universal smart enclosure features 45° angles providing versatility whilst remaining in tune 
...
Read more...
---
Modular DIN rail enclosure range
26 February 2020, Vepac Electronics , Enclosures, Racks, Cabinets & Panel Products
The CNMB range of DIN rail enclosures from CamdenBoss provides a diverse selection of modular housings which are available in eight set lengths, optimised for a wide range of electrical and electronics 
...
Read more...
---
Actum Group merges its brands under one roof
29 January 2020, Actum Electronics , News
Over the years, Actum Group has been built through partnerships, collaborations and acquisitions of leading companies with a long history and rich legacy in the industry. These companies include Actum 
...
Read more...
---
Actum Group remains resilient and optimistic for 2020
25 November 2019, Actum Electronics , News
Running a profitable business in South Africa is not for the fainthearted. With the national treasury downgrading this year's growth forecast from 1,5% to 0,5%, and state-owned entities like Eskom negotiating 
...
Read more...
---
Clearing the Static:Topic 9: Time to audit your ESD environment
25 November 2019, Actum Electronics , News
Now that we are nearing the end of the year, it is a good time to audit your existing static control products and procedures. The first line of defence should be your antistatic floor, since this is the 
...
Read more...
---
Conduction-cooled electronics cases
23 October 2019, Actum Electronics , Enclosures, Racks, Cabinets & Panel Products
As electronics and processing systems become smaller and smaller, the need for versatile, compact form-factor cases that allow efficient heat dissipation increases. nVent Schroff offers customisable conduction-cooled 
...
Read more...
---