printer friendly version
Miniatuare solar panel
18 August 2010
Power Electronics / Power Management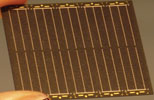 Sharp has entered the market for small photo-voltaic components with a highly efficient solar panel for mobile applications. The LR0G C 02 has an output rating of 300 mW on an area of only 27,7 cm², with a thickness of 0,8 mm.
With a total of 10 cells, the panel produces an output voltage of 5 V at a maximum of 60 mA. The cells – made of polycrystalline silicon – thus achieve an efficiency of 12,8%. The panel's output rating is sufficient to operate a memory-in-pixel LCD plus relevant driver components as a standalone unit without additional power supply. To avoid electromagnetic interference, the panel has special interfaces for system integration, particularly important for devices with wireless data transmission. The cell only supports the measures necessary for the overall device; the solar panel itself does not give off any radiation.
With conventional solar cells, the high mechanical loads in mobile applications often result in cell fractures and thus substantial drops in output. With the Sharp panel, a double wiring of the cells ensures full efficiency even in the event of a cell fracture. The LR0G C 02 is not only suited to supporting the power supply of mobile telephones, but the operation time of laptops, industry handhelds and portable test and measurement equipment can also be extended. Sharp claims that simple applications such as LED street lamps can even be run as completely self-sufficient units via solar power.
For more information contact Glen Nilsen, Arrow Altech Distribution, +27 (0)11 923 9600, gnilsen@arrow.altech.co.za, www.arrow.altech.co.za
Credit(s)
Further reading:
MOSFETs for automotive applications
29 April 2020, Altron Arrow , Power Electronics / Power Management
Supporting the needs of the electro-mobility market, Infineon Technologies launches its new product family: the CoolMOS CFD7A series. These silicon-based, high-performance products can be used in both 
...
Read more...
---
Phase noise analyser for precision oscillator characterisation
29 April 2020, Altron Arrow , Test & Measurement
To help research and manufacturing engineers make precise and accurate measurement of frequency signals, including those generated by atomic clocks and other high-performance frequency reference modules 
...
Read more...
---
ON Semi expands portfolio for industrial motor drives
29 April 2020, EBV Electrolink , Power Electronics / Power Management
Motor drive systems are proliferating along with industrial automation and robotics. These systems require energy efficiency, precise measurement, accurate control, and high reliability within harsh industrial 
...
Read more...
---
Bluetooth evaluation kit
29 April 2020, Altron Arrow , Telecoms, Datacoms, Wireless, IoT
The Cypress CYW920719B2Q40EVB-01 evaluation kit enables users to evaluate and develop single-chip Bluetooth applications using the CYW20719, an ultra-low-power dual-mode Bluetooth 5.0 wireless MCU (microcontroller) 
...
Read more...
---
Solid-state drive based on QLC technology
29 April 2020, Altron Arrow , Computer/Embedded Technology
Micron Technology announced new Micron 5210 ION enterprise SATA SSD capacity and features, solidifying its leadership in QLC (quad-level cell) technology volume production. The world's first QLC solid-state 
...
Read more...
---
Power management companion chips
29 April 2020, NuVision Electronics , Power Electronics / Power Management
Silicon Labs announced a new line of energy-friendly power management ICs (PMICs) serving as dedicated companion chips for EFR32 wireless devices and EFM32 microcontrollers (MCUs). The EFP01 PMIC 
...
Read more...
---
HDMI 2.1 active switch
29 May 2020, Altron Arrow , Analogue, Mixed Signal, LSI
Diodes Incorporated announced the PI3HDX12221, an HDMI 2.1 active switch with linear ReDriver that enables manufacturers of TVs, PCs, gaming consoles and set-top boxes to adopt the latest 12 Gbps HDMI 
...
Read more...
---
USB-C PD 3.0 controllers
29 May 2020, EBV Electrolink , Power Electronics / Power Management
ON Semiconductor has announced a pair of novel devices that are fully compliant with the USB-C PD 3.0 standard. The FAN6390 adaptive charging controller brings ease of integration of the USB-C PD 3.0 programmable 
...
Read more...
---
Chip resistors in automotive grade
29 May 2020, Altron Arrow , Passive Components
Vishay has enhanced its MC AT precision series of automotive grade thin film chip resistors with a wider range of resistance values from 47 Ω to 10 MΩ in the 1206 case size. The MCA 1206 AT is the industry's 
...
Read more...
---
Power supplies for solar PV array simulation
29 May 2020, Vepac Electronics , Power Electronics / Power Management
The microprocessor controlled laboratory power supply series Psi 9000 2U from Elektroautomatik offers a user-friendly, interactive handling concept along with a remarkable set of standard features, which 
...
Read more...
---