printer friendly version
Delving into the new COM Express revision 2.0 - Part 2
13 October 2010
Computer/Embedded Technology
The first part of this article ran in the 29 September issue of Dataweek.
In pin-out type 1, SATA ports 2 and 3 are assigned pins in rows A and B, but these are no longer reserved in pin-out type 10. The pins could still be used as SATA ports, but are now reserved for alternative purposes such as USB 3.0. So in designs for pin-out type 1 as for type 10, Kontron advises against wiring SATA 2 and 3 over the module connector. The modules then remain compatible, and they are ready for USB 3.0 at the same time. Figure 1 illustrates the differences.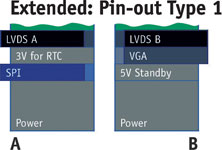 Figure 3. COM Express COM.0 R2 supports two independent displays via LVDS and DDI
Figure 1 shows another difference in rows A and B, this time regarding the pinning of the PCIe lanes, where pin-out type 1 offers six lanes in total. In pin-out type 10, the pins for PCIe lanes 4 and 5 are no longer reserved and can also be used for upcoming technologies. The background in both the above cases is as follows: processors of a small form factor, at which type 10 aims, support up to two SATA interfaces and four PCIe lanes. The vacated pins on the module connectors of the ultra standard can therefore be used efficiently for new purposes.
As of COM.0 Rev. 2.0, serial ports are again supported – by types 6 and 10. The pins for this were previously used for VCC 12 V. However, manufacturers like Kontron ensure compatibility with existing carrier boards by a protective circuit on the module. Developers do not have to completely modify their existing carrier board layout, but can cost- and time-efficiently use the new possibilities.
A further difference is that type 10 uses the second LVDS channel, TV out and VGA to support the SDVO port (or alternatively DisplayPort or HDMI/DVI) via DDI. That is no real loss seeing as VGA will only play a minor role in future. But now type 10 ultra-compact modules (such as the nanoETXexpress-TT) provide native support not only for the latest display interfaces but also for dual independent displays, since they will continue to support an LVDS channel. Figure 3 shows the precise differences in pinning between types 1 and 10.
For customers that already use the nanoETXexpress modules from Kontron, these differences are not likely to be of much consequence: With foresight, Kontron has already reserved the appropriate pins for SDVO support, for instance, on the former VGA and second channel LVDS pins in its nanoETXexpress-SP modules.
Other changes
Further changes affecting all the types of modules available are as follows: The COM Express connector in the present form is now also approved for PCI Express Gen2 signals. Technically speaking, that means no alteration to the connector or its pinning, but the developer must still adhere to new rules for PCIe Gen2 when routing the module and carrier board. Additionally, the AC97 pins are now used to support AC97 and HD audio. Kontron users will already be familiar with this as the majority of Kontron COMs support these audio features.
The following changes have additionally been made in the new version: COM modules type 10 and type 6 now also support SDIO, multiplexed on the existing GPIO signals. Optionally, two 3,3 V TTL serial ports are added (as required by many legacy applications) and here the standard again shows its flexibility in responding to the needs of the market. Both ports can be used for different purposes such as RS232, RS485, CAN bus or other two-wire interfaces.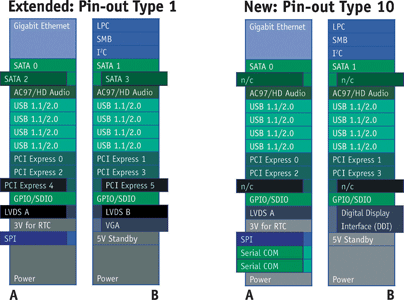 Figure 4. The changes from type 1 to type 10 at a glance
External BIOS Boot
One change shown in the new specifications affects all pin-outs: in addition to the previous firmware hub, there is a new BIOS and corresponding firmware interface for an internal and external boot implemented in the new generation of processors. This is a serial peripheral interface (SPI), the future interface for firmware flash on the module and carrier board. Ready reserved pins are used for this purpose.
Generally, PICMG allows a choice between two SPI chips, the new COM.0 Rev. 2.0 specifying external firmware support for all module types. The LPC interface was used for this purpose in the earlier version. The new modules must support SPI, but may still additionally flash firmware externally through LPC, ie, if the chipset continues to support it. The reason for this change in firmware flash is that the new small form factor processors only support SPI boot devices.
Compact form factor now officially standard
Inclusion of the smaller compact form factor in the standard is a major innovation. It means that the most widely adopted pin-out type 2 can now also be used in applications with space constraints. COM.0 Rev. 2.0 defines its dimensions as 95 x 95 mm. Aside from the reduced footprint, the physical requirements, connector placement and pin-out are exactly the same as those of the successful basic form factor.
Summary
The updated specification for COM Express modules is an appropriate response to trends in the sector, because the standard can only be sustainable if it adapts flexibly to new demands such as miniaturisation and graphics performance – as Kontron has already shown with its ETXexpress, microETXexpress and nanoETXexpress. The PICMG COM Express COM.0 Rev. 2.0 standard is for embedded developers a good indicator of what the future holds. It will create further confidence if the current PICMG® design guide is speedily matched to the new challenges.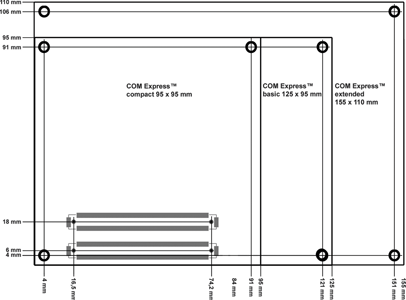 Figure 5. The new COM Express compact form factor (95 x 95 mm) opens the way for compact designs within the COM Express specification
COM Express is, other than the standard adopted in 1998 for DIMM-PC and the one published in 2000 for ETX, the only vendor-independent standard for computer-on-modules. Thus it is extremely important in the embedded market. With Rev 2.0 it is extended by a new form factor and new pin-outs to meet future needs. Thus the strengths of the COM Express concept have been preserved in their entirety: with full compatibility for existing applications, the proven standards have been adapted to the new requirements and new features of the pin-out types 6 and 10 have been implemented. Rev. 2.0 thus provides a sound basis for the next few years.
Credit(s)
Further reading:
Solid-state drive based on QLC technology
29 April 2020, Altron Arrow , Computer/Embedded Technology
Micron Technology announced new Micron 5210 ION enterprise SATA SSD capacity and features, solidifying its leadership in QLC (quad-level cell) technology volume production. The world's first QLC solid-state 
...
Read more...
---
Expansion boards for Cherry Blossom
29 May 2020, Altron Arrow , Computer/Embedded Technology
Altron Arrow's locally developed Cherry Blossom development board has been put through its paces in various companies that are innovating through technology and user testimonials suggest that it has the 
...
Read more...
---
Developer kit for AI edge devices
29 May 2020, Altron Arrow , Computer/Embedded Technology
The NVIDIA Jetson Xavier NX developer kit includes a power-efficient, compact Jetson Xavier NX module for AI edge devices. It benefits from new cloud-native support and accelerates the NVIDIA software 
...
Read more...
---
NXP streamlines development with Microsoft Azure RTOS
29 April 2020, EBV Electrolink , Computer/Embedded Technology
NXP Semiconductors expanded its partnership with Microsoft to bring Microsoft Azure RTOS, a comprehensive real-time operating system (RTOS), to a broader range of processing solutions from its EdgeVerse 
...
Read more...
---
'World's smallest' single-board computer
25 March 2020, Centurion Micro Electronics , Computer/Embedded Technology
AMD has been producing x86 type CPUs since the eighties. Over the years it has had numerous CPU families and in 2017 released its latest Zen Core family and branded the CPUs 'Ryzen'. In 2020 AMD released 
...
Read more...
---
'World's smallest' single-board computer
29 April 2020, Centurion Micro Electronics , Computer/Embedded Technology
AMD has been producing x86 type CPUs since the eighties. Over the years it has had numerous CPU families and in 2017 released its latest Zen Core family and branded the CPUs 'Ryzen'. In 2020 AMD released 
...
Read more...
---
XMC board ideal for waveform generation
29 April 2020, Rugged Interconnect Technologies , Computer/Embedded Technology
Pentek announced its most recent addition to the Jade architecture family, the Jade Model 71871, a four-channel 1,25 GHz D/A converter XMC for RF and IF waveform generation. The Model 71871 combines 
...
Read more...
---
Mini PCIe reference design for MIL-STD-1553
25 March 2020, ASIC Design Services , Computer/Embedded Technology
Holt Integrated Circuits introduced a new dual-channel development kit and complete reference design based on the popular HI-2130LBx MIL-STD-1553 fully integrated terminals. The kit includes a full-size 
...
Read more...
---
Compact fanless PC for harsh environments
25 March 2020, Brandwagon Distribution , Computer/Embedded Technology
Compulab's Airtop3 is a ruggedised, small-form-factor fanless IoT edge server with optimised performance, features and cooling. The ruggedised aluminium case is specially designed to generate natural 
...
Read more...
---
AI cards optimised for vision processing
25 March 2020, Vepac Electronics , Computer/Embedded Technology
AI (artificial intelligence) is taking the world of IoT by storm. While many aspects of AI are computing- and resource-intensive, others rely on small and swift devices that can quickly deliver results. 
...
Read more...
---