printer friendly version
DMM for electronic technicians
20 July 2011
Test & Measurement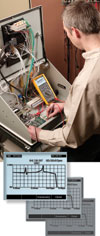 The new Fluke 287 true-rms handheld multimeter has multiple features specifically designed for electronic technicians working in service applications, as well as those involved in the design and development of new electronic products.
The instrument boasts a 1/4 VGA dot-matrix display to offer flexibility in changing function displays and to provide more information at a glance. In MIN MAX mode it is large enough to show the current reading, the Min, Max and Avg readings along with their time stamps, elapsed time, and the start time and date for the recording session, simultaneously. This capability can be very useful in quickly tracking down interactions between sensitive electronics.
As an illustration of the added capability this display brings to recording and logging, Fluke offers the example of how one creative engineer tested the design of a new power inverter using a logging meter. He needed to record the DC input voltage and current, the output AC voltage and current, and the temperature rise inside the inverter, while the input voltage and load were varied. The solution was to use five logging meters, download the results to FlukeView Forms software and graph them together in a single report.
In this example, the user required the ability to see his results at the end of each test segment, without having to download to a computer each time. To support this, the 287 offers a feature called TrendCapture, a logging and graphing feature that was developed with these needs in mind. TrendCapture appears as a strip chart-like display onscreen, with date and time information and a digital readout for whichever point on the graph is selected with the cursor. The meter can also save multiple recording sessions before downloading, and it can record for over a week without a battery change.
Finally, the screen has enough room to display how-to information about the meter's functions, which is performed by selecting the function and pressing the (i) info button.
Other features include a 100 kHz bandwidth, V a.c. and mV a.c. functions, and the ability to read voltage values expressed as dBV or dBm. This true-rms reading function is useful for evaluating the performance of servo loops and audio amplifiers. Since one of the uses for dB measurements is testing the frequency response of amplifiers, the DMM includes the ability to simultaneously measure dBV or dBm and the frequency of the measurement in dual display mode. Add to this the ability to setup the dBm mode for a broad range of reference impedances and the 287 becomes well suited for amplifier and audio transmission line performance testing.
Among the instrument's features is capacitance that reads up to 100 mF, useful for measuring supercapacitors and the large capacitors used in electronic motor drives and power inverters.
AC + DC true-rms voltage and current readings can be made showing individual AC and DC values in a dual display, or the two values may be combined to display the true-rms signal present. The dual display mode is useful for evaluating DC power supplies and ripple voltage. This mode also supports troubleshooting triac-based power controllers where both AC and DC values are present. AC+DC true-rms allows evaluation of the heating effect of the combined values. Users can also revert to a standard DC measurement to evaluate duty cycle and pulse widths of these complex waveforms in dual display mode.
The mV d.c. menu offers the ability to convert the meter to a thermometer in either degrees Fahrenheit or Celsius, based on the output of a K-type thermocouple. In this mode, the meter monitors the temperature of the input jacks to provide the reference value needed for accurate measurement. And, using the recording function to log temperature over time means the test technician can evaluate electronic system cooling over a wide range of conditions for a day or more.
The 287 has a 50 000 count resolution and can read down to 1 V on its 50 mV range. Basic DC accuracy is 0,025%, while basic true-rms AC readings are accurate to 0,3%.
For more information contact Comtest, +27 (0)11 608 8520, info@comtest.co.za, www.comtest.co.za
Credit(s)
Further reading:
Ethernet tap for IO Ninja
25 March 2020, RF Design , Test & Measurement
Monitoring network communications of your PC can be accomplished without any specialised hardware – just use the Pcap Sniffer plugin of IO Ninja. The task of tapping into the Ethernet traffic of a non-PC 
...
Read more...
---
Bench-top vector signal generator
29 April 2020, RFiber Solutions , Test & Measurement
The T3267E series bench-top vector signal generator from Transcom Instruments has excellent radio frequency performance and rich signal generating function. It can provide arbitrary wave, continuous 
...
Read more...
---
Tektronix and Coherent Solutions partner for fully integrated optical comms
25 March 2020, Comtest , Test & Measurement
Comtest has announced that technology companies Tektronix and Coherent Solutions have an exclusive partnership agreement to provide fully integrated optical communications platforms to new and existing 
...
Read more...
---
Vector network analyser training kit
26 February 2020, Comtest , Test & Measurement
Pico Technology has added significant functionality and value to its low-cost, high-performance vector network analyser (VNA), by joining the NI/AWR Connected Partner community. The PicoVNA interface 
...
Read more...
---
Better phase noise measurement for Infiniium UXR scopes
26 February 2020, Concilium Technologies , Test & Measurement
Keysight Technologies and Silicon Labs announced a collaboration that streamlines the validation of timing solutions critical in the development of system-level designs for wireless communications, high-speed 
...
Read more...
---
Eliminate risk with proper calibration
26 February 2020, Concilium Technologies , Test & Measurement
Proper calibration lowers cost of test by reducing the number of incorrect decisions made, by improving instrument performance.
Read more...
---
Double pulse test software for Tektronix AFG
29 January 2020, Comtest , Test & Measurement
Comtest announced the availability of Tektronix' new software plugin for its AFG31000 arbitrary function generator (AFG), making it possible to perform crucial double pulse testing in less than a minute, 
...
Read more...
---
Battery charge/discharge test system
29 January 2020, Conical Technologies , Test & Measurement
The ITS5300 battery charge and discharge test system from ITECH is designed for a variety of power batteries including lead acid, nickel hydrogen, lithium batteries, supercapacitors, hydrogen fuel cells 
...
Read more...
---
Oil-dielectric RF termination loads
29 January 2020, Comtest , Telecoms, Datacoms, Wireless, IoT
For maximum process repeatability and consistency, modern plasma applications require precise RF power regulation and control. A key component in ensuring accurate and repeatable RF power delivery to 
...
Read more...
---
DIN-rail programmable transmitter
23 October 2019, Instrotech , Test & Measurement
Calog Instrument's versatile DPM9000 series – a miniature DIN-rail mount programmable isolated transmitter range – boasts high reliability and a versatile, wide range of programmable inputs. With dimensions 
...
Read more...
---