printer friendly version
RSE measurements on LTE devices
21 March 2012
Test & Measurement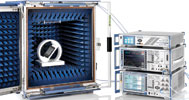 Rohde & Schwarz is taking a completely new approach to measuring radiated spurious emissions (RSE) on LTE devices, in an attempt to make it easier for users to measure RSE in the presence of LTE carrier power. The solution is the R&S OSP open switch and control platform equipped with the new OSP-B155 option – at a price no higher than that of a conventional test setup with notch filters.
Standardisation bodies, such as the ITU or the European R&TTE, specify tests for measuring RSE on wireless devices. Manufacturers perform these tests during development and final acceptance testing. With conventional wireless communications techniques, the high-level radio signal can be filtered out at reasonable effort to enable RSE measurements.
On the other hand, LTE defines 43 frequency bands and can transmit – at full power – in six bandwidths in each band. Filtering out all LTE signals present in each band and bandwidth would involve tremendous effort, requiring a separate cabinet solely to accommodate the 258 filters needed to cover all frequency bandwidth combinations.
The Rohde & Schwarz solution requires only two height units in the control cabinet. The OSP-B155 plug-in module shifts the entire received signal spectrum into the optimum power range to allow full use of the dynamic range of the connected EMI test receiver. The receiver can analyse the entire LTE signal spectrum without requiring a notch filter.
The crucial prerequisite for a successful measurement using this technique is high receiver sensitivity. Only a high-performance EMI test receiver can detect all relevant spurious emissions. Moreover, the test receiver must have a high dynamic range to prevent peak levels of the transmitted wireless signals from distorting measurement results. The R&S ESU EMI test receiver offers high sensitivity of typically -155 dBm/Hz, combined with a high dynamic range of 80 dB in the relevant frequency range, making it an ideal choice for this type of measurement.
The OSP-B155 option fits into two slots on the OSP. It is designed to be used with the ESU EMI test receiver and EMC32 EMC measurement software from Rohde & Schwarz. In combination with the CMW500 wideband radio communication tester, which provides LTE signalling, the new RSE measurement solution seamlessly integrates also into existing applications and systems.
For more information contact Trevor Grundlingh, Protea Electronics, +27 (0)11 719 5700, trevorg@protea.co.za, www.protea.co.za
Credit(s)
Further reading:
Double pulse test software for Tektronix AFG
29 January 2020, Comtest , Test & Measurement
Comtest announced the availability of Tektronix' new software plugin for its AFG31000 arbitrary function generator (AFG), making it possible to perform crucial double pulse testing in less than a minute, 
...
Read more...
---
Battery charge/discharge test system
29 January 2020, Conical Technologies , Test & Measurement
The ITS5300 battery charge and discharge test system from ITECH is designed for a variety of power batteries including lead acid, nickel hydrogen, lithium batteries, supercapacitors, hydrogen fuel cells 
...
Read more...
---
DIN-rail programmable transmitter
23 October 2019, Instrotech , Test & Measurement
Calog Instrument's versatile DPM9000 series – a miniature DIN-rail mount programmable isolated transmitter range – boasts high reliability and a versatile, wide range of programmable inputs. With dimensions 
...
Read more...
---
Hands-on learning module
23 October 2019, Altron Arrow , Test & Measurement
The ADALM2000 (M2K) active learning module is an affordable, USB-powered, software-defined instrument that exceeds the capabilities of its predecessor ADALM1000 (M1K). With 12-bit ADCs (analog-to-digital 
...
Read more...
---
Digital multimeter with thermal imager
23 October 2019, RS Components (SA) , Test & Measurement
A digital multimeter (DMM) with a built-in thermal imager has been added to RS Components' RS PRO product range. The RS-9889 allows engineers to identify thermal overload issues in electrical equipment 
...
Read more...
---
Project-based learning for the modern engineer
23 October 2019 , Test & Measurement
Projects that inherently challenge students to use innovative design thinking often involve interacting with an unknown process or device. Students are encouraged to understand the unknown through theory, 
...
Read more...
---
Automotive Ethernet testing software
25 September 2019, Comtest , Test & Measurement
Tektronix has released two new software packages that greatly simplify Automotive Ethernet testing, debug and protocol decode for use with its 5 and 6 Series mixed-signal oscilloscopes (MSO). Using 
...
Read more...
---
4-channel PC-based oscilloscope
28 August 2019, Vepac Electronics , Test & Measurement
The newly developed Model 1330 from Peaktech is a 4-channel PC oscilloscope with 100 MHz bandwidth and 1 GSps sample rate, which is suitable for mobile use on a laptop, and permanent installation in control 
...
Read more...
---
Handheld PoE tester
26 June 2019, Coral-i Solutions , Test & Measurement
Ideal Networks has launched a new handheld tester that eliminates guesswork when installing, maintaining and troubleshooting PoE devices and data cabling. PoE Pro measures and reports PoE class, voltage/voltage 
...
Read more...
---
Debugging probe for STM32 MCUs
31 July 2019, Altron Arrow , Test & Measurement
The STLINK-V3MINI probe, new from STMicroelectronics, combines the features of the STLINK-V3SET with standalone simplicity for faster programming and ease of use. The compact, portable probe can be 
...
Read more...
---