printer friendly version
FMC boards for Xilinx FPGAs
21 March 2012
Computer/Embedded Technology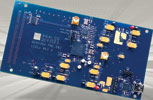 Analog Devices has introduced two data converter FMC boards (FPGA mezzanine cards) that connect to Xilinx's new 28 nm 7 series FPGA (field programmable gate array) evaluation kits.
AD's high-speed AD9739A D/A converter and AD9467 A/D converter FMC boards support multiple generations of Xilinx kits, including the company's new Kintex-7 FPGA evaluation kits. The new FMC boards include all of the HDL (hardware description language) code and device drivers needed for designers to engage in rapid prototyping and reduce development time and risk.
The AD9739A FMC board is based on the AD9739A, a 14-bit D/A converter that enables cable television and broadband operators to synthesise the entire cable spectrum up to 1 GHz into a single RF (radio frequency) port, while consuming a maximum of 1,1 W. According to AD, the 2,5 GSps D/A converter's wide bandwidth and dynamic range enable cable operators to increase the QAM (quadrature amplitude modulation) channel densities by 20 times over the densities found in today's cable modems, while competing D/A converter solutions require an additional 28 LVDS (low-voltage differential signalling) pairs for the data interface.

The AD9467 FMC board is based on the AD9467, which is a 16-bit, 250 MSps A/D converter. The AD9467 provides a high level of signal processing performance for test and measurement instrumentation, defence electronics and communications applications where high resolution over a wide bandwidth is needed.
The AD9467 delivers resolution and a fast sample rate while simultaneously achieving a high SFDR (spurious-free dynamic range) of up to 100 dBFS and SNR (signal-to-noise ratio) performance of 76,4 dBFS. The device's SFDR of 90 dBFS up to 300 MHz analog input and 60 femtosecond rms jitter help lower the signal chain bill of materials component count by allowing engineers to increase system performance at higher intermediate frequencies, thereby reducing the number of signal down-conversion stages.
For more information contact Stella Homan, Avnet Kopp, +27 (0)11 809 6100, stella.homan@avnet.co.za, www.avnet.co.za
Credit(s)
Further reading:
3 kW TVS diode arrays
30 June 2020, Avnet South Africa , Circuit & System Protection
To ensure critical operations, aviation and space systems rely on digital and logic functionality and circuitry in engine control units, environmental controls, instruments and actuators. Data centres, 
...
Read more...
---
Backplanes for various computing architectures
30 June 2020, Vepac Electronics , Computer/Embedded Technology
Verotec designs, supplies and integrates bus-based products and systems. Its extensive standard range consists of open-architecture backplanes and extender boards for VME, VME64x, VXI, VPX, VXS, CompactPCI, 
...
Read more...
---
PCIe Gen 4 switches
30 June 2020, Avnet South Africa , Computer/Embedded Technology
To support cloud, data centre and hyperscale computing that facilitates advancements in artificial intelligence (AI) and machine learning (ML), Microchip Technology released to production its Switchtec 
...
Read more...
---
DIN-rail mounting DC-DC converters
30 June 2020, Avnet South Africa , Power Electronics / Power Management
Shortly after unveiling the brand-new DIN-rail mounting DC-DC converter family, the DDR-15/30/60/120/240 series, Mean Well has announced the DDR-480 series (480 W) to enable integration into higher-power 
...
Read more...
---
Solid-state drive based on QLC technology
29 April 2020, Altron Arrow , Computer/Embedded Technology
Micron Technology announced new Micron 5210 ION enterprise SATA SSD capacity and features, solidifying its leadership in QLC (quad-level cell) technology volume production. The world's first QLC solid-state 
...
Read more...
---
Wi-Fi and BLE combo module
29 May 2020, Avnet South Africa , Telecoms, Datacoms, Wireless, IoT
Dialog Semiconductor announced the DA16600, a module that combines its advanced Wi-Fi and BLE (Bluetooth Low Energy) capabilities into a single solution. This two-in-one module is comprised of two 
...
Read more...
---
HV MOSFET for ruggedness, smart PWM controller for flexibility
30 June 2020, Avnet South Africa , Power Electronics / Power Management
As the world recently celebrated Earth Day, STMicroelectronics' blog recently featured one of its many components that help better manage the electricity people consume every day and therefore, decided 
...
Read more...
---
Why 'new space' satellites demand a new approach to components
29 May 2020, Avnet South Africa , News
New space is opening up exciting opportunities for businesses, which can create completely new products, services and capabilities that were, until recently, impossible or impractical.
Read more...
---
The top benefits of MEMS timing
29 May 2020, Avnet South Africa , Analogue, Mixed Signal, LSI
MEMS (micro electromechanical systems), designed to resonate and generate clocks signals, may not dominate the world of timing applications right now, but the technology's popularity is growing. Competing 
...
Read more...
---
Expansion boards for Cherry Blossom
29 May 2020, Altron Arrow , Computer/Embedded Technology
Altron Arrow's locally developed Cherry Blossom development board has been put through its paces in various companies that are innovating through technology and user testimonials suggest that it has the 
...
Read more...
---