printer friendly version
Uninterruptible power supplies
2 May 2012
Power Electronics / Power Management

New from Adelsystem is the 'all in one' family of uninterruptible DC power supplies. The product offers reliable, consistent backup of the DC supply, and can be incorporated where frequent power outages or dips occur. These products are particularly useful where there is a PLC or other digital communication.
The DC UPS prevents the system from falling over due to power failures and negates the need to continuously reboot the system.
The system consists of three devices – the power supply, battery charger and backup module. The power supply section is a switched mode device. The battery charger circuit is microprocessor-based, and uses smart battery management to ensure the cells are in prime condition. Visual and relay outputs warn of battery problems or failure.
The backup module ensures that the available power is automatically allocated between the load and the battery. Supplying power to the load is the first priority of the unit, after that the power is used to charge the batteries. In power boost mode, power is available simultaneously from both the power supply and the batteries, making the maximum current available two times the rated current of the unit. This is used for short time periods of high current demand.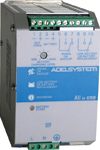 Wide input voltage (115–230 V a.c. or 400–500 V a.c ) coupled with a selection of output voltages (12, 24 and 48 V d.c.) reduces the spares holding requirements. Different versions offer from 3 to 20 A of current. Designed to offer safe operation, protection features such as short circuit and overload on the output, high insulation between primary and secondary, protection against deep battery discharge, protection against reverse polarity connection and detection of batteries with incorrect voltage are standard.
The battery charging circuit is microprocessor-based and contains charge curves for various types of batteries. Open lead acid cells, sealed lead acid cells, Gel and Ni/Cd types are all catered for. These curves are user selectable by means of jumpers. Multi-stage charging (with boost, trickle and recovery modes) ensures a fast recharge and also the recovery of deeply discharged batteries.
The maximum charging current to the battery is user adjustable by means of a potentiometer on the front of the unit. To protect the battery, the unit will shut down when the cell voltage reaches 1,5 V, avoiding deep discharge and battery damage. The unit also performs a battery life test and guarantees battery reliability by continually testing the internal impedance of the cells. The system, through a battery stimulation circuit, is able to detect sulphated batteries and those with short circuited cells.
LEDs and relays contacts are used to signal system conditions such as main or backup supply, battery flat, no mains supply, battery fault, low battery, battery charge mode and help. The devices are completely automatic and can be customised to meet the needs of the user and the requirements of the application. After installation it is possible to carry out functional software updates using a laptop computer.
Credit(s)
Further reading:
DC-DC converters for railway applications
29 January 2020, Conical Technologies , Power Electronics / Power Management
Traco Power announced the release of the latest addition to its railway series converters. The THN 10WIR series is a family of ruggedised 10 Watt DC-DC converters for the highest reliability in harsh 
...
Read more...
---
Highly robust IGBT gate driver
29 January 2020 , Power Electronics / Power Management
Power Integrations announced the launch of its automotive-qualified SID1181KQ SCALE-iDriver gate driver for 750 V-rated IGBTs. The new part expands the company's range of auto-qualified driver ICs, following 
...
Read more...
---
Power management/UPS HAT for Raspberry Pi
29 January 2020, iCorp Technologies , Power Electronics / Power Management
This Raspberry Pi power management and UPS HAT, made by Sixfab, ensures that the device is powered up and that the user has full control over its power supply. The uninterruptible power supply automatically 
...
Read more...
---
Brushless DC motor driver
29 January 2020, NuVision Electronics , Power Electronics / Power Management
The MP6650 from Monolithic Power Systems is a single-phase, brushless DC motor driver with integrated power MOSFETs and a Hall-effect sensor. The device drives single-phase brushless DC fan motors with 
...
Read more...
---
4-switch buck-boost controller
29 January 2020, Altron Arrow , Power Electronics / Power Management
A common DC-DC converter problem is generating a regulated voltage when the input voltage can be above, below, or equal to the output - that is, the converter must perform both step-up and step-down functions. 
...
Read more...
---
CCM/DCM flyback ideal diode
29 January 2020, NuVision Electronics , Power Electronics / Power Management
The MP9989, made by Monolothic Power Systems, is a fast turn-off, intelligent rectifier for flyback converters that integrates a 100 V MOSFET. It can replace a diode rectifier for higher efficiency and 
...
Read more...
---
Low-noise electronic circuitry enables low-intensity light detection
29 January 2020, Vepac Electronics , Editor's Choice, Power Electronics / Power Management
When it comes to low-intensity light detection, performance requirements often lead to selecting devices with greater sensitivity than common photodiodes or even charge coupled devices (CCDs).
Read more...
---
Non-isolated buck-boost converter
29 January 2020, Brabek , Power Electronics / Power Management
The recently introduced Recom RBBA3000 buck-boost, non-isolated DC-DC converter features a maximum 3 kW output power rating in an industry standard half-brick baseplate-cooled package. Input range is 
...
Read more...
---
Isolated, regulated DC-DC modules
29 January 2020, Future Electronics , Power Electronics / Power Management
Power density, low weight and ease of use are critical considerations when designing isolated, regulated DC-DC converter systems for a broad range of robotics, UAV, rail, communications and defence/aerospace 
...
Read more...
---
Non-inverting converters for buck or boost operation
29 January 2020, Avnet South Africa , Power Electronics / Power Management
Texas Instruments introduced a family of four high-efficiency, low-quiescent-current (IQ) buck-boost converters that feature tiny packaging with minimal external components for a small solution size. 
...
Read more...
---