printer friendly version
Self-resetting TVS devices feature negligible capacitance and offer accurate protection
12 September 2001
Circuit & System Protection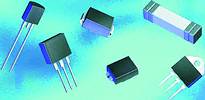 Designed to handle surge currents as high as 3000 A, Teccor Electronics has introduced its complete line of TVS components. Designated the SIDACtor Series these TVS suppressors utilise patented ion implant technology to provide complete surge protection within nanoseconds.
Transparent to the circuits they protect in standby mode, SIDACtor components exhibit a high off-state impedance, eliminating excessive leakage currents. Once triggered by voltages in excess of the switching voltage, the SIDACtor component simulates a short circuit condition until the current falls below the SIDACtor component's holding current. Once completed the SIDACtor device resets and returns to its high off-state impedance.
"Unlike most other surge suppression devices, SIDACtor devices offer absolute surge protection regardless of the surge current present and the rate of applied voltage," explained Phillip Havens, Teccor Product Manager. "In addition, the device cannot be damaged by voltage, it eliminates hysteresis and reduces the heat dissipation usually present in a clamping device."
Typically placed behind a slow blow fuse or other current limiting device, the SIDACtor devices eliminate voltage overshoot caused by fast rising transients. The series is rated with VDRM ranging from 6 to 320 V. The surge rating ranges from 50 A for a 10 x 560 ms event to 500 A for a 2 x 10 ms event. Peak operating temperatures for the SIDACtor components range from -40 to 150°C.
Common applications for Teccor's SIDACtor components include central office line cards, T-1/E-1, ISDN and xDSL transmission equipment, customer premises equipment (such as phones, modems and caller ID adjunct boxes), PBXs, KSUs and other switches. In addition, the components offer primary protection including main distribution frames, five-pin modules, building entrance equipment and station protection modules, data lines and security systems, CATV line amplifiers and power inserters and sprinkler systems.
SIDACtor components are available in the following packages: DO-214; TO-92; TO-220, Type 61; TO-220, two-chip; TO-220, balanced three-chip.
The SIDACtor Series provides approved solutions for Telcordia GR 1089, FCC Part 68, ITU-T K.21/K.20 and UL 1950 regulatory requirements.
For further information contact World Spectrum Sales, (011) 887 9111, wss@betech.co.za
Further reading:
Coaxial RF surge protectors
23 October 2019, RF Design , Circuit & System Protection
Pasternack has launched a new series of coaxial surge protectors designed to protect valuable communications equipment from power surges and indirect lightning strikes. Pasternack's new surge protectors 
...
Read more...
---
High-speed data line protectors
25 November 2019, Electrocomp , Circuit & System Protection
Bourns announced the release of the Model TBU-DF055-100-WH, TBU-DF055-200-WH, TBU-DF085-100-WH and TBU-DF085-200-WH bidirectional, dual-channel, High-Speed Protectors (HSPs) for use in data line protection. The 
...
Read more...
---
Miniature resettable thermal cutoff devices
23 October 2019, Electrocomp , Circuit & System Protection
A new addition from Bourns is the Model CB series of miniature resettable thermal cutoff (TCO) devices. These are the smallest TCO devices Bourns has produced and represent the company's next generation 
...
Read more...
---
Surge arrestor for satellite antenna systems
23 October 2019, Conical Technologies , Circuit & System Protection
Nextek announced the release of its new lightning surge arrestor for use with satellite antenna systems. The new PTC-C030 was designed with two F-type connectors for easy connection to V-SAT or DSTV satellite 
...
Read more...
---
Steering diode TVS array
23 October 2019, Altron Arrow , Circuit & System Protection
ProTek Devices has introduced a new steering diode transient voltage suppressor (TVS) array for circuit protection across popular consumer electronic display interfaces. The new PUSB403 device is ideal 
...
Read more...
---
EMI compliance testing vs. pre-compliance testing
25 September 2019, Concilium Technologies , Circuit & System Protection
Electromagnetic interference (EMI) is caused by unintentional emissions from electronic equipment. Compared to natural sources of EMI, such as lightning and solar storms, engineers are more concerned 
...
Read more...
---
Conductive rubber gaskets
25 September 2019, Conical Technologies , Circuit & System Protection
A range of conductive O-profile silicone rubber gaskets is available from Holland Shielding Systems, developed for high-performance shielding up to 18 GHz and used where environmental and EMI screening 
...
Read more...
---
High-temperature TVS MLVs
25 September 2019, Future Electronics , Circuit & System Protection
The new TransGuard VT Series multilayer varistors (MLV) made by AVX are rated for transient voltage suppression (TVS) applications operating at very high temperatures. They provide reliable, bidirectional 
...
Read more...
---
Test unit controls access to ESD protected areas
25 September 2019, Altico Static Control Solutions , Circuit & System Protection
In the electronics manufacturing industry, an electrostatic discharge (ESD) can cause irreparable damage to electronic components. This micro-lightning bolt can burn holes through insulating layers and 
...
Read more...
---
EMI AC line filters for avionics
31 July 2019, Conical Technologies , Circuit & System Protection
Part of the AeroQor range, SynQor's latest EMI AC line filters bring the company's technology and manufacturing expertise to the avionics COTS component marketplace. The components' packaging ensures 
...
Read more...
---