printer friendly version
'The Smart Guy' - a simple fibre assembly system
12 September 2001
Interconnection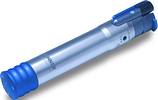 The breathtaking growth of the fibre-optics market is also having an impact on the installation times for cabling buildings. The times that installation crews are allowed for performing their jobs are becoming ever-shorter while the quality standards are still expected to meet the network requirements. Huber+Suhner's Quick-Assembly system combines proven FSC and FST connector technology with a modern and time-saving field assembly process.

Tube clamping release
The installation of fibre-optic cables on individual building floors (horizontal zone) is characterised by cable laying and splicing, both of which are time and labour-consuming. Time savings can only be achieved in the area of the receptacles at the individual workstations, since - depending on the specific building architecture - these are located at different heights and are therefore not very easily accessible. Huber+Suhner's quick-assembly system has been designed to allow fast and mobile field assembly on construction sites.
The quick-assembly hand tool, called the Manipulator, drastically reduces assembly times to 1,5 minutes. The system has been designed to allow the process to be performed in a controlled way with just a few manipulations. Lapping can be carried out without any special work surface. This precisely meets the conditions that installation crews encounter in the area of workstation receptacles. The construction of new buildings, the conversion of existing structures and similar situations call for flexibility and mobility - the very areas where the quick-assembly system will exactly fit the requirements.

Operational control and display
Easy connector assembly
With this process there is no need to crimp the connector, and lapping can be done without the support of fixed surfaces. All accessories can be conveniently carried along in a person's hip pocket so that work can also be performed under difficult conditions. The need for a microscope is eliminated by the visual polishing checking feature using colour markings - without compromising the attenuation quality. The fact that the quick-assembly system uses the well-known FSC and FST connectors means a durable and dependable connection is ensured.
The Manipulator hand tool is provided with an internal power supply and can be used across a wide temperature range. This means that installation engineers can use it under any ambient conditions at their place of work. Their mobility is not restricted by dependence on a power source, and to ensure clear user guidance, detailed operating instructions are provided. In addition, a short set of instructions are provided on the Manipulator itself. The stripping dimensions necessary for the quick-assembly system are specified on the stripping tool for the cable jackets and the buffers. The excess aramid left over after stripping is pulled underneath the anti-buckling sleeve and then turned into a special chamber.

Integrated epoxy resin tank
High quality
In the quick-assembly process, the ferrule is glued. This prevents floating of the fibre in the ferrule so that consistent values are obtained. Gluing is done with epoxy resin, which for years now has proven its worth in fibre-optic technology. The adhesive used in the Manipulator is premixed and is stored in a patented powder form in an integrated container. The shelf life of the powder is unlimited unless the powder is exposed to excessively high temperatures. Spring-loaded connectors pose the danger of the spring mechanism being glued up due to an incorrect dose of glue. Thanks to its integrated glue container, the quick-assembly system prevents any incorrect doses of glue by ensuring that only the fibre and not the buffer is glued. The buffer is not clamped by any mechanical pressure which might affect the fibre, but using clips provided with barbs. This approach guarantees secure fixing in place without producing any negative effects on the fibre.

Removable, connector-specific acceptance
Reliability
In realistic installation environments, lighting is not always what it ought to be. This makes scoring of the transparent fibre difficult, or scoring may fail altogether. The quick-assembly system avoids this difficulty by ensuring reliable fibre breaking using entirely internal ceramic scoring. This process in addition guarantees identical and repeatable conditions for the lapping process. Thanks to the elimination of any mechanical splice, system reliability is consolidated in a lasting way. Thus, all points that are important for maintaining optical performance may, if necessary, be reworked. For controlled disposal, experienced installation crews stick fibre remainders onto a piece of adhesive film. This is because broken-off fibres may be a hazard to health and pose a risk of injury. Once they have penetrated the skin, they may migrate to the bloodstream and could cause thromboses. This risk is eliminated in the Manipulator by automatic disposal during fibre-breaking. The fibre remainder is transferred to an integrated container, which can be disposed of as a whole.
With its quick-assembly system, Suhner Fiberoptic offers a process based on tried-and-tested SC and ST connector technology which can be used in field assembly applications. New, revolutionary technologies are often associated with substantial risks with regard to their product life cycles. Suhner Fiberoptic continues a proven and well-known quality standard in conjunction with a revolutionary process.
For further information contact Dartcom, (012) 665 2771.
Further reading:
High-density ZIF connectors
25 March 2020, IPD Electronics , Interconnection
Available from IPD Electronics through its distribution agreement with PEI-Genesis, ITT Cannon's DL connector family is a versatile, high-density zero insertion force (ZIF) connector series with up to 
...
Read more...
---
2 mm connectors for board signal transfers
29 April 2020, TRX Electronics , Interconnection
TE Connectivity is expanding its range of AMPMODU interconnection solutions with the introduction of 2 mm centreline board connectors. These new connectors occupy 38% less space than traditional 2,54 
...
Read more...
---
Tactile switches for demanding applications
29 April 2020, Brabek , Interconnection, Switches, Relays & Keypads
The Multimec switch from APEM has been designed with the intention to manufacture the best possible switch. The company's automatic production lines have 100% in-line testing, but before the parts get 
...
Read more...
---
RF connectors and cable assemblies
25 March 2020, IPD Electronics , Interconnection
Sure-Seal's RF connector series offers an excellent waterproof connector solution for harsh environment communication systems. Connectors and cable assemblies are available in a variety of permutations 
...
Read more...
---
High-temperature power connectors
29 April 2020, Otto Marketing , Interconnection
Hirose Electric has introduced the HVH-280 Series power connectors for automotive applications. They are low-profile connectors with a 3-point high-pressure female contact design that enables a high current 
...
Read more...
---
Temperature conditioned coaxial cable assemblies explained
29 April 2020, RF Design , Interconnection
There are many applications, some emerging, that require both phase and amplitude error to be minimised. These applications include synthetic aperture radar using antenna arrays, beamforming/MIMO antenna 
...
Read more...
---
RF connectors and cable assemblies
29 April 2020 , Interconnection
Sure-Seal's RF connector series offers an excellent waterproof connector solution for harsh environment communication systems. Connectors and cable assemblies are available in a variety of permutations 
...
Read more...
---
Robust miniature connectors
29 April 2020, Actum Group , Interconnection
The ERNI MicroCon series of connectors offers miniaturised, double-row fine-pitch connection capabilities. Its small 0,8 mm pitch is suitable for demanding applications within industrial, medical, lighting, 
...
Read more...
---
Connectors for industrial Ethernet connectivity
25 March 2020, Otto Marketing , Interconnection
Hirose has agreed a partnership on the release of ix Industrial connectors by Amphenol. The ix Industrial brand is an ideal connection solution for factory and process automation, machine to machine communication, 
...
Read more...
---
Precision RF test adaptors
25 March 2020, RFiber Solutions , Interconnection
Withwave's precision test adaptors are designed based on precision microwave interconnection technologies. The precision microwave connector interfaces ensure excellent microwave performance from DC up 
...
Read more...
---