printer friendly version
333 MNz Pentium II-based compactPCI CPU
26 Jan 2000
Computer/Embedded Technology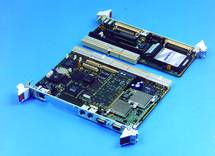 Concurrent Technologies has announced a 333 MHz Pentium II-based single-slot, 6U size PC compatible CompactPCI workstation - the PP PSE/P23. Based on the latest low-power Intel Pentium II mobile module, the board addresses the rapidly growing demand for high performance Intel CPU archi-tectures in the CPCI market while satisfying the market's need for low-power consumption, high performance, high reliability, low physical profile and extended product life.
The PP PSE/P23 is targeted at numerous markets but in particular telecommunications, data communications, industrial applications and scientific applications that require high performance and rich functionality within a single CPCI slot, especially applications that cannot or will not use a CPU fan. Users can leverage the PP PSE/P23's extensive functionality and scalability so as to quickly implement their own applications.
"We have taken our extensive Pentium and Pentium II processing capabilities so as to provide Pentium II telecommunication users with long lifecycle system level capabilities," said Jane Annear, Director of Marketing. "Based upon our own research, we determined that Intel processors are in significant demand in the CPCI market and that there is a sizeable demand for single-slot solutions supporting standard I/O functions as well as EIDE and Wide-Ultra2 SCSI interfaces."
The PP PSE/P23 uses the latest 0,25 µm technology Pentium II mobile module. The mobile module provides a Pentium II processor operating at 333 MHz with 32 KB of L1 cache and 256 KB of full speed L2 cache and utilises the high performance 440BX chipset.
Maintaining a single CPCI slot, the board also provides up to 384 MB of SO-DRAM, Ultra-SCSI, Ultra Wide-SCSI, EIDE with support for Ultra-DMA, USB as well as all the standard PC interfaces for floppy drives, printer port, keyboard, mouse and serial channels. Supplied as a standard feature is a graphics module that provides resolutions up to 1600 x 1200. Also provided is an Ethernet interface, supporting 10Base-T and 100Base-TX through an RJ45 connector on the front panel. 8 MB of Flash EEPROM is included with the board whilst a separate 512 KB Flash EPROM is used for the BIOS. All I/O is accessed via the rear panel and most I/O can also be accessed through the front panel. An optional transition module is also available for rear I/O accessibility and can provide additional Flash Memory capability.
The functionality of the PP PSE/P23 can be expanded by the addition of industry standard PMC modules. To complement the PP PSE/P23's hardware capability, operating systems such as VxWorks, QNX, Solaris, Linux and Windows NT are supported.
Further reading:
AI-powered computer for autonomous machines
Altron Arrow Computer/Embedded Technology
Nvidia recently premiered Jetson AGX Orin, the world's smallest, most powerful and energy-efficient AI supercomputer for robotics, autonomous machines, medical devices and other forms of embedded computing 
...
Read more...
---
VPX processor board with strong security
Rugged Interconnect Technologies Computer/Embedded Technology
Concurrent Technologies has developed a VPX processor board based on the Intel Xeon E-2200 processor family (previously known as Coffee Lake Refresh) launched by Intel for use in long-lifecycle embedded 
...
Read more...
---
Full AI/machine learning sensing solution
Computer/Embedded Technology
SensiML, a developer of AI tools for building intelligent Internet of Things (IoT) endpoints, has teamed up with onsemi to deliver a complete machine learning solution for autonomous sensor data processing 
...
Read more...
---
Frame grabber for up to four CoaXPress links
Rugged Interconnect Technologies Computer/Embedded Technology
Kaya Instruments' Komodo II CoaXPress 12G PCIe/104 is a high-spec frame grabber supporting the CoaXPress 2.0 standard. It can receive video streams from up to four CoaXPress links in single, dual or 
...
Read more...
---
Benchmarking tools for quantum computing released
Computer/Embedded Technology
Quantum computers are still a long way from being practical in real-world scenarios, but development is already underway on benchmarking tools to measure their performance. The Quantum Economic Development 
...
Read more...
---
Updates add video to ST's TouchGFX suite
Altron Arrow Computer/Embedded Technology
STMicroelectronics has released TouchGFX Version 4.18 for user-interface development with STM32 microcontrollers (MCUs), adding video playback, enhanced tools for multi-developer collaboration and support 
...
Read more...
---
SoM maker relies on ST MPU and open-source community
Altron Arrow Computer/Embedded Technology
"Open source is not only code sharing but a willingness to bring a certain know-how to a community and make a business around it."
Read more...
---
Analog microphone array board for advanced audio sensing
Altron Arrow Computer/Embedded Technology
The STEVAL-STWINMAV1 microphone array expansion board adds advanced audio sensing capabilities to STMicroelectronics' STEVAL-STWINKT1B (and STEVAL-STWINKT1) SensorTile Wireless Industrial Node (STWIN) 
...
Read more...
---
Compact fanless IoT edge server
Brandwagon Distribution Computer/Embedded Technology
With the rise of AI, machine vision and deep learning, much of the data analytics and processing are now happening further from the info centres in the field or where the data is collected. For those 
...
Read more...
---
Highly flexible remote I/O controllers
RF Design Computer/Embedded Technology
Remote I/O devices are well-established in the industrial world. By supporting popular communications protocols such as Modbus, they give other equipment and control systems such as scada access to remote 
...
Read more...
---