printer friendly version
High-performance 8-bit flash microcontroller extends migratable memory flexibility
26 Jan 2000
DSP, Micros & Memory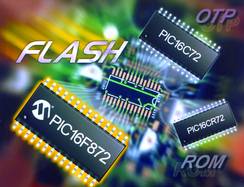 Wavetek recently introduced three new instruments, Models 901, 901R and 900 which it claims surpass the performance of current counters on the market.
The Model 901 represents the state-of-the-art timer/counter measurements like time interval, frequency, phase and jitter. With an ultra-high time interval resolution of 50 ps single-shot and 1 ps averaged, plus a speed of up to 8000 measurements/s, the Model 901 is a high performer. Frequency range can be extended from 300 MHz to 2,7 GHz. In addition to being the market's most powerful timer/counter, when connected to a PC the 901 performs modulation domain analyser functions comparable to current state-of-the-art modulation domain analysers, says Wavetek.
The Model 901R is equipped with an atomic rubidium timebase frequency reference. It features outstanding accuracy when used for frequency calibration with uncertainty of 0,0001 ppm. The Model 900 is identical to Model 901 except for a 250 ps single-shot time interval resolution, 225 MHz basic frequency range and a speed of 2000 measurements.
The 901 has a high measurement rate of up to 8K measurements/s to internal memory (2K for Model 900) and up to 250 readings/s (125 for Model 900) for individually triggered measurements, one by one over the GPIB. Complex measurement set-ups can be stored in the instrument and instantly recalled for ultra-fast reprogramming of measure-ments. Compatibility with SCPI standard makes it easy to upgrade test system hardware without rewriting time-consuming software.
The 901 and 901R have built-in measurement time stamping and other hardware features for fast data capture. They are converted into modulation domain analysers when connected to a PC running TimeView software package to perform time and frequency analysis and advanced statistical and FFT-processing. TimeView also allows Model 901 to document frequency stability of generators/synthesizers over time.
An additional capability of the 901 is continuous 'back-to-back' period measurements on signals with repetition rates up to 40 kHz. This enables measurements on each and every input cycle without missing one single event. The warm up time of the 901R is very short. This makes the 901R ideal for providing accurate on-site calibration when transporting between numerous work locations.
A built-in statistical function captures data and calculate max, min, mean and standard deviation (RMS jitter) of 500 measurements in just 1 s. Sample sizes up to 1 million can be selected. The built-in mathematics function enables calculations like offset, drift, linearity, scaling and inversion.
Further reading:
Discovery kit for IoT nodes using STM32U5 MCU
Altron Arrow DSP, Micros & Memory
The B-U585I-IOT02A Discovery kit provides a complete demonstration and development platform for STMicroelectronics' STM32U585AI microcontroller, featuring an Arm Cortex-M33 core with Arm TrustZone and 
...
Read more...
---
200 MHz MCUs backed by TrustZone security
Hi-Q Electronics DSP, Micros & Memory
Renesas Electronics now offers a 200 MHz RA6E1 microcontroller (MCU) which uses a high-performance Arm Cortex M33 core and TrustZone. The device is built on a highly efficient 40 nm process and supported 
...
Read more...
---
32-bit MCU for IoT edge applications
NuVision Electronics DSP, Micros & Memory
Silicon Labs launched the EFM32PG22 (PG22) 32-bit microcontroller (MCU), a low-cost, high-performance solution with an optimised combination of energy efficiency, performance and security. With easy-to-use, 
...
Read more...
---
Crossover MCU with 3D camera
EBV Electrolink DSP, Micros & Memory
NXP Semiconductors has announced the expansion of its NXP EdgeReady solution portfolio, adding a solution for secure face recognition that leverages a high-performance 3D structured light module (SLM) 
...
Read more...
---
MCUs for secure and connected automotive gateways
Altron Arrow DSP, Micros & Memory
The SPC58 Chorus H Line is part of STMicroelectronics' portfolio of general-purpose automotive power architecture microcontrollers (MCUs). It is designed for high-end body, networking and security applications 
...
Read more...
---
Low-power multiprotocol wireless MCU
Altron Arrow DSP, Micros & Memory
The STM32WB15CC multiprotocol wireless microcontroller (MCU) embeds a powerful and ultra-low-power radio compliant with the Bluetooth Low Energy SIG specification 5.2. It contains a dedicated Arm Cortex-M0+ 
...
Read more...
---
MCU evaluation and development kits
RS Components (SA) DSP, Micros & Memory
RS Components announced availability of a new range of evaluation and development kits for Infineon Technologies' AURIX family of microcontrollers (MC), which are based on the manufacturer's 32-bit TriCore 
...
Read more...
---
Low-power DDR4X memory IC
Brabek DSP, Micros & Memory
Alliance Memory has expanded its offering of high-speed CMOS mobile low-power SDRAMs with a new LPDDR4X device featuring on-chip ECC. Offering an extension to the company's fourth-generation LPDDR4 SDRAMs, 
...
Read more...
---
MCUs for real-time control, analytics and networking
DSP, Micros & Memory
Brand new from Texas Instruments (TI) comes a high-performance microcontroller (MCU) portfolio that advances real-time control, networking and analytics applications at the edge. With new Sitara AM2x 
...
Read more...
---
Cloud tools ecosystem for PIC and AVR microcontrollers
EBV Electrolink DSP, Micros & Memory
Microcontroller (MCU) design is being simplified with the new MPLAB cloud tools ecosystem available for PIC and AVR devices from Microchip Technology. The free, all-in-one cloud platform combines easy, 
...
Read more...
---