printer friendly version
New 8-bit micro added to range
26 Jan 2000
DSP, Micros & Memory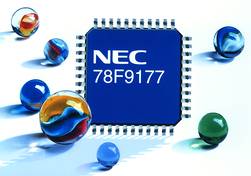 Linear Technology's LTC1402, a 2,2 MSa/s analog-to-digital converter (ADC) features a high-speed serial interface optimised for today's DSP and serial ports. The 80 MHz sample-and-hold bandwidth combined with 72 dB SINAD and 89 dB THD performance makes this device suitable for undersampled or narrowband communications applications. 2,2 MSa/s rate, DC performance of ±0,35 LSB INL and DNL and glueless DSP interface make the LTC1402 ideal for high-speed DSP-based data acquisition.
The LTC1402 offers input ranges of 0-4,096 V or ±2,048 V, from a single 5 V or ±5 V supplies, simplifying the connection to any signal source. In addition, a separate output logic supply allows direct connection to low voltage logic systems, such as DSPs or FPGAs with 3,3 V I/O.
The LTC1402 dissipates only 90 mW at its maximum sampling rate. It offers Nap mode that keeps the internal reference active between conversions for instant wake-up (15 mW) and a shutdown mode where the power dissipation drops to 10 µW. The low power, serial interface and narrow 16 pin SSOP package (fits in an SO-8 footprint) make this device well suited to portable data acquisition systems.
Further reading:
Discovery kit for IoT nodes using STM32U5 MCU
Altron Arrow DSP, Micros & Memory
The B-U585I-IOT02A Discovery kit provides a complete demonstration and development platform for STMicroelectronics' STM32U585AI microcontroller, featuring an Arm Cortex-M33 core with Arm TrustZone and 
...
Read more...
---
200 MHz MCUs backed by TrustZone security
Hi-Q Electronics DSP, Micros & Memory
Renesas Electronics now offers a 200 MHz RA6E1 microcontroller (MCU) which uses a high-performance Arm Cortex M33 core and TrustZone. The device is built on a highly efficient 40 nm process and supported 
...
Read more...
---
32-bit MCU for IoT edge applications
NuVision Electronics DSP, Micros & Memory
Silicon Labs launched the EFM32PG22 (PG22) 32-bit microcontroller (MCU), a low-cost, high-performance solution with an optimised combination of energy efficiency, performance and security. With easy-to-use, 
...
Read more...
---
Crossover MCU with 3D camera
EBV Electrolink DSP, Micros & Memory
NXP Semiconductors has announced the expansion of its NXP EdgeReady solution portfolio, adding a solution for secure face recognition that leverages a high-performance 3D structured light module (SLM) 
...
Read more...
---
MCUs for secure and connected automotive gateways
Altron Arrow DSP, Micros & Memory
The SPC58 Chorus H Line is part of STMicroelectronics' portfolio of general-purpose automotive power architecture microcontrollers (MCUs). It is designed for high-end body, networking and security applications 
...
Read more...
---
Low-power multiprotocol wireless MCU
Altron Arrow DSP, Micros & Memory
The STM32WB15CC multiprotocol wireless microcontroller (MCU) embeds a powerful and ultra-low-power radio compliant with the Bluetooth Low Energy SIG specification 5.2. It contains a dedicated Arm Cortex-M0+ 
...
Read more...
---
MCU evaluation and development kits
RS Components (SA) DSP, Micros & Memory
RS Components announced availability of a new range of evaluation and development kits for Infineon Technologies' AURIX family of microcontrollers (MC), which are based on the manufacturer's 32-bit TriCore 
...
Read more...
---
Low-power DDR4X memory IC
Brabek DSP, Micros & Memory
Alliance Memory has expanded its offering of high-speed CMOS mobile low-power SDRAMs with a new LPDDR4X device featuring on-chip ECC. Offering an extension to the company's fourth-generation LPDDR4 SDRAMs, 
...
Read more...
---
MCUs for real-time control, analytics and networking
DSP, Micros & Memory
Brand new from Texas Instruments (TI) comes a high-performance microcontroller (MCU) portfolio that advances real-time control, networking and analytics applications at the edge. With new Sitara AM2x 
...
Read more...
---
Cloud tools ecosystem for PIC and AVR microcontrollers
EBV Electrolink DSP, Micros & Memory
Microcontroller (MCU) design is being simplified with the new MPLAB cloud tools ecosystem available for PIC and AVR devices from Microchip Technology. The free, all-in-one cloud platform combines easy, 
...
Read more...
---