printer friendly version
Award-winning biometric ID Mouse upgraded
13 February 2002
Computer/Embedded Technology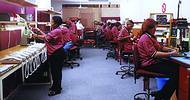 Siemens Biometrics revealed a new biometric product, the Siemens ID Mouse Professional. This is a PC mouse that has convenient integrated fingertip sensors and allows users to clearly authenticate themselves not only to their PCs but also to web-based environments and applications. Deployment of the ID Mouse is simple, as it is a plug-and-play solution compatible with most operating systems.
The new ID Mouse Professional is based on its predecessor, the Siemens ID Mouse. First introduced in 1999, the ID Mouse is now the established top-selling standalone desktop biometric device on the European market according to the company. The ID Mouse was the first PC mouse to utilise a fingerprint sensor based on capacitive, rather than optical technology, and this significantly reduces the size of the mouse and increases resiliency.
The USB interface of the ID Mouse ensures full interoperability between the ID Mouse and a PC and as a result, all available PC interfaces can be accessed for further applications. The tool is available for both right and left-handed users. The high-speed controller allows communication to flow through the USB, whilst also processing the index finger signal and conducting communication with the fingerprint sensor.
Credit(s)
Further reading:
Multi-sensor IoT module
29 July 2020, Electrocomp , Telecoms, Datacoms, Wireless, IoT
TDK announced worldwide availability of the InvenSense SmartBug, a compact, wireless multi-sensor solution designed for a plethora of commercial and consumer IoT applications. The out-of-the-box solution 
...
Read more...
---
Configured computing systems and individual elements
29 July 2020, Vepac Electronics , Computer/Embedded Technology
Verotec has a selection of configured systems plus individual elements such as backplanes, power supplies and cooling products, which are compliant with the PICMG/VITA specifications, and supported by 
...
Read more...
---
Pentek accelerates real-time recording
29 July 2020, Rugged Interconnect Technologies , Computer/Embedded Technology
Pentek has introduced a new addition to the Talon series of recorders, the Model RTR 2757 4U 19-inch rackmount recorder. This new recorder complements Pentek's Quartz RFSoC products that stream digitised 
...
Read more...
---
DIN rail enclosures
30 June 2020, Electrocomp , Enclosures, Racks, Cabinets & Panel Products
Hammond Manufacturing has announced its 1597DIN family of UL94-V0 flame-retardant plastic enclosures for mounting to standard IEC/EN 60715 35 mm DIN rails for applications such as industrial control equipment, 
...
Read more...
---
CeraCharge now available in a small packing unit
30 June 2020, Electrocomp , Passive Components
TDK is presenting a new packing unit for CeraCharge, the world's first SMD technology solid-state rechargeable battery, in the compact size EIA 1812 (4,4 x 3,0 x 1,1 mm). The packing unit (B73180A0101M199) 
...
Read more...
---
Robust temperature sensor for E-mobility
30 June 2020, Electrocomp , Analogue, Mixed Signal, LSI
The new B58703M1103A* temperature sensor is specially developed for demanding E-mobility applications, which call for high long-term stability. The NTC sensor is designed for a temperature range of -40°C 
...
Read more...
---
Backplanes for various computing architectures
30 June 2020, Vepac Electronics , Computer/Embedded Technology
Verotec designs, supplies and integrates bus-based products and systems. Its extensive standard range consists of open-architecture backplanes and extender boards for VME, VME64x, VXI, VPX, VXS, CompactPCI, 
...
Read more...
---
PCIe Gen 4 switches
30 June 2020, Avnet South Africa , Computer/Embedded Technology
To support cloud, data centre and hyperscale computing that facilitates advancements in artificial intelligence (AI) and machine learning (ML), Microchip Technology released to production its Switchtec 
...
Read more...
---
Thick-film chip resistors
29 April 2020, Electrocomp , Passive Components
Bourns announced the introduction of its new Model CR01005 series thick-film chip resistor. This extra small – 01005 inch (0402 metric) – CR01005 series broadens the general purpose thick-film chip resistor 
...
Read more...
---
Solid-state drive based on QLC technology
29 April 2020, Altron Arrow , Computer/Embedded Technology
Micron Technology announced new Micron 5210 ION enterprise SATA SSD capacity and features, solidifying its leadership in QLC (quad-level cell) technology volume production. The world's first QLC solid-state 
...
Read more...
---