printer friendly version
Single-CAN 32-bit micro
27 February 2002
DSP, Micros & Memory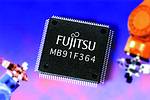 Fujitsu Microelectronics Europe's new MB91F364G is a 32 bit single-CAN interface device, targeted at applications including dashboard, body-electronics and information display applications demanding a small footprint. The MB91F364G is built around the established Fujitsu FR-core, a five-stage pipelined RISC core with 16 general-purpose registers and internal Harvard structure. The core is supported by 16 KB data RAM and a bit search unit. Program code and constant data are located within a 256 KB embedded flash ROM. This can be programmed in-circuit using a serial link or via parallel programmers. This device (in compact QFP120) has a host of on-chip peripherals including UARTs, I2C and serial synchronous interfaces, in addition to the CAN interface. Also, 16 bit reload timers, input-capture/output-compare units and realtime clock, as well as a 12-channel ADC and 8 external interrupts. The new on-chip 'background debug support unit' helps software development and debugging without use of in-circuit emulators.
Credit(s)
Further reading:
Rapid prototyping with new Xilinx FPGA evaluation kit
EBV Electrolink Programmable Logic
Equipped with the Xilinx Spartan-7 FPGA, the kit is built for rapid prototyping of industrial networking, embedded vision and automotive designs.
Read more...
---
Curiosity Nano development platform
EBV Electrolink DSP, Micros & Memory
Microchip Curiosity Nano (MC Nano) is a development platform which may be used to develop applications equipped with some of the 32-bit products from the PIC32 and SAM families.
Read more...
---
Infineon releases new high-efficiency buck regulator module
EBV Electrolink Power Electronics / Power Management
This new buck regulator module has a 3 A single output with integrated inductor and offers high-efficiency load regulation in a compact package.
Read more...
---
8-bit MCU development board provides onboard 5G
Altron Arrow DSP, Micros & Memory
The AVR-IoT Cellular Mini development board is the latest from Microchip and gives developers an easy blueprint for building IoT devices that connect via 5G.
Read more...
---
ST's new ToF sensor has double the range of existing modules
EBV Electrolink Opto-Electronics
The new sensor combines revolutionary metasurface lens technology with a more powerful and efficient laser and improved on-chip signal processing.
Read more...
---
Microchip releases secure Arm Cortex-M23 microcontroller
Altron Arrow DSP, Micros & Memory
The microcontroller is integrated with a robust secure subsystem and contains Arm TrustZone technology to isolate security critical components.
Read more...
---
New transient voltage suppressors for automotive applications
EBV Electrolink Circuit & System Protection
The devices offer high surge capability of 3000 W and a high temperature operation up to 175°C for signal line protection.
Read more...
---
AWS IoT reference example for ESP32-C3
iCorp Technologies DSP, Micros & Memory
Espressif has released the ESP-AWS-IoT library on GitHub which provides a reference framework for development on the ESP32-C3 core.
Read more...
---
Single-core MPU with MIPI CSI-2 camera interface
Altron Arrow DSP, Micros & Memory
The 1 GHz SAMA7G54 is Microchip's first single-core MPU with MIPI CSI-2 camera interface and advanced audio features.
Read more...
---
Complex, reliable sensor processing in one cost-effective MCU
Altron Arrow DSP, Micros & Memory
Multiple high-speed peripherals, such as 3,4 MHz I2C, 50 MHz SPI and UART, are included to maximise communication bandwidth.
Read more...
---