Poynting recently launched a new version of its tactical mast antenna range. This collapsable 10 m fibreglass mast includes three antennas in the 30-420 MHz range. The fact that the antennas are integrated into a fibreglass mast results in perfectly omni-directional radiation patterns, says Poynting.
This integrated tactical antenna is based on a 10 m fibreglass mast and supplied with a military style canvas carry bag. The mast is guyed at 5 m and 10 m, providing support for the mast against wind loading, and supporting the ground screen for the lowest frequency antenna. The fibreglass mast consists of 8 x 1,2 m sections, allowing the antenna to be collapsed to a convenient size for carrying.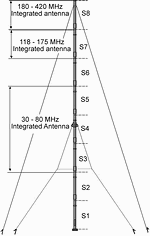 Thomas Abbott, the development engineer who heads this project says: "We designed these antennas to be portable, as well as rugged enough to withstand a harsh environment. The total weight is about 20 kg, making it possible for one person to carry the whole antenna system. The base-plate is hinged and can be pegged into the ground for 5 minute erection of the mast by one to three people.
"Three antennas are integrated into the mast, with the cables from the higher antennas being routed through the middle of the lower antennas. This prevents the cables from interfering with the omni-directional pattern of the antennas, and the cables inside the mast are protected from the elements."
The three feed cables can exit the mast either at 0,5 m or at 2,5 m to allow overhead cable suspension from the mast to the location of the radios. The three antenna bands are:
* 30-88 MHz: 2 m monopole with a 4-wire skeletal ground screen linked to the mid-point guy ropes.
* 118-175 MHz: single centre-fed dipole with matching stripline circuit.
* 180-420 MHz: broadband dipole antenna with matching and feed network.
The poles, base-plate and all other external items are painted with a hard-wearing, SABS-approved paint, making this antenna ideal for harsh environments.
Poynting currently offers three different products: 10 m mast with all three integrated antennas; 8 m masts each with single integrated antenna; 5/10 m tactical mast only. All are packed into a carry bag. Custom configurations and antennas covering different bands can be designed if required.
For further information contact Claire Nitch, Poynting Antennas, 011 262 5155.