printer friendly version
Single-instrument solution that conducts both performance testing and network monitoring
27 March 2002
Test & Measurement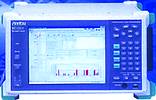 Anritsu has introduced the MD1230A Data Quality Analyzer, that it claims is the world's first test instrument that can conduct highly accurate router performance testing and networking monitoring in one single cabinet. With the ability to measure nearly every physical interface and network layer, the MD1230A is an effective means for network developers to conduct both network performance and QoS evaluations. The MD1230A also serves network managers who must monitor realtime in-service traffic for bandwidth utilisation and impairments such as latency and packet jitter.
The MD1230A can analyse a full range of physical interfaces from 10 Mbps to 10 Gbps through separate interface modules. Any combination of five interface modules can be installed within a single MD1230A cabinet. Additionally, up to eight MD1230A analysers can be connected in a cascade via Ethernet, all of which can be controlled from a single MD1230A. The number of ports can be expanded to a maximum of 320 10/100M Ethernet ports.
For network maintenance, the MD1230A analyses in-service traffic in realtime. The MD1230A can perform measurements on packet inter-arrival time, which is extremely important in mission critical applications such as Voice over IP (VoIP) and Video on Demand (VoD). Packet latency between long distances can be measured by using the MD1230A GPS option.
To monitor Ethernet and IP traffic, the MD1230A can conduct traffic monitoring of up to 64 dataflows in realtime. A user-edited 32 bit data pattern filter allows for the measurement of filtered traffic. Users can edit the packet data for each of the Ethernet, SONET/SDH, PPP, IPv4, IPv6, MPLS, VLAN, IP, TCP, and UDP protocols at full wire speed.
The MD1230A conducts full physical Layer 2/3/4 protocol analysis. The interface modules have a built-in 256 Mbyte capture buffer that does not drop packets, even at the full wire rate of 10 Gbps says the manufacturer. Each of the Ethernet, PPP, LCP, MPLS, VLAN, ARP, IPX, IPv4, ICMP, IPv6, TCP, UDP, IGMP, RIP, BGP4, and DHCP protocols can be decoded and the captured frames displayed.
Adding to the MD1230A's appeal, especially in maintenance applications, is the analyser's size. It measures only 320(W) x 177(H) x 350(D) mm and weighs less than 15 kg. The MD1230A is also designed with a built-in screen to view measurement results, and uses Windows 98 as its operating system (OS) for ease of use. The Windows 98 OS also allows the user to remotely operate the MD1230A from a PC across a wide variety of network connections.
Further reading:
Double pulse test software for Tektronix AFG
29 January 2020, Comtest , Test & Measurement
Comtest announced the availability of Tektronix' new software plugin for its AFG31000 arbitrary function generator (AFG), making it possible to perform crucial double pulse testing in less than a minute, 
...
Read more...
---
Battery charge/discharge test system
29 January 2020, Conical Technologies , Test & Measurement
The ITS5300 battery charge and discharge test system from ITECH is designed for a variety of power batteries including lead acid, nickel hydrogen, lithium batteries, supercapacitors, hydrogen fuel cells 
...
Read more...
---
DIN-rail programmable transmitter
23 October 2019, Instrotech , Test & Measurement
Calog Instrument's versatile DPM9000 series – a miniature DIN-rail mount programmable isolated transmitter range – boasts high reliability and a versatile, wide range of programmable inputs. With dimensions 
...
Read more...
---
Hands-on learning module
23 October 2019, Altron Arrow , Test & Measurement
The ADALM2000 (M2K) active learning module is an affordable, USB-powered, software-defined instrument that exceeds the capabilities of its predecessor ADALM1000 (M1K). With 12-bit ADCs (analog-to-digital 
...
Read more...
---
Digital multimeter with thermal imager
23 October 2019, RS Components (SA) , Test & Measurement
A digital multimeter (DMM) with a built-in thermal imager has been added to RS Components' RS PRO product range. The RS-9889 allows engineers to identify thermal overload issues in electrical equipment 
...
Read more...
---
Project-based learning for the modern engineer
23 October 2019 , Test & Measurement
Projects that inherently challenge students to use innovative design thinking often involve interacting with an unknown process or device. Students are encouraged to understand the unknown through theory, 
...
Read more...
---
Automotive Ethernet testing software
25 September 2019, Comtest , Test & Measurement
Tektronix has released two new software packages that greatly simplify Automotive Ethernet testing, debug and protocol decode for use with its 5 and 6 Series mixed-signal oscilloscopes (MSO). Using 
...
Read more...
---
4-channel PC-based oscilloscope
28 August 2019, Vepac Electronics , Test & Measurement
The newly developed Model 1330 from Peaktech is a 4-channel PC oscilloscope with 100 MHz bandwidth and 1 GSps sample rate, which is suitable for mobile use on a laptop, and permanent installation in control 
...
Read more...
---
Handheld PoE tester
26 June 2019, Coral-i Solutions , Test & Measurement
Ideal Networks has launched a new handheld tester that eliminates guesswork when installing, maintaining and troubleshooting PoE devices and data cabling. PoE Pro measures and reports PoE class, voltage/voltage 
...
Read more...
---
Debugging probe for STM32 MCUs
31 July 2019, Altron Arrow , Test & Measurement
The STLINK-V3MINI probe, new from STMicroelectronics, combines the features of the STLINK-V3SET with standalone simplicity for faster programming and ease of use. The compact, portable probe can be 
...
Read more...
---