Although aluminium electrolytic capacitors historically rank among the oldest electronic components, they are being constantly developed to open up new applications and satisfy tougher requirements.
Electronics has become a key link in the value chain of the automobile industry. Depending on model and equipment options, electrical and electronic systems now account for 10 to 20% of vehicle costs. Whereas electronic components were restricted to a minimum of safety and convenience applications only a few years ago, today they are experiencing a veritable boom throughout the automobile industry. Safety, environmentally-friendly engine management, convenience and infotainment are the buzzwords that sum up this fast-moving trend.
However, these useful features and functions not only consume more and more power, but have also become so numerous and varied that it is hard to predict in which combinations and sequences they are likely to be switched on or off. Dramatic current fluctuations of dozens of amperes within a few milliseconds are the result. Combined with generator ripple, these fluctuations can destabilise voltage in the automotive electrical system. For sophisticated controller and processor-based electronics in particular, such a fuzzy voltage is unacceptable because it can trigger off malfunctions such as inadvertent inflation of airbags with disastrous consequences.
Aluminium electrolytic capacitors are the components of choice for protection against short voltage fades and severe ripple. Focusing on the special needs of the automobile industry, Epcos has developed single-ended types in good time and substantially improved existing series to meet tough requirements.
In series B41888, for example, equivalent series resistance (ESR) has been reduced by as much as 30% to obtain better blocking with fewer capacitors. As more and more electronic circuitry is installed in the immediate vicinity of the engine, a wider temperature range is needed for the components used. This presents automotive electronics with one of its toughest challenges. Epcos has specially developed the B41866, B41867 and B41868 series for extreme ambient temperatures. They are designed for continuous operation in a range from -55 to +150°C.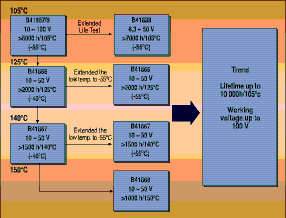 Road map for single-ended aluminium electrolytic capacitors at Epcos
Aluminium electrolytic capacitors have long been regarded as the lowest common denominator in the service life of electronic equipment. Epcos has done much to change their image. The service life of the types mentioned above is specified as 7000 hours at 105°C - long enough for the average useful life expected for most cars and trucks. Special design measures have also improved their shock and vibrational strength. But development of aluminium electrolytic capacitors is far from exhausted, and Epcos continues to improve the critical parameters of these heavy-duty components.